---
---
---
Valentine's Day makeup looks for 2022
Ah, Valentine's Day aka the Day of Love, the perfect time of year to declare your love for eachother, from spouses to sisters and friends to s/os. If you're celebrating in style & have a big date planned, we have your Valentine's Day makeup look covered. Trust us, you're bound to fall in love with these 6x Valentine's Day makeup trends and look knockout for your V-Day date!
28 January 2022 | By Victoria Cowan
Reading time: 6 mins
---
Valentine's Day makeup looks you'll fall in love with
---
14th February, Valentine's Day, that famously red and pink holiday when it feels like love and hope are in the air and Spring is near. Sure, it's cheesy, and can sometimes feel exclusionary (singletons, we hear you!) but for those that love a bit of cheese and romance in the air, it can feel like the best day of the year! If you've got big plans for Valentine's Day but still need the ultimate Valentine's Day makeup look we have you covered!
Of course, your significant other loves you au natural, but sometimes, us girls just love to put a little extra effort into looking & feeling confident with a great makeup look. So, this Valentine's Day, why not knock his/her socks off with a knockout Valentine's Day makeup and beauty look, that's bound to make heads turn!
6x Valentine's makeup trends we love
---
#1 Classic Valentine's makeup
If there's one classic Valentine's makeup look to go for it has to be a red lip, this makeup look truly never goes out of style. A bold pout looks good on just about anyone, and once you've gone red, you'll never look back! It's the ultimate sexy siren makeup look for Valentine's Day and we say, go for it! When it comes to a red lip, the trick is to keep the rest of the look classic, nothing too bold on the eyes. The red lip makeup look calls for soft skin, a diffused blush and a perfect cat eye flick of eyeliner. To make sure your red lipstick lasts all night long, it's all about the prep work. Before applying your red lipstick lightly exfoliate your lips, then prime them either with a lip primer or simply by using your concealer. Finally, use a red lip liner to neatly line your lips and then fill them in with the same liner, apply your lipstick, blot, reapply and blot again. A perfect red lip Valentine's makeup look guaranteed! Pair with a classic LBD, a cute cocktail dress or be the vampy lady in red in a red dress, and jaws will drop when you walk into the restaurant for your Valentine's Day dinner date.

#2 Soft glam Valentine's Day makeup look
Soft glam is basically the makeup look that keeps on giving. Universally flattering and relatively easy to achieve, there really isn't a better Valentine's Day makeup look to go for. Go for dewy skin and a healthy flush on your cheeks and you've got yourself the ultimate flirty makeup look. Highlight your best features with strategically placed bronzer & highlighter and finish off with lashings of mascara. Valentine's Day date success guaranteed when you follow our guide to the soft glam makeup look!
---
"All you need is love. But a little chocolate now and then doesn't hurt."
---
#3 Striking eyeliner makeup looks for Valentine's Day
Eyeliner makeup is having a real moment in 2022 (it's actually one of our favourite 8x makeup trends for 2022), and so too for V-Day. If you're ever on TikTok you might've come across lots of graphic eyeliner looks on your FYP, and this makeup look might just be one of the easiest to give a Valentine's Day makeup look twist. Go for a red or pink eyeliner in a bold graphic design, or perhaps use your red eyeliner to draw some cute little hearts around your eyes. Another bold Valentine's Day alternative would be to draw a graphic red liner and add some pretty pink or red (heart-shaped) crystals. This is like the ultimate 'Euphoria' look, and crystals just so happen to be one of the main makeup trends for 2022. So, graphic liner + crystals = 2 major 2022 makeup trends in one, which seems like the ultimate Valentine's Day makeup look for the on-trend girls amongst us!
---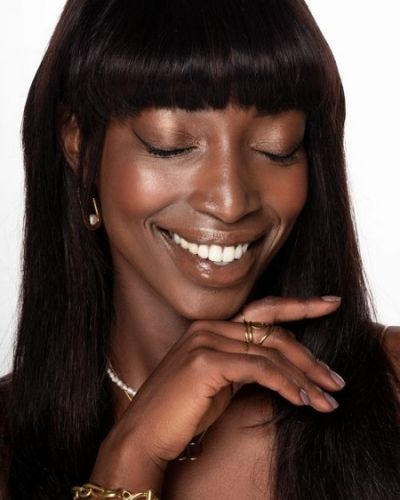 ---
#4 Lilacs and purples all the way
In case you didn't know, Pantone's Colour of the Year have named Very Peri THE colour for 2022. Very Peri is a lovely shade of periwinkle, a very pretty blueish shade of lilac, and look in any brand or store's Spring line and you'll see purples and lilacs everywhere….including at the counter of your favourite makeup lines! From lilac blush to eyeshadows, lilac is the colour du jour, and as such it would make a lovely & surprising Valentine's Day makeup look choice. Go for a soft metallic lilac shade on your eyelids, and really diffuse it out into the corners for a modern yet soft look. Alternatively, go for a graphic lilac liner design and, if you're feeling daring, a wisp of lilac blush across your cheekbones. Complete the lilac look with a pretty pastel top and trousers combo and lots of beaded jewellery, and your Very Peri Valentine's Day outfit is done, ready for a round of mini golf or a picnic date.
#5 Pastels for Spring (makeup), groundbreaking!
Sure, technically Valentine's Day is still a winter holiday, but really all that pink, pretty flowers all-around and the sense of love & hope in the air, you'd be totally forgiven for thinking it's the beginning of Spring. And what could be more Spring-like than pastels! As Miranda Priestly comments in The Devil Wears Prada (a classic fashion movie if ever there was one!) "Pastels for Spring, groundbreaking". Yet, pastels really are the ultimate Springtime colours, plus they just so happen to be one of the biggest colour trends for 2022. From soft eyeshadow shades like mint green, pastel pink and soft blue, to lilac blush, this year go for a pastel Valentine's makeup look, trust us, you won't regret it! The trick to making the pastel trend look modern for your Valentine's Day makeup look 2022, is to go for unique placement and interesting colour combinations. For instance, instead of covering your entire eyelid, this year sweep swathes of your chosen colours in the corner of your eye, across your brow bone, and under your bottom lash line, it really is all about graphic and abstract placement. We love the juxtaposition of girly shades & messy placement, and it truly would make the most refreshing and unique Valentine's Day makeup look!
#6 Smokey eyes with a Valentine's Day twist
Are you a devoted smokey eye makeup wearer looking to give it a Valentine's Day twist?! Well, how about going for the traditional V-Day colours and giving them a smokey glow-up. Give your traditional black, brown or grey smokey eyeshadow look a Valentine's upgrade by going for deep reds or pinks. Smokey eye makeup is all about a great base, so layer on deep shades of red in various tones, from darkest to lightest and finish off with a shimmering red eyeshadow to really complete the most striking Valentine's Day look. If you're going for a pink smokey look, use a spectrum of shades from deep plum to fuchsia and metallic pink, for the ultimate pink smokey eye!
"Love planted a rose, and the world turned sweet."
---
---
Subscribe & receive the latest updates
Subscribe & receive the latest updates