---
---
---
---
The 11 best & biggest fall trends for 2022
---
Fall style is every style maven's favourite seasonal style which is why when autumn comes around we're all looking to refresh our wardrobes with the latest & biggest trends for fall. Why we all love it so much? Well, we could theorise that because fall fashion is all about layering, it also offers up so many more style options, but then again who needs theory when the reality is simply that a new season = new fashion opportunities! So, if you're ready to overhaul your fall/winter wardrobe, these are the 11 best & biggest fall trends for 2022 that you need now.
7 October 2022 | By Victoria Cowan
Read time: 6 min
---
---
11 Fall trends you need to know about
---
90s minimalism for fall 2022
Everyone knows that fashion is cyclical and fashions go in and out of style from one season to the next, but one of the most wearable style decades has to be the nineties! Today's designers have managed to elevate and modernise 90s classics to look nostalgic yet fresh & exciting at the same, thereby appealing to both those of us who lived through the magic 90s and also a fresh new crop of FashionTok loving GenZs. It all started with the return of the cargo pants 90s grunge was known for albeit in a slightly more structured style, and now we're seeing 90s supermodel faves like mesh tops and sheer knitwear - the more ripped the better, this is grunge to the max, babe! - making a very welcome return to the fashion scene. It's not just our favourite 90s fashion classics that are back either, because beauty is seeing a major 90s resurgence too. So, when styling your fall 2022 outfit, don't forget the dark, smudged eye look and lined lips, it's a vibe!
---
Autumn is all about shades of caramel
Caramel and autumn go hand-in-hand. Whether it comes as a flavour, scent or colour, caramel is as synonymous with fall as rain, pumpkin patches, and Halloween. So it's no surprise that one of the main trending colours for fall 2022 is the delectable: caramel! It's simple really, we've gone gaga for neutrals and caramel happens to be one of the sweetest neutrals around. Layer up your caramel items to make a statement in neutrals! We're talking matching your caramel leather pants to a soft and comfy caramel turtleneck top and layering over a caramel fall coat, knee-high boots and stylish belt. Pick up your favourite oat milk PSL and start counting down your fall bucket list in sweet style.
---
---
14 Autumn activities to add to your fall bucket list
Fall colours | 13 shades you need in your autumn wardrobe
What your Zodiac says about your fashion style
Fall fashion trends we can't live without
---
Glamorous party people
Oh yes, this season more is definitely more! Why wait for the festive season to pull out all the sparkly stops when you could just start now and look totally on-trend while doing it! From barely-there sequin party tops that look stunning styled with high-waisted black pants and a blazer (if you're looking for a little cover-up), to all-over sequin cocktail dresses and metallic skirts, this season we really are going for gold (and silver!). Start small by simply adding a pair of statement rhinestone earrings to your everyday jeans and knitwear look, before taking off the shimmering shackles and going for broke in the sequin style game. From the highstreet to the dance floor, this fall trend for 2022 is a game-changer and we're all here for it.
---
"Just dancing under the glitter ball isn't enough, it's time to be the glitterball, honey!"
---
Gilets - revolutionary!
Gilets are the culmination of multiple different fall trends, a little bit nineties, a little bit preppy Y2K and a whole lot Girl Boss, gilets are the comeback trend no one saw coming yet everybody loves! Whether cropped and fitted or long and oversized, gilets come in all shapes and sizes this season and we're big fans. Style your gilet with cargo pants and a simple t-shirt for a perfect minimal 90s look, or add a touch of casj to a pretty fall dress by layering with an oversized gilet. Finally, A mini skirt, sweater and gilet situation will get you an all the best-dressed lists this autumn!
---
Biker chic
As if we needed more proof that nostalgia is the major theme for most fall trends, in comes Biker Chic. In an extension of that most loved 90s fashion theme: grunge, leather is also making a major comeback for fall, and this time it's going hell (for leather). Leather is making a statement for autumn so don't be afraid to experiment with cool leather pieces. A worn-leather bomber jacket is the must-have piece for the season, as is a pair of well-cut leather trousers, leather shackets and gilets. Eye-catching leather harness belts that add instant edge to an outfit are everywhere this autumn, so if there's one accessory to invest in it's this one. Looking for the ultimate investment piece for the autumn? Look no further than cool, luxury leather jackets. Fitted, bold, oversized, classic or vintage, any style of leather jacket is going to add an on-trend edge to your wardrobe this fall. When putting together a biker chic look nailing the balance between edgy and rebellious yet feminine is key. So choose your hero leather piece, whether that be the ultimate moto jacket or leather trousers adorned with metal hardware, and add some femininity with a black slip dress, satin skirt or silky cami top. Chunky boots, soft knitwear, low-slung belts, hardware, rhinestone jewellery and tulle are the other must-have textures and items needed to take this look to the next level!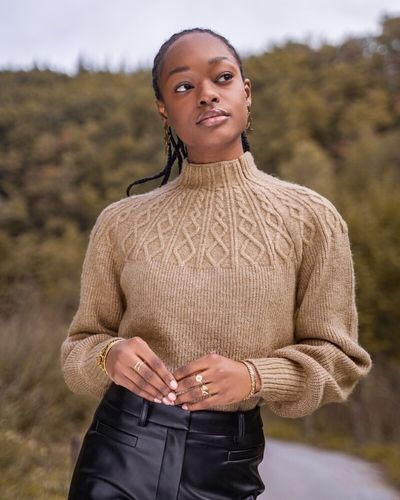 Be the rainbow
We're not saying goodbye to bright colours just yet, people! Instead, we're bringing a pop of colour to those dreary autumn/winter days with full on colour. Bright pinks, neon greens, cobalt blues, you name it, it's on-trend this season. Go for all-over colour-matching for a truly iconic look, or tone it down by matching the trend for neutrals with a pop of colour from a bag or hair accessory. If you're ready to be an icon take a cue from the Valentino all-pink runway & make sure each item in your outfit is the same colour hue, we're talking shoes, tights, skirt, top and blazer in matching hues. Not for the faint of heart, but when you pull it off, you're worthy of your fashion icon status, girl!
---
Oversized rules for fall trends 2022
Oversized styles are set to continue their rule on the street style scene. In keeping with fashion's reinvention of classically masculine dressing for traditionally female fashion, oversized styles have been a style staple for many of your favourite fashion influencers and style mavens. Oversized tailoring is the order of the day, so when styling your oversized blazer pair it with a simple t-shirt and oversized menswear-style trousers with chunky sneakers or loafers, add in a touch of biker chic with an edgy leather belt, or take the menswear tailoring all the way by adding in a matching gilet. Fall is all about layering, so think about layering your items and layering your trends.
---
Modern Bohemia
Bohemian style really came into its own in the 70s and has gone through so many reinventions since, yet we would claim bohemian style as a true fashion North Star! The one fashion statement that never goes out of style. This season boho has had a modern bohemia makeover with key style elements such as moody florals, statement earrings & beaded necklaces, long skirts, layered knitwear and oversized scarves needing a place in your fall wardrobe. Texture, rich tones & artsy prints sum up this style and will add a touch of whimsy and eclectic artistry to your closet. Incorporating classic 70s style icons such as corduroy flares, classic Paisley prints, suede fabrics and dark florals into your fall style has never been easier or more on-trend. Long and loose floral maxi dresses look incredible styled with a crazy necklace party and an oversized gilet, just remember to cinch in your waist with an eclectic belt to create shape to your body and your look. Finish off your look with a fedora hat and bracelet stack, because a modern bohemia look can never be over-accessorised.
Autumn trends to revamp your wardrobe
---
Girlboss style has come out to play
Power suits, blazers, matching coords… in fall 2022 girlboss style has gone from the office to the runway with as much confidence as you would expect. Incorporate your love of bright colours with girlboss style by rocking a bold colour-blocked power suit, or instead go for classic autumn colours and prints such as plaid & pinstripe prints. When it comes to power dressing, tailoring is key, so forget about what you read about oversized fits, for all the girlbosses amongst us we want you to stand strong and confident in fitted & well-tailored two piece sets and suits. We're thinking strong & structured shoulders, fitted skirts and skorts, cinched in waists, crisp white button down shirts and simple minimalist jewellery. A classic watch is the ultimate finishing touch for a strong woman who has her 9-5 and 5-9 life perfectly balanced!
---
Knitwear reaches new extremes
Knitwear will forever be a staple of fall style, but this year knitwear has gone extreme. Taking oversized to a whole new realm, knitwear styles are chunkier, bigger and more voluminous than ever before. Snuggle into your oversized sweaters and oversized scarves this season and stay warm all winter long. We're seeing sweater dresses with voluminous skirts, knits with super chunky details, sweaters with balloon sleeves and puff sleeves, and classic fair isle cable knit designs with an oversized silhouette. Not sure you can pull off a chunky knit? Chunky knitwear is all about balancing out the right proportions. If you're more petite, choose either a voluminous top or bottom but avoid all over volume. Style your chunky knit with jeans or a long satin skirt and heels to elongate the legs and work with your proportions. Alternatively, add shape to a shapeless sweater dress by cinching in your waist with a stylish belt and finish off with knee-high boots for some added height. Knitwear can be both super casual & cosy yet super stylish & feminine too, it's all about the right styling and accessorising!
---
Preppy Y2K is here to stay
Like it or not Y2K is here to stay, but for fall it's had a preppy makeover. Combining so many of the previously mentioned fall trends like gilets, 90s minimalism and tailoring, preppy Y2K does it all just in micro-size. (Micro) mini skirts were a big hit when it came to the Y2K renaissance and they're not going anywhere. Youthful and stylish, our penchant for the mini skirt is reason enough to give it a fall upgrade. You'll see loads of pleated mini skirts in biker chic red, black and grey plaid prints which when styled with ripped tights and leather will really bring home the happy nostalgia of those mid 00s emo vibes, though simple pleated micro mini skirts styled with a button down, micro gilet, knee high socks and chunky loafers is how you really nail the preppy Y2K look. Cropped knitwear, baby polo shirts and cropped blazers are a few more key pieces you'll need to invest in if this is your favourite trend for fall 2022!
---
"FALLing in love with fall fashion"
---
When adding an Instagram post, make sure to add the empty colomn on the left to ensure that the post will be centred in the blog format. It's better to hide Instagram posts for the mobile version of the blog.
---
Get on the list for all the latest updates
Sign up & get the latest updates