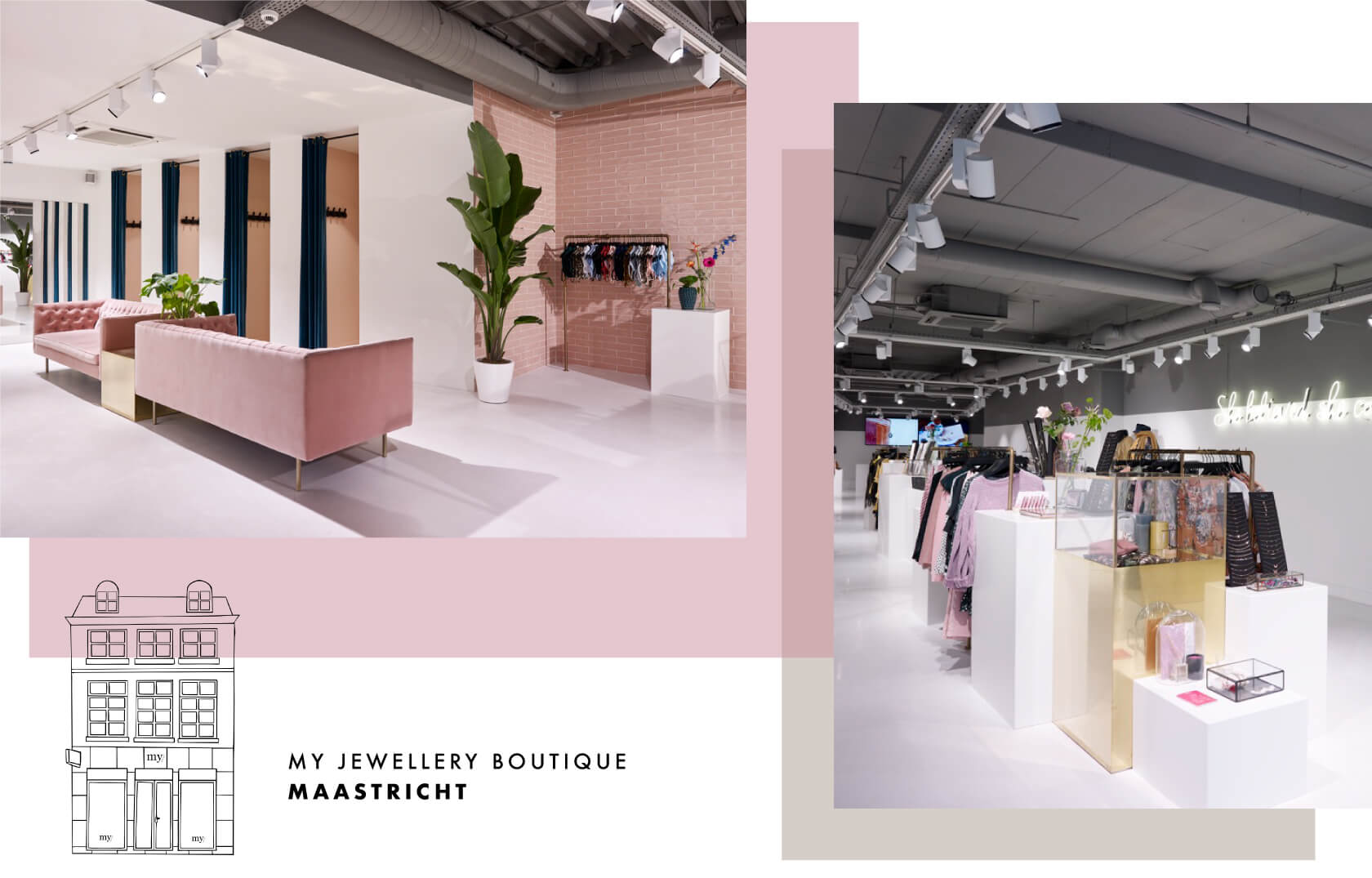 My Jewellery boutique Maastricht
In één van de meest historische steden van Nederland is de 5e My Jewellery boutique geopend, namelijk in Maastricht! Deze boutique is anders dan de voorgaande boutiques die je van My Jewellery bent gewend. Met een oppervlakte van maar liefst 265m2 en een geheel ander interieur geïnspireerd op Londen, kijk je je ogen uit!
Maastricht staat bekend om zijn historische gebouwen en bourgondische leven. Limburgers houden ervan om lekker te eten en een wijntje te drinken. Ze doen dit dan ook graag op het plein waar de My Jewellery boutique is gevestigd, namelijk op het St. Amorsplein!
My Jewellery Maastricht; Expect the unexpected
De My Jewellery boutique ligt op het Sint Amorsplein, waar je gegarandeerd de bourgondische Limburgse sfeer proeft! Pak hier lekker een terrasje en kom vervolgens de My Jewellery boutique binnen, die je zal verrassen door haar schoonheid!
My Jewellery Maastricht is de grootste boutique tot nu toe en heeft een bijzondere combinatie van een industriële en vrouwelijke look. Het open plafond en de stalen kledingrekken geven de ruimte een stoer en krachtig uiterlijk. Deze gecombineerd met mooie vintage vitrines, roze en petrolkleur betegelde muren, roze fluwelen banken en marmeren toonbanken. Hierdoor krijg je een prachtige vrouwelijke en luxueuze look. Daarnaast zorgt de grote hoeveelheid planten voor een huiselijke sfeer. Er staan drie eilanden vol met sieraden, accessoires en kleding. Met andere woorden: je raakt hier nooit uitgekeken!
Tussen het shoppen door bieden wij een lekker drankje aan
Voor de mannen is er een bar waar ze een lekker kopje koffie of cappuccino kunnen drinken, hier kunnen ze meteen rond neuzen in de kleine, maar fijne mannencollectie van Mr. Jewellery. Natuurlijk bieden wij de hard shoppende vrouwen ook een kopje koffie of fruitwater aan. Met al dat shoppen is het natuurlijk belangrijk om gehydrateerd te blijven ;-).
In de My Jewellery boutique kun je terecht voor een geheel nieuwe look van top tot teen of gewoon voor een mooi sieraad. Natuurlijk willen de stylisten je hier zo goed mogelijk bij helpen. Gastvrijheid, professionaliteit en natuurlijk gezelligheid staat hoog in het vaandel. My Jewellery zorgt ervoor dat jij met een goed en voldaan gevoel de winkel verlaat!
Kom een extra gaatje schieten in onze boutique
In de My Jewellery boutique kun je tijdens de earparty evenementen gaatjes laten schieten! Tijdens dit evenement kun jij ook meteen jouw favoriete oorbellen shoppen. Voor maar €19,95 heb je in beide oren een gaatje. Wil je maar aan één kant een gaatje laten schieten? Dan kost dat €10,95. Super leuke deal! Shop voor 30 euro aan oorbellen en krijg jouw gaatjes helemaal gratis! Wil jij meer informatie over gaatjes schieten en de datums van de earparty evenementen? Bekijk dan snel de gaatjes schieten pagina.
Ook kun je bij My Jewellery terecht voor de leukste originele cadeautjes! My Jewellery heeft de mooiste sieraden, accessoires en kleding in verschillende prijscategorieën. Bij twijfel kun je altijd nog een Giftcard cadeau doen. Op deze Giftcard kun je ieder gewenst bedrag zetten en deze zal natuurlijk zo mooi mogelijk voor je worden ingepakt!
De My Jewellery boutique is erg ruim, maar persoonlijke benadering is erg belangrijk! Wij (een ontzettend enthousiast team) kunnen dan ook niet wachten om jou te mogen ontmoeten in onze boutique. Tot snel in Maastricht!
With Love,
My Jewellery boutique Maastricht
---
My Jewellery boutique Maastricht
Sint Amorsplein 16
6211 GT Maastricht
Maandag - 12.00 - 18.00
Dinsdag - 10.00 - 18.00
Woensdag - 10.00 - 18.00
Donderdag - 10.00 - 21.00
Vrijdag - 10.00 - 18.00
Zaterdag - 10.00 - 18.00
Zondag - 12.00 - 17.00