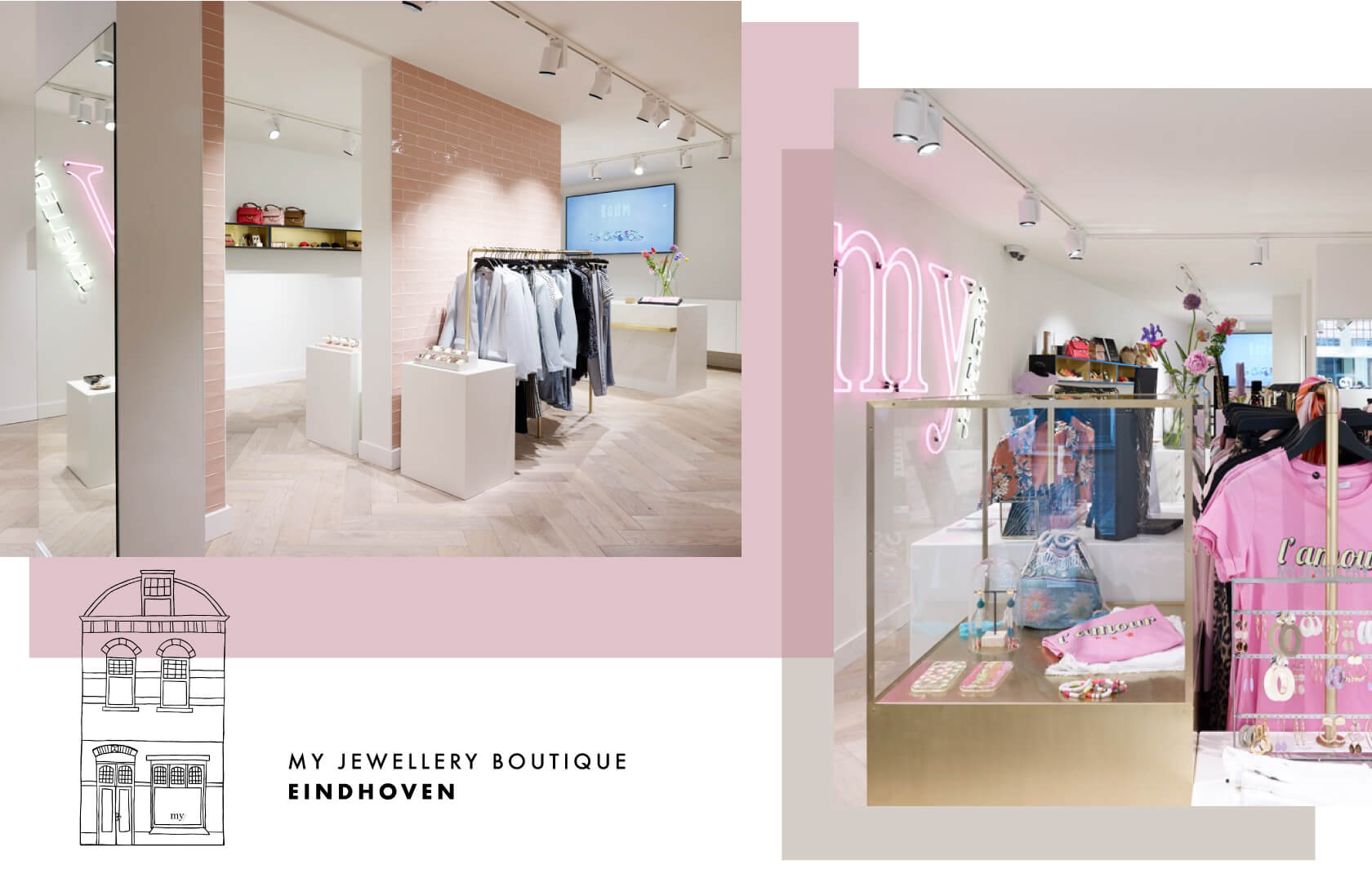 My Jewellery boutique Eindhoven
De 6e My Jewellery boutique zit in het altijd bruisende Eindhoven. De My Jewellery filialen dienen als fysiek verlengstuk van haar online omgeving en voor de complete My Jewellery experience! Om groei online te realiseren vindt My Jewellery het belangrijk de inspiratie, feeling en beleving van een boutique weer te geven en dit zie je ook terug in de prachtige My Jewellery boutique in Eindhoven.
Wie in Eindhoven is geweest zal de Brabantse gezelligheid van de 'lichtstad' zeker bijblijven. Met de wereldberoemde Dutch Design Week en Design Academy is Eindhoven dé design hoofdstad van Nederland. Dit is ook zeker te zien in de industriële wijk Strijp-S of tijdens het jaarlijkse lichtfestival GLOW waar heel veel creativiteit te zien is. En ben je alle pracht en praal moe? Dan duik je gewoon een van de vele kroegen in Het Stratumseind in. Want men zegt niet voor niets: "Eindhoven de gekste"!
Straatjes met karakter
Naast de grote winkelstraten, de winkelcentra de Piazza en de Heuvel wordt shoppen pas écht een beleving in de oude wijk "De Bergen". Deze wijk, met als belangrijkste straat de Kleine Berg, is een fijne mix van horeca, winkeliers en gastvrije ondernemers. De wijk is een van de oudste wijken van Eindhoven en beschikt over super veel karakteristieke straatjes en pandjes. En laat de prachtige My Jewellery boetiek nou precies daar liggen.
Maak je earparty compleet en laat gaatjes schieten
Altijd al getwijfeld om nog een extra gaatje te laten schieten? In onze boutique in Eindhoven doen we dit graag voor je tijdens de speciale earparty evenementen. Het schieten van de gaatjes kost €19,95 inclusief zweerknopjes, wil je maar 1 gaatje dan betaal je maar €10,95. Je kunt tijdens de earparty evenementen niet alleen gaatjes laten schieten, maar natuurlijk ook meteen de meest trendy earparty shoppen. Wanneer jij 30 euro aan oorbellen besteed op het earparty evenement, krijg jij jouw gaatjes gratis! Ben je benieuwd naar meer informatie over gaatjes schieten of wil jij de earparty datums checken? Klik dan snel op de link!
Feminine & modern
Iedere My Jewellery boutique heeft haar eigen uitstraling en identiteit. My Jewellery's founder Sharon probeert iedere stad een nieuwe uitstraling te geven. My Jewellery boutique EIndhoven heeft een warme vrouwelijke uitstraling met een stoer en modern randje. De prachtige houten visgraat vloer zorgt voor een huiskamer gevoel en de gouden en marmeren elementen maken het geheel erg luxueus en glamourous. Plof lekker neer en geniet van een kopje thee of verse cappuccino terwijl een van onze stylistes een nieuwe look voor jou samenstelt. Met de uitgebreide sieraden collectie en dé musthaves op het gebied van fashion ben je hiervoor bij My Jewellery aan het goede adres!

Maar ook als je op zoek bent naar een cadeautje voor je vriendin, moeder of zus is er bij My Jewellery genoeg keus. Naast sieraden en kleding zijn er ook trendy accessoires te vinden zoals sjaaltjes, tassen en haarbanden.

Wij, Team Eindhoven, kunnen niet wachten om je te ontvangen en je met een big smile naar buiten te zien gaan!
With Love,
My Jewellery boutique Eindhoven
My Jewellery boutique Eindhoven
Kleine Berg 3
5611 JS Eindhoven
Maandag: 12:00 – 18:00 uur
Dinsdag: 10:00 – 18:00 uur
Woensdag: 10:00 – 18:00 uur
Donderdag: 10:00 -18:00 uur
Vrijdag: 10:00 – 21:00 uur
Zaterdag 10:00 – 18:00 uur
Zondag: 12:00 – 17:00 uur