De juiste maat voor badkleding bepaal je zo
Het zomerseizoen komt eraan want de vakanties en stedentripjes naar de zon worden langzaam weer geboekt! De perfecte gelegenheid om weer op zoek te gaan naar een nieuwe bikini of een nieuw badpak. Of je nu alleen een losse bikini top of bikini broekje nodig hebt of een complete set of badpak, met deze maattabellen weet jij in ieder geval welke maat je het beste kan bestellen.
Maattabel voor badkleding
In onderstaande maattabel vindt jij alle informatie die je nodig hebt om te bepalen welke maat bikini top, bikini broekje of badpak je nodig hebt. De uitleg voor de taille maat is voornamelijk belangrijk wanneer je op zoek bent naar een high waisted bikini broekje of een badpak. Deze zal voor een bikini top niet relevant zijn.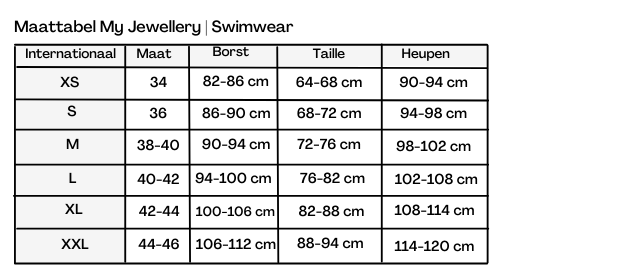 ---
Bepaal jouw badkleding maat aan de hand van je cupmaat
Vind je het fijner om de maat van je bikini top of badpak te bepalen aan de hand van je cupmaat? Geen probleem, we got you covered. In onderstaande maattabel vind je meer informatie over de maten in combinatie met je cupmaat.