Bepaal de ideale maat voor jouw jumpsuit of playsuit
Een jumpsuit of playsuit moet over je heupen passen en niet te strak zitten rond de taille en borst. Het is daarom erg belangrijk om de juiste maat te bepalen, zodat deze items perfect om jouw lichaam aansluiten. Om je te helpen met het bepalen van de juiste maat voor jouw jumpsuit of playsuit, hebben we deze maattabel gemaakt. Jij weet binnen de kortste keren welke maat je het beste kunt bestellen!
Maattabel voor jumpsuits en playsuits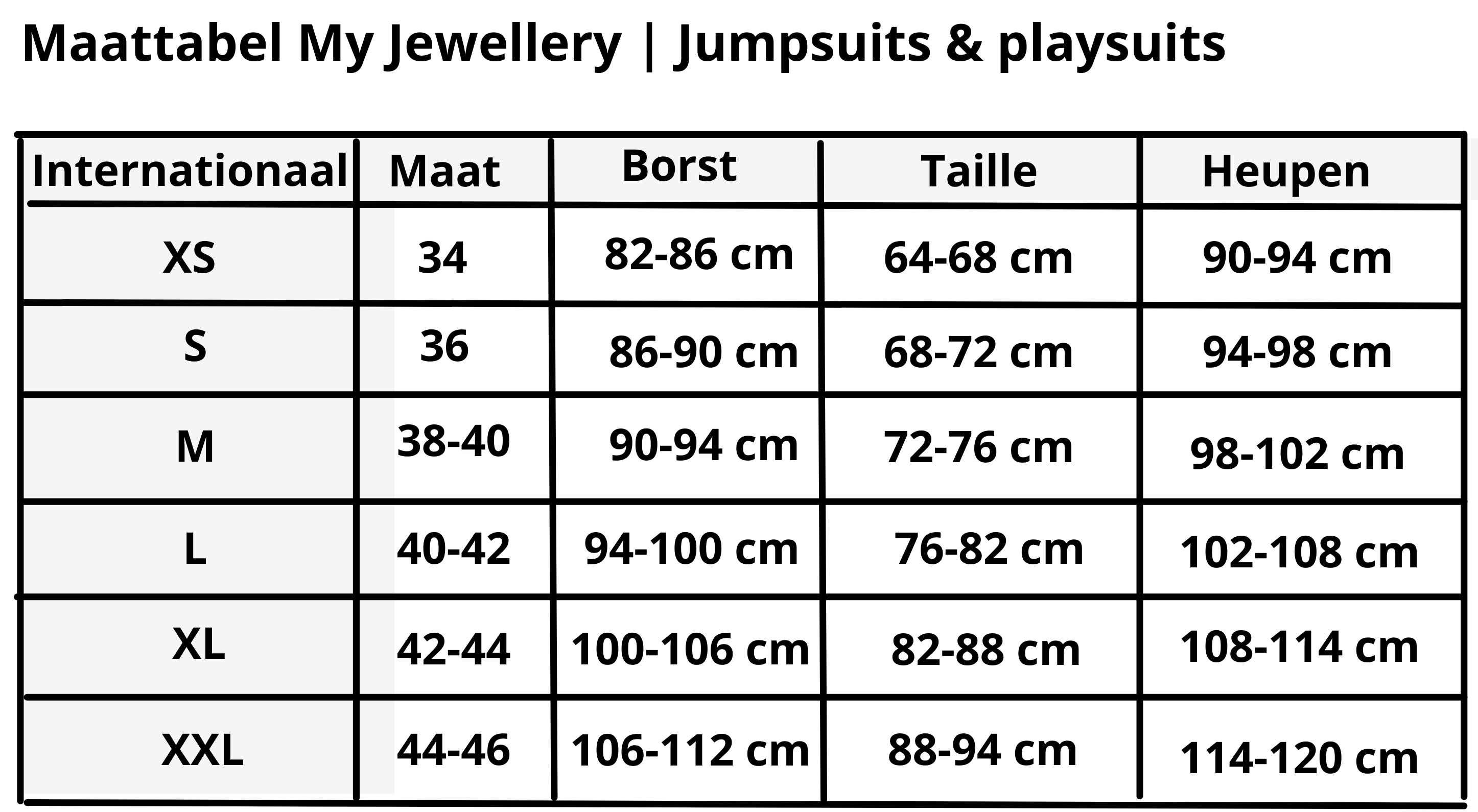 ---
Bepaal makkelijk jouw ideale jumpsuit of playsuit maat
Een jumpsuit of playsuit zit vaak als gegoten, maar alleen wanneer je gekozen hebt voor de juiste maat. Gelukkig doe je dat vrij eenvoudig. Met deze drie stappen heb jij biunnen de kortste keren jouw jumpsuit of playsuit maat achterhaald!
Stap 1: borstmaat opmeten
Je meet je borstmaat op het volste gedeelte van je borst. Dit doe je door het meetlint via de rug langs het volste gedeelte van de borst naar voren te halen. Het is belangrijk dat je het meetlint hierbij zo horizontaal mogelijk houdt, anders kan de maat afwijken.

Meet overigens de maat niet te strak, maar ook zeker niet te los. Bepaal voor jezelf hoe strak de jumpsuit of playsuit mag zitten en zorg dat het meetlint niet strakker dan dat rond de borst getrokken wordt.
Stap 2: taillemaat opmeten
Je taille is het smalste gedeelte van je bovenlichaam, te vinden tussen je borst en heupen in. Haal het lint weer via je rug rond de taille naar voren en trek het rond je lichaam. Ook hierbij hou je het meetlint zo horizontaal mogelijk en meet je zo strak als dat je jumpsuit of playsuit mag komen te zitten.

Vind je het lastig om te bepalen waar je taille precies zit? Buig dan naar één kant toe en waar de vouw komt te zitten, zit jouw taille!
Stap 3: heupmaat opmeten
Je heupen bevinden zich op het wijdste gedeelte van je onderlichaam. Je meet dit door het meetlint vanaf de achterkant over je billen naar voren te halen en het meetlint weer zo horizontaal mogelijk te houden. Ook hier meet je niet strakker dan de jumpsuit of playsuit mag komen te zitten.

Let op: de getoonde informatie is een referentie om jou op weg te helpen. Vergeet daarom niet om bij de productinformatie even te kijken of de jumpsuit of playsuit valt. De foto's hieronder helpen om visueel te maken waar je precies moet meten. Succes, you've got this!