---
---
---
---
---
Trend: cropped blazers
A good blazer is an absolute essential and perfect basic for every fashionista's closet, and for 2022 it's had a lil update. Enter: the cropped blazer. LOVE IT! Trust us when we say this cute & short style will be everywhere this season. The cropped blazer is stylish, cool and super on-trend, what's not to love?! Wanna know the best ways to wear this IT piece this season? Check out the blog for everything you need to know about the cropped blazer trend!
15 June 2022 | By Victoria Cowan
Read time: 4 mins
---
Ode to blazers
---
This ace piece of clothing has been a fashion staple for years, and we're confident enough to say that our love affair with blazers is set to continue for many years to come! Blazers are the perfect timeless wardrobe-classic that transcend the boundaries of casual and formal making them perfect for any and all occasion. They're stylish, comfortable, classy, and most importantly, versatile enough to be worn to the office and to post-work drinks. There's nothing new about a blazer but it is and always will be a real must have. Luckily, the fashion gods have found a number of cool ways to update the humble blazer, including turning it into a cropped style. Yes, the cropped blazer is the blazer trend everyone needs to try!
So 2022: cropped blazer
---
Less is more! It is time to say goodbye to your oversized blazer, at least for now, and say hi to the cropped blazer. 2021 might've been all about the oversized look, but this year it's all about the shorter, the better! While we wouldn't say a permanent goodbye to our oversized blazers just yet, hello autumn & winter we see ya coming, for now it's all about the cropped blazer trend. Just take a look around at your fave fashion stores and websites and you'll see there's just no getting away from cropped blazers, they are everywhere! Fashion designers have reacquainted themselves with their scissors and they're not afraid to use them. Wanna look instantly put together? Trust us when we say the cropped blazer achieves the desired effect instantly. This blazer is the perfect addition to your fit when you're looking to add a bit of casual cool to your look, so why not give it a go! We're pretty sure we'll be seeing a tonne of cropped blazers everywhere this summer, and we wanna see you rock it too!
---
"A blazer is always a good idea"
---
How to style short blazers
---
A blazer is always a good idea, endless versatile and perfect for every occasion, it's genuinely one of the easiest clothing items to style. You're gonna want to love having all eyes on you, because trust us, the way a cropped blazer adds a touch of effortless it-girl cool to your look is sure to make you steal the show! A cropped blazer comes in all kinds of colours and styles, so you'll definitely find one that suits your carefully curated style instantly. Give your look an instant shot of dopamine with a colourful cropped blazer, or go for more of a coastal grandma/capsule collection fashionista look in a neutral beige, white or black. Style it any which way you want, just try to match it to the occasion, and instantly spice up your look in one of our cropped blazers.
---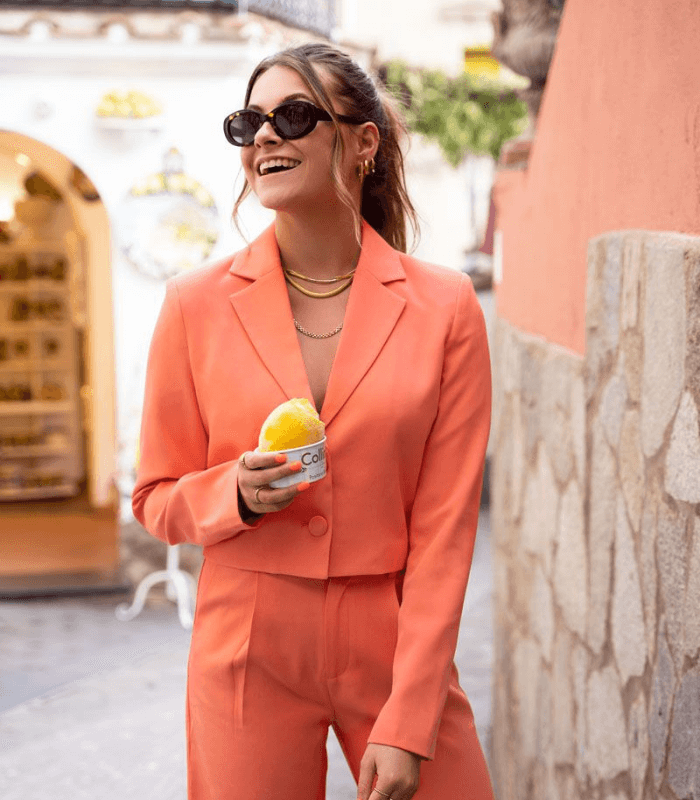 ---
Cropped blazer look #1: casual

---
Cropped blazers and a comfy casual look are a match made in style heaven. Wanna add a lil spice to your everyday fit? Simply style your cropped blazer with timeless denim jeans and a pair of chunky boots for the ultimate in casual cool! Dare to bare, and wear your cropped blazer as a top instead of a jacket. Of course, you can always wear a basic singlet underneath and leave your blazer open, it's all up to you!
Cropped blazer look #2: classy
---
A cropped blazer isn't just the perfect casual look, it's also great for a more classy look. Pair the cropped blazer with a nice pair of trousers and classy boots and you've got yourself one super elegant look. Even better? Matching your trousers and blazer for the perfect co-ord set. Super on-trend and such a good look for any woman. The ideal office & post-work party outfit choice. Go bold and choose a set in bright colours for an unforgettable statement!
"Style is something each of us already has, all we need to do is find it"
---
Cropped blazer look #3: feminine
---
Love an ultra feminine look? You're gonna love a cropped blazer too! The cropped blazer looks amazing styled with a pencil skirt for a truly va va voom look. Girl, you gotta show off those legs once in a while! Feminine colours like pink, coral, or red will really highlight your most feminine features! Looking to score a hot party fit? Well, simply pair your satin look cropped blazer with a matching skirt and killer heels, and you're ready to show off those dance moves in a seriously stylish look!
---
Subscribe & receive the latest updates