---
---
---
The hottest Ibiza hotspots
---
Hey, we're going to Ibiza! Are you off to the sunny, chill vibes of Ibiza, ready to experience everything the coolest of islands has to offer, lucky you! Whether you're looking for the best beach, sun, Spanish Paella or vibey spots, we've put together a list of our favourite Ibiza hotspots. For now, there's nothing more to say except: take me to Ibiza!

21 June 2022 | By Amber Janssen
Read time: 5 min
---
---
Hola!
---
Ibiza is also known as the party island, and we totally understand why, because Ibiza is also much more than that. So, allow us to take you off the beaten track and to some of the most idyllic places on this beautiful island.
---
---
Summer Souvenirs: the story behind the collection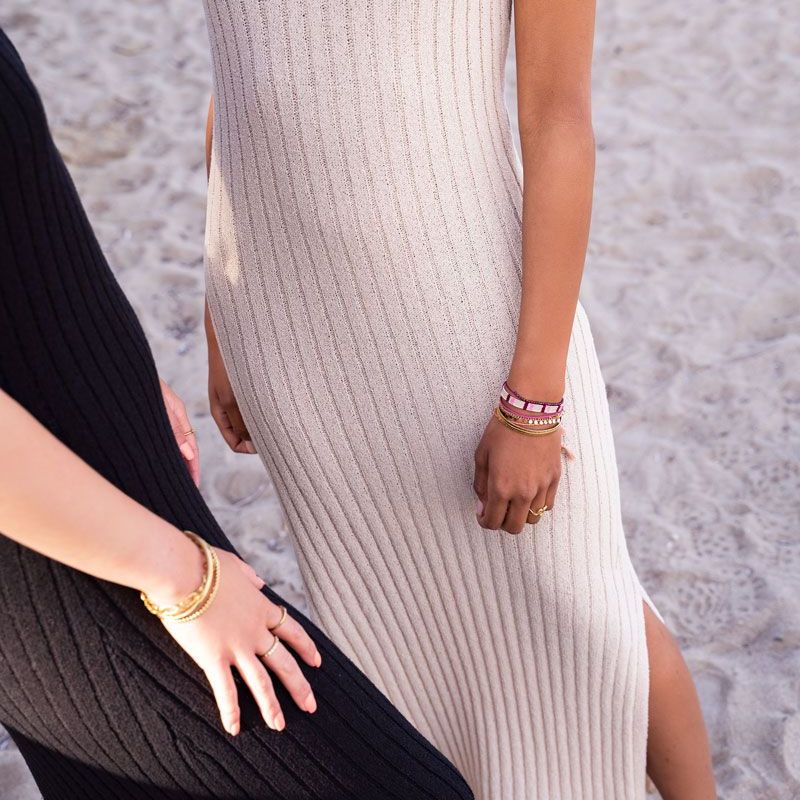 Coastal grandmother - our dream aesthetic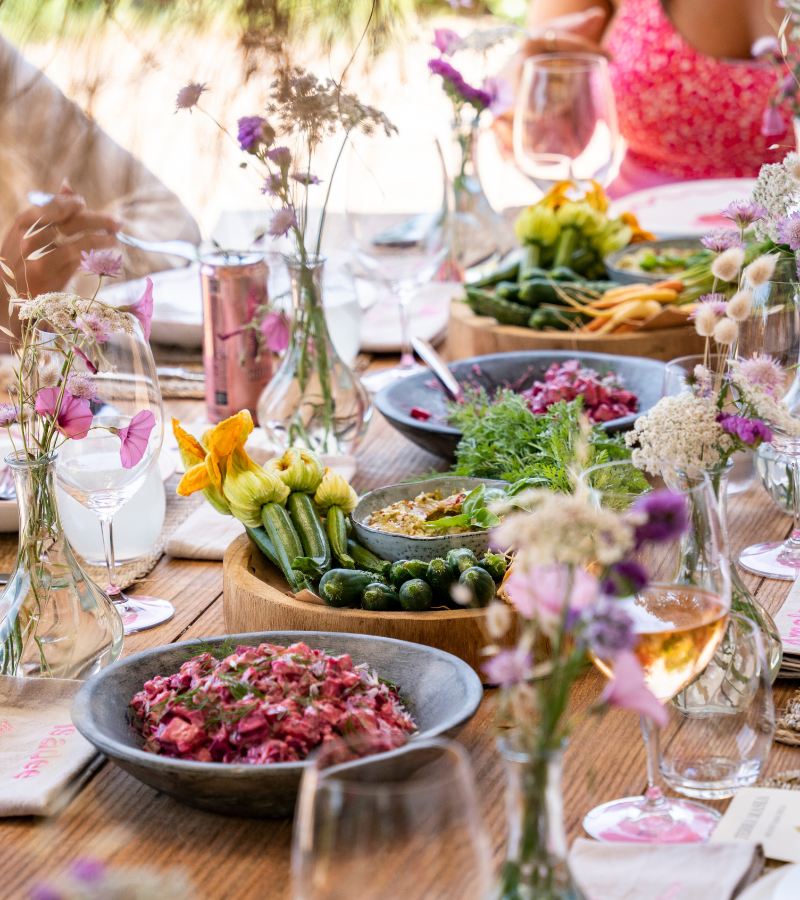 ---
Food hotspots Ibiza
---
Terra Masia
Spain is known for its jugs of sangria and tables laden with tapas, and Ibiza is no different. We have a bunch of favourite foodie spots in Ibiza, but our absolute number 1 has to be Terra Masia. This gorgeous restaurant is set in the most gorgeous setting, amongst lemon and olive trees, which give it the most amazing atmosphere. Terra Masia is all about eye for detail, animals and nature, and everything they serve is grown on their own land and beautifully presented with edible flowers. Plus, as a super cute bonus, they offer crates of veggies of the day.
La Oliva
La Oliva is a cosy, small restaurant that gives you that authentic Ibiza vibe. Situated in Dalt Villa, on a small street full of white houses and colourful doors, this place has an amazing menu so you better make your reservations well in advance to nab a table.
Ses boques
This authentic restaurant is hidden on the south coast of Ibiza, so to get there you need to drive down a mountain to the bay, but once you actually arrive you'll be seated right on the beach between the trees. Pure bliss!
Auberige
This country-chic farm-to-table restaurant in Ibiza offers healthy food made from fresh products straight from the fields. The surrounding area with its many lemon trees and views of the vegetable patch, is stunning, just wait and see!
Finca la plaza
In the hidden gardens of Finca, in the heart of Santa Gertrudis, you'll find a place that offers amazing food, made from local ingredients. Sit out under the stars, surrounded by twinkling lights and enjoy a meal you won't easily forget.
La Paloma
Love colourful crockery and fun interiors? Look no further than La Paloma in the heart of Ibiza. Gorgeous food that's presented in an equally beautiful way, you're going to love this place!
Buen provecho, a.k.a enjoy!
---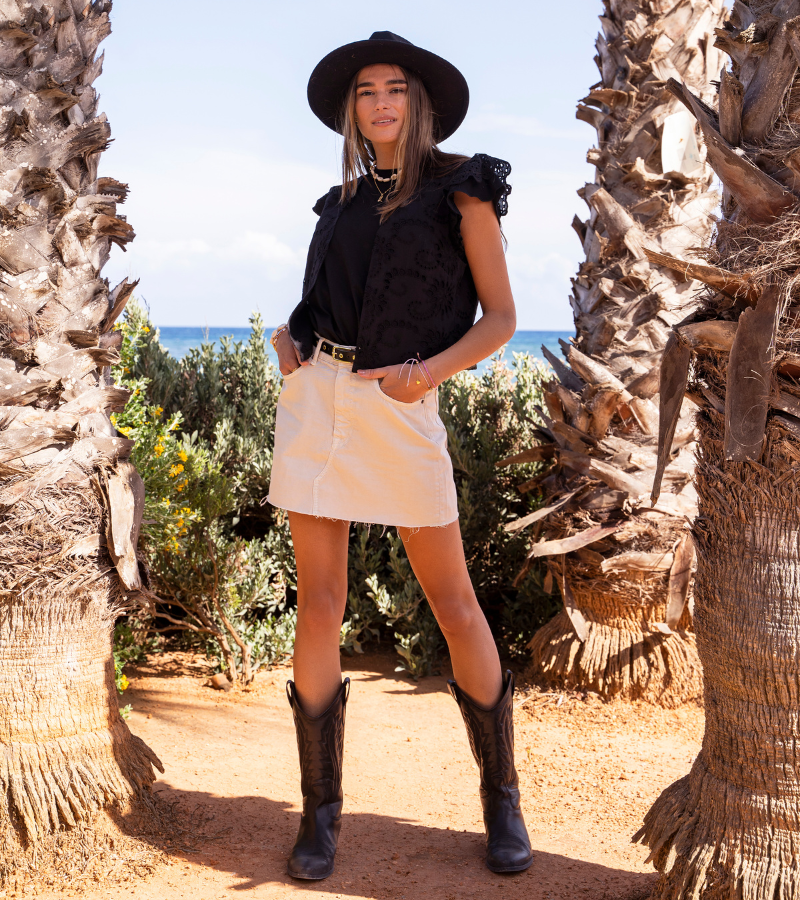 ---
La Playa
---
Vamos a la playa! Planning on renting a car or scooter? Why not drive to Cala Gracioneta, one of the loveliest beaches in Ibiza. A small bay with just one restaurant in perfect Ibiza style where the food is good, and the drinks are even better. Head towards the eastern coast of the island for another stunning beach with a beach restaurant called Aiyanna Ibiza. Our final recommendation? It's got to be Cala Tarida, another lovely beach with stunning white sand and crystal clear waters, surrounded by a number of restaurants.

Obviously you can't go out for dinner, to the beach or party without a great Ibiza style outfit! Which is why My Jewellery has put together a list of our favourite Ibiza outfit trends like Ibiza clothing, Ibiza dresses & Ibiza bracelets. Get ready to pack a suitcase full of style!
---
---
---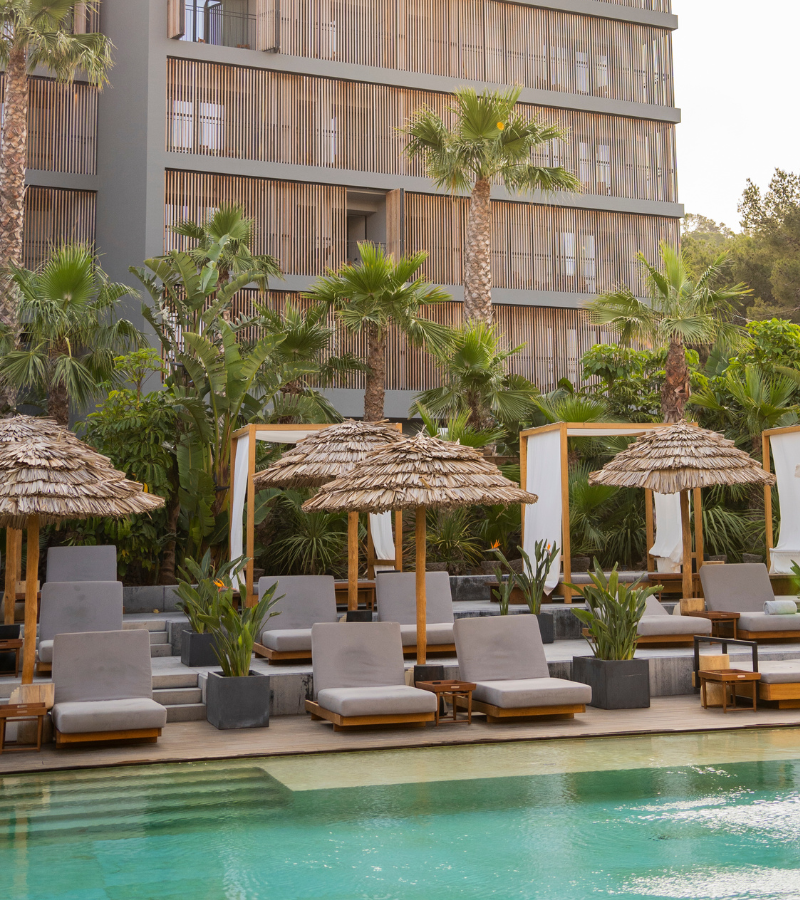 ---
Time for a siësta!
---
Once you've hit up all of these cool Ibiza hotspots, we can imagine you might need a nice nap in a comfy bed in a stylish hotel. And a hotel with a pool and cool interior vibes would just make that nap 100x more comfortable. Who doesn't love good vibes and great interiors? We know we do! So, with that being said, these are the best places in Ibiza to spend the night!
Riomar Ibiza
Relax and recover from a night on the town or one-too-many cocktails in the sun at this blissful hotel. This place is right on the beach, has a pool with gorgeous daybeds, offers yoga and a really good restaurant. We love it!
OKU Ibiza
If you ask us, OKU Ibiza is the best and most stylish place in town. This hotel offers the most stunning interior with natural materials, colours and textures & hidden nooks and crannies all over. Plus, to make it even more amazing, you get to choose from two restaurants. Friendly staff, a super healthy, fresh, varied and versatile breakfast are the icing on the cake. Need we say more?!
Petunia
This luxury hotel looks out over Es Vedrà, and offers yoga lessons on the rooftop terrace, so magical! Besides that there's a large swimming pool, vegetable garden, cinema, cocktail bar and stunning flowers everywhere. A hotel with eye for detail and super zen vibes.

---
"Ready to make new memories?"
---
---
Subscribe & receive the latest updates