Trends
Party season trends
By Victoria Cowan, 2 November 2021
Yes, our favourite time of year: magic season, is almost here! That means it's time for all of our favourite party fashion & trends! Let us guide you through the biggest trends for this season's party wear. From satin dresses to sparkly flares, sequined tops to leather skirts, we have it all! Are you ready to sparkle in our favourite party wear? Check out our guide to the biggest trends in party wear for this magical season!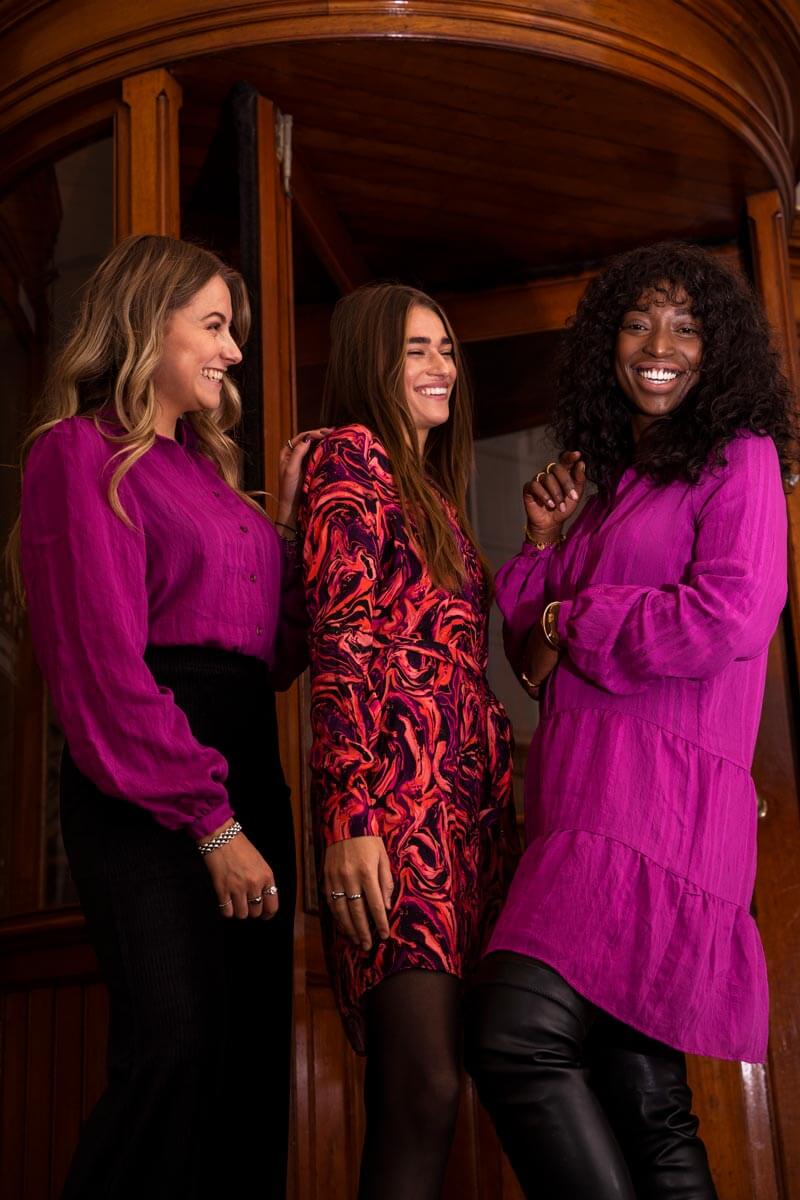 Party ready pants & trousers
Dancing, cycling, sitting, basically everything is easier in trousers. No need to keep checking that your skirt isn't riding up or that you're actually flashing a little too much... that's why we love this season's trends for flares and trousers in all the best colours, styles and materials. Think: bronze glitter flared pants and sequined dressy trousers. Alongside the trousers we're also seeing a lot of super on-trend jumpsuits this party season. So we say: dance like no one's watching!
Party dresses
Okay, we know we just said how wonderful trousers are, but let's be honest, what's the holiday season with party dresses & Christmas dresses?! Unthinkable, that's what it is! We love a classic black dress or dresses with mesh or embroidered details. Wear them with a pretty sparkly pair of tights and let's get the party started in your amazing party outfit!
Glitter & sequins party wear
Oh yes! It's the season to sparkle so sequins are totally in! The holiday season is the perfect time to wear all the glitter, sparkles and sequins you want. Nothing screams party wear as much as a sequined dress, you'll be totally party ready! If a sequined dress isn't enough sparkle for you, go for a glitter co-ord, and get ready to sparkle the night away!
Satin party wear
We love satin! It's such a classy fabric and it's absolutely perfect for the holiday season. Just as well, it's a huge trend for this party season! This shiny fabric always looks classy, luxurious and stylish, and we can't get enough of it! So this holiday season, we say: add satin to your party wear!
Sheer fabrics & velvet
Mesh and sheer fabrics are classy & sexy, and perfect party wear! Wear a party top or blouse with a gorgeous pair of flared trousers or a cute skirt and you're all ready for your New Year's Ever drinks, Christmas dinner or birthday party. Much like mesh, velvet is another totally on-trend fabric for this party season! Velvet dresses, bralets and tops are the perfect addition to your party wear wardrobe!
Party accessories to finish your party outfit
The festive season is all about glitz & glam! Less is more is not a term often associated with the party season, so when it comes to your party accessories we say: go all out! Add lots of pretty party wear jewellery like chunky party chain necklaces to your all black look, or some statement party earrings to your sparkling party dress for a party look that'll shine super bright!
Enjoy this blog? Subscribe & receive the latest updates