---
---
---
---
Sparkling jewellery - the jewellery trend you can't ignore!
---
Jewellery trends come and go but one of the most enduring trends, the one our inner magpie will always go back to, has to be: sparkling jewellery! Sparkling jewellery is the ultimate statement accessory, the one item that has the magical ability to turn a somewhat bland look into an absolute eye-catcher. So, if you're instantly drawn to sparkle like we are, discover our favourite sparkling jewellery trends below!
8 November 2022 | By Victoria Cowan
Read time: 3 min
---
---
Rhinestones galore!
---
Thought rhinestone jewellery belonged back in the 80s, think again! Rhinestone jewellery has had a makeover for party season 2022, and it is bigger, better and bolder than ever before. When it comes to accessorising your outfit with the right jewellery we're firm believers in being daring and going all out, afterall, if you're wearing rhinestones you want to be seen! For those gingerly dipping their toes into rhinestone waters for the first time we would recommend going for an understated yet timelessly classy tennis bracelet or rhinestone choker necklace, but for the magpies who can't get enough of rhinestones, the sparkle sky's the limit. From large star-shaped earrings to sparkling hoop earrings, vintage gemstone rings that look like they came straight out of the glamorous 50s and necklaces dripping in gemstones, there's a piece of sparkling jewellery to satisfy every rhinestone cowboy's penchant for glitz and glam.
---
---
9x Cool Girl party outfit ideas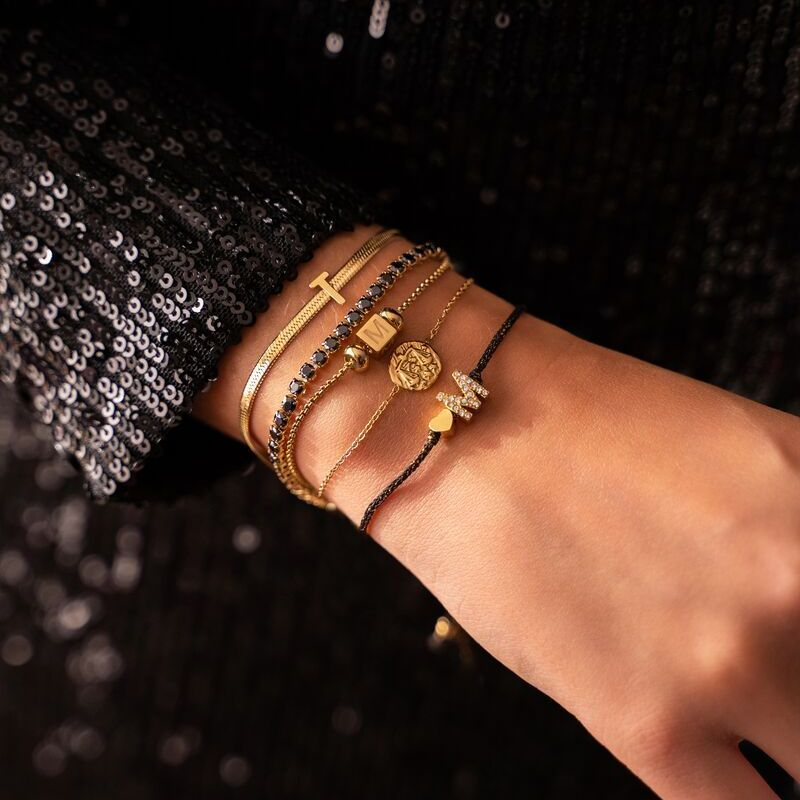 Zodiac Gift Guide | Which gifts suit your star sign
Glitter jewellery for party season
---
No party outfit is complete without the right glitter jewellery to really finish off the look! Whether you're hitting the dance floor to sparkle the night away or simply heading to a wonderfully cosy dinner with family and friends, sparkling jewellery is sure to catch the eye in any situation. Going for full on sparkle in a sequin dress, party dress or cocktail dress? Don't be afraid to add glitter jewellery to the look as well! Glitter jewellery is meant to stand out and the best way to wear it is with a massive dose of confidence and inner sparkle, but that doesn't mean your outfit can't be equally as sparkling. We love matching our sequins to our rhinestone jewellery, and one of our favourite ways to add rhinestones to a sparkling outfit is to pull our hair up into a classy bun or ponytail thereby freeing up our neck for sparkling statement earrings. A touch of sparkle in your hair is also always a good idea! So why not grab your favourite sparkling necklace or rhinestone bracelet and repurpose it as a sparkling hair accessory! Braid your necklace through your hair, or layer the necklace over the back and attach it with a couple of invisible bobby pins for a truly unique yet sparkling look. If you're a more lowkey kinda gal and prefer classic yet simple outfits such as a classy women's suit or a top and trousers combo, but want to add just a little a touch of glitz and glam, your jewellery selection is the easiest way to do just that. A low v-neck style benefits from a gorgeous rhinestone necklace choice, while a short-sleeved top will really showcase your shimmering bracelets and glittering rings. Finish off the look with a perfect sparkling manicure and you've got yourself the ultimate glamorous yet lowkey party outfit!
---
"Life is better when you're covered in glitter!"
---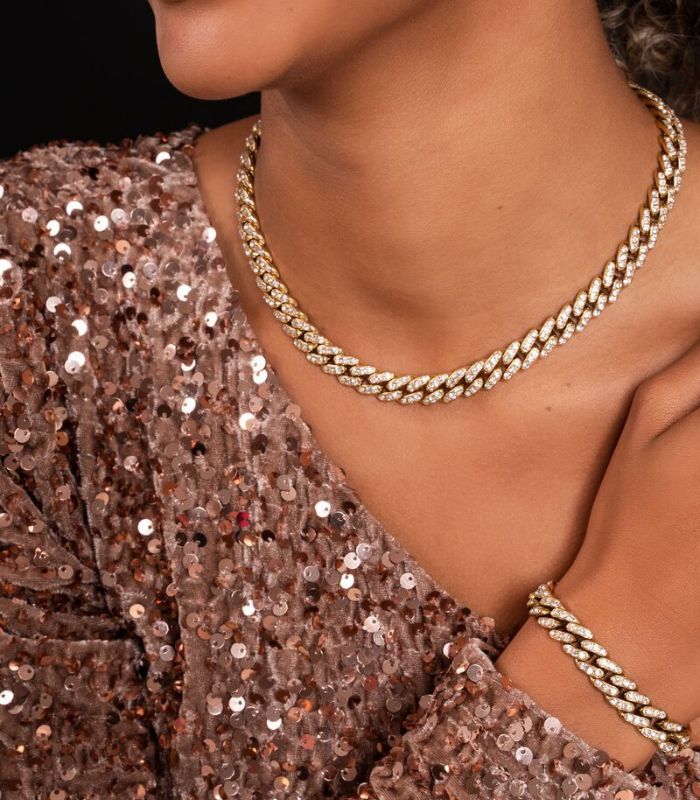 ---
Sparkling jewellery to fall in love with
---
Heart-shaped jewellery is one of the all-time classics, and it's certainly the way to our heart! Spread the love during party season and wear your heart on your sleeve (quite literally) by going crazy for heart-shaped sparkling jewellery. From dainty charm bracelets with rhinestone heart charms to eclectic heart-shaped hoop earrings adorned with shimmering beads, this party season is all about L-O-V-E. Heart-shaped sparkling jewellery also happens to be the perfect gift for gifting season! The Season of Magical Wonders is all about spending quality time with our nearest and dearest and showing them how much they mean to us, and how better than by gifting the people nearest to your heart with meaningful heart-shaped rhinestone jewels. Not sure if your best friend, mum, auntie or sister would appreciate heart-shaped jewellery? Send them a link to our Gift Finder and discover the perfect gift for them!
---
The Season of Magical Wonders
---
No one loves the Festive Season more than My Jewellery! And to celebrate the most sparkling season of all, we've launched our Magical Wonders collection full of the most sparkling, romantic and party-worthy jewellery you could imagine! The festive season is all about sparkle and light, from twinkling lights on the Christmas tree to flickering candle light on the dinner table, sequined party dresses catching the light on the dance floor and, let's not forget, your rhinestone jewellery shimmering in the moonlight at the end of another memorable night. Cherish all the best memories of the most magical season by shining bright through all of it, in our sparkling Magical Wonders collection.
---
---
---
Get on the list & get inspired!
Schrijf je in & ontvang de nieuwste updates