---
---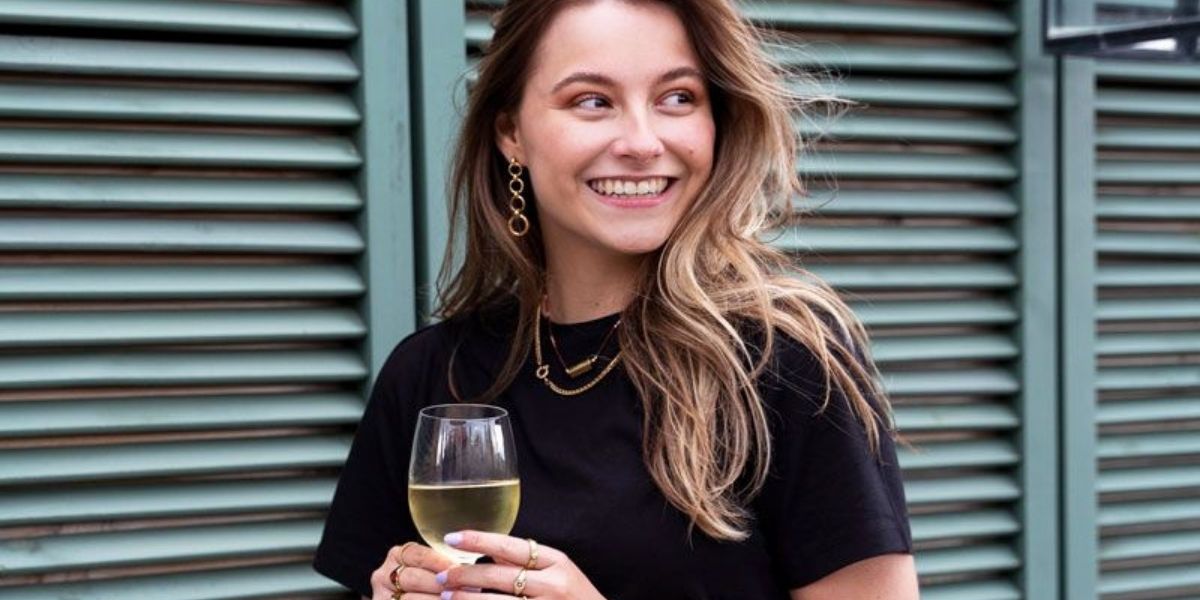 ---
---
---
Festival outfit inspiration 2022
At My Jewellery we're well aware of the importance of a great festival 'fit come the spring/summer festival season! Obvs we all want to rock a killer look on the festival fields because who knows when we might meet that cute singer we've harboured a not so secret crush on for ages! Luckily, you've come to the perfect place for all of your festival outfit inspiration for 2022. Whether you're dancing the day away at a sunny festival, or having fun splashing around in the soggy & muddy festival fields rockin' out to your fave band, we have your outfit sorted. So check out our ultimate guide to festival outfit inspiration for 2022.
28 March 2022 | By Victoria Cowan
Read time: 8 mins
---
Women's festival outfits
---
Time to party! Festival season has kicked off, now it's time to spice up your festival 'fits to the max. We know how tricky it can be finding that ultimate outfit to really show off what you've got at your fave festi, which is why we've come up with the perfect guide to all of our favourite festival outfit inspo. So get ready to steal the show bby, trust us you're gonna kill it in the festi style stakes!
There is one festival that everyone and their mum has heard of, the festival of festivals, the ultimate in cool girl vibes: Coachella! This American festival is basically the dream festival for any festival fan. Every April celebs & influencers hit up the Cali desert to party, see cool bands, and most-importantly of all, show-off their absolute killer style. This is the festival that determines the festi style for the rest of the year, so it's THE place to look for the best festival outfit inspiration. Not sure how to achieve that perfect Coachella 'fit? No worries, because we're here to tell you how you can achieve the ultimate cool Cali girl festival look so you can mix it up with the world's biggest celebs in no time.
---
Festival weather
---
Good music, good friends, good vibes! Ohh, the excitement for festival season truly is starting to bubble up! Sadly, Northern European festivals aren't always blessed with the best weather, Southern Europe on the other hand, you lucky ones get to have fun in the sun all season long! But, this leaves the question: what kind of festival clothing do you wear when the weather is playing games with you? Rain, wind, cold, hot, dry…A very valid question, and one we're here to answer, because let's be honest, we're not gonna let a bit of bad weather ruin our mood or our festival look! So, let's get down to it, and check out all of our reccs for warm weather, cold weather and changeable weather.
---
---
The day of your long-awaited festival has finally arrived, and the sun is shining! Thank the music gods! This is what you wanted all along, a full day or weekend of dancing in the sun, what could be better?! Time to style up the perfect warm weather festival outfit.
Festival outfit
Warm days make styling an outfit so much easier! This is literally the perfect time to mix and match your items. Go for festival dresses with western boots, or style up a skirt or shorts with a cool top, the sky's the limit! Get inspired by a Coachella festival outfit for 2022 and create a festival look that's perfect for summer. If you're into feminine & girly style you've gotta go for colour in your festival look. There's one massive trend that we think would be ideal for your girly girls, and that's Indian Summer. This style is all about gorgeous colours, batik prints, long dresses and many more romantic elements that'll look gorgeous on the festival field. A tried and tested fail-safe when it comes to festival style is the bohemian trend. Look for pastels, bright prints, flouncy & swishy fabrics, fringing, leather details and lots of accessories to really nail this look. For those women going for a slightly edgier look you've got to go hell for leather! Style some leather shorts with a funky bralette layer over a mesh top and add some chunky accessories, and you've styled yourself a Coachella worthy festival 'fit.
Festival sieraden
Every festival girl knows, your festival outfit isn't complete without the right jewellery. We love jewellery parties! Finish off your boho look with lots of bohemian jewellery such as beaded bracelets, or pieces feather and fringe details. Simply put, there's one rule for festival outfit jewellery and that is: More is most definitely more! So, go for colour mixing, go for different metals and funky details, because if ever there's a chance to go all out in the fashion stakes, it's on the festival field.
Festival accessoires
Accessories can be both practical and beautiful, but mainly beautiful! We love adding a belt to our festival look for just that added bit of definition to the waist and an extra detail on the 'fit. Another detail that's a true blast from the past, but we (not so) secretly love it, is a belly chain. These 90s & early 00s classics are back with a bang and taking over the festival fashion scene. Naturally, every girl needs a great pair of sunglasses. Sunnies are both super stylish and they have the added perk of being able to hide those tell-tale signs of a late night. Finish off the look with a funky sunglasses chain and your warm weather festival outfit is lit!
---
"The joy of festival dressing is an art"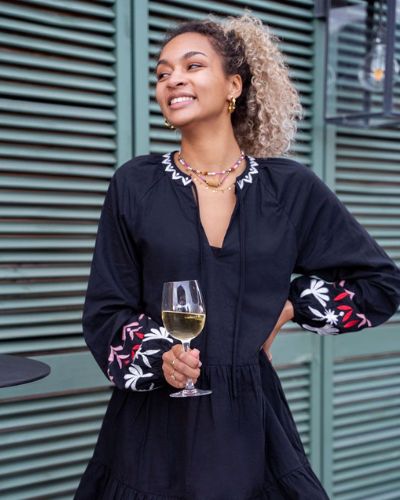 ---
---
If you're unlucky enough to live in a country with changeable summer weather, chances are you'll be looking for a cold weather festival outfit at least once during the festival season. But, dressing for a cold weather festival doesn't have to be difficult or boring, in fact, it offers the chance of adding extra layers of style that can make you look instantly on-trend.
Festival outfit
Item number one to grab from the closet when dressing for a cold weather festival is a great pair of funky flares! Go for a pair in a bright colour or bold print to really stand out from the crowd. Add a crop top, long-sleeved top or a cool band t-shirt and you're good to go. Obviously, on a cold day you've got to bring a jacket, coat or layer over a cute fleece jumper or printed sweater. A bright puffer jacket is one of our personal favourites, whilst a leather biker or denim bomber are festival staples for a reason. Remember though, that on a cold day layering is key, because we all know how changeable the weather can be. One minute you're getting soaked in the rain, the next you're getting dried off by the sun. So, in this situation, layers are your friend.
Festival sieraden
If you're afraid that your cold weather festival outfit might look a little too lowkey for your chosen festival because you've had to layer over a jacket, simply go wild with the jewellery! Necklaces, bracelets, rings and earrings will all stand out and add your signature look to your festival outfit despite the layers. We love the MOOD collection and the Candy Couture collection if you're looking for statement jewellery! Colours, bold designs, a tonne of sparkle and unique style all come together in these collections making them the perfect choice for your festival outfit. Obviously, you don't have to go so bold, there's beauty in minimalism too after all, so if you're more of a "less is more" kinda woman, go for pieces in the My Jewellery Iconics Collection or try out the Chunky Chain Collection pieces. These will take you right through your festival season and beyond.
Festival accessoires
When it comes to cold weather festival accessories a few things come to mind: hats, ponchos and boots. Hats, think buckets hats, caps and berets, always look amazing and will help a little to protect your festival hairstyle from the elements. Next up? A bag, of course! Go for a handbag with changeable straps and choose a funky strap that perfectly suits your festival outfit. That way you'll look super stylish as you're carrying all of your essentials with you.
---
---
As we said earlier, it's almost to be expected that the weather will be pretty changeable for the duration of the festival, especially if it's a weekend festival you're going to. Chances are it'll be pouring down one minute, and the next the clouds will part to welcome the blazing sun. If you're expecting your festival weather to be pretty changeable, follow these steps for an on-trend changeable weather festival outfit, that'll have you dancing in the rain, no problem!
Festival outfit
As was the case with cold weather, when it comes to changeable weather layering is the way to go. Changes in weather bring changes of temperature, and that means layering your jacket on and off. Because let's be honest, you don't want to be running back and forth to your tent all day long, because you're too hot in your outfit one minute, and too cold the next. Thankfully, we're big fans of layering! Add an edge to your pretty maxi dress by throwing over a cool sweater, or grab a cool pair of leather pants with a t-shirt, gilet and denim jacket if it gets too chilly. And if you're really too cold, get on the dancefloor and you'll be taking off those layers in no time.
Festival sieraden
Festival outfit: check! Time for the jewellery! If you struggle with pairing the right jewellery together, we have the ultimate solution: necklace sets and bracelet sets. Create the coolest jewellery party in a flash! When it comes to festival jewellery we're big fans of a major arm stack, especially if you're wearing a short-sleeved top or dress. So, layer up those bracelets and go for colour, boldness and fun! The final detail? A pair of statement earrings, and you're good to go.
Festival accessoires
Perfect your festival with the right accessories! We think a festival look is the ideal setting to bring out the hair accessories and really raise your beauty game. A scrunchie is perfect for that 3rd day unwashed festival barnet that needs to be controlled from its mayhem. Just pull it into a high pony and add your fun scrunchie and no one will know how long it's been since you washed your hair. In a nod to the return of 90s and 00s fashion, hair clips and grips are also high on the fashion must-have lists, and a festival is the ideal time to try them out. Braid your hair into a fun style, and add some sparkly or colourful hair clips for a unique twist to a braided hairstyle. Add some sparkle to your face with face gems and a glittery lipgloss & eyeshadow, and you are totally Coachella ready baby!
---
"Dress like you're already famous"
---
---
Subscribe & receive the latest updates
---