---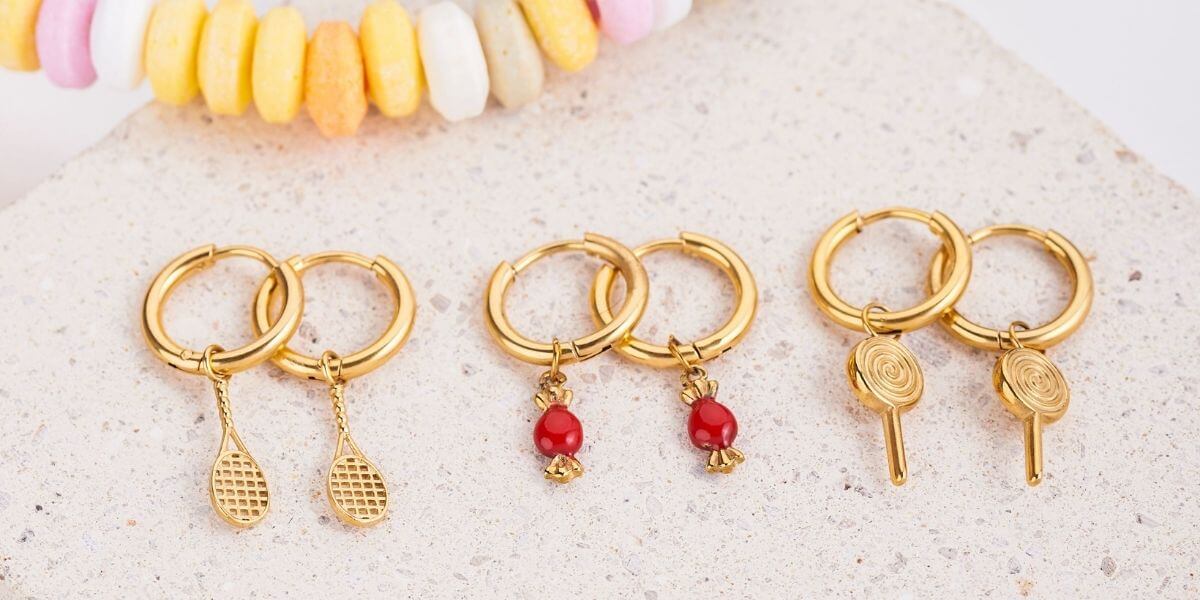 ---
---
How to style the perfect ear party?
#earparty has become a household name in recent years. Nowadays, many girls no longer just have the classic piercing in their earlobe, but also a helix piercing, a button in the tragus, or simply several holes in their ears. The more earrings the better! But how do you create a perfect ear party? In this article we give you some pointers, so you can create a cool ear party too!
31 March 2022 | By Victoria Cowan
Read time: 6 mins
---
---
Start with the basics of your ear party
---
Let's start with an important point; balance. As we just mentioned, the more earrings the better. That said, your earrings will look best if you pay attention to the order. Experiment with different shapes, for example, or put a stud in your last hole to optimise the balance. This will stop your ear party from looking messy.

It's also important to consider in advance what kind of occasion you are going to and what your outfit choice will be. For example, if you are going to a party, it's cool to complete your outfit with a striking ear party. However, when you go to work or school, a quiet ear party is more appropriate. So, think about what you want to express with your earrings!
---
Different types of ear parties
---
There are different kinds of ear parties, which we are of course more than happy to share:

1. The minimalistic ear party
A minimalistic ear party consists mainly of minimalist earrings. For example, you can combine small hoops for an exciting look. Of course, you can also combine just studs, which creates a classic look. Finally, for a minimalistic look, you can also combine small hoops with studs, which can make the look a bit more playful. If you really want to create a minimalistic look, we recommend not using too many different shapes and sizes, in order to keep the balance.

2. The ear party with medium earrings
For this ear party you can go crazy with hoops and studs in different sizes! The earrings don't necessarily have to be very big, but they can stand out. It's all about the playful effect you can create with different types of earrings. For example, style hoop earrings with a charm with a basic earring. There's no need to put the biggest earring in your first hole and the smallest in your last. Let your creativity run wild and mix & match as you please!

3. The statement ear party
If you love real eye-catchers, these tips are perfect for you. Important to note: choose one pair of statement earrings and style them with small earrings or studs. Keep your statement ear party balanced. Do you have a party planned this weekend? Then the statement ear party is the perfect match for your outfit!
---
Dainty necklaces | how to style our favourite everyday necklaces
How to style statement earrings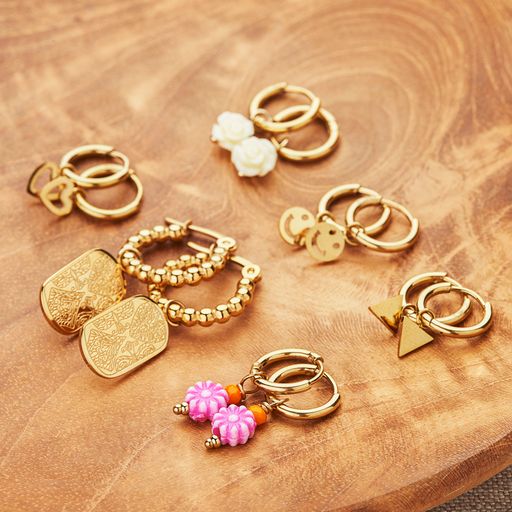 Everything you need to know about: Stainless steel earrings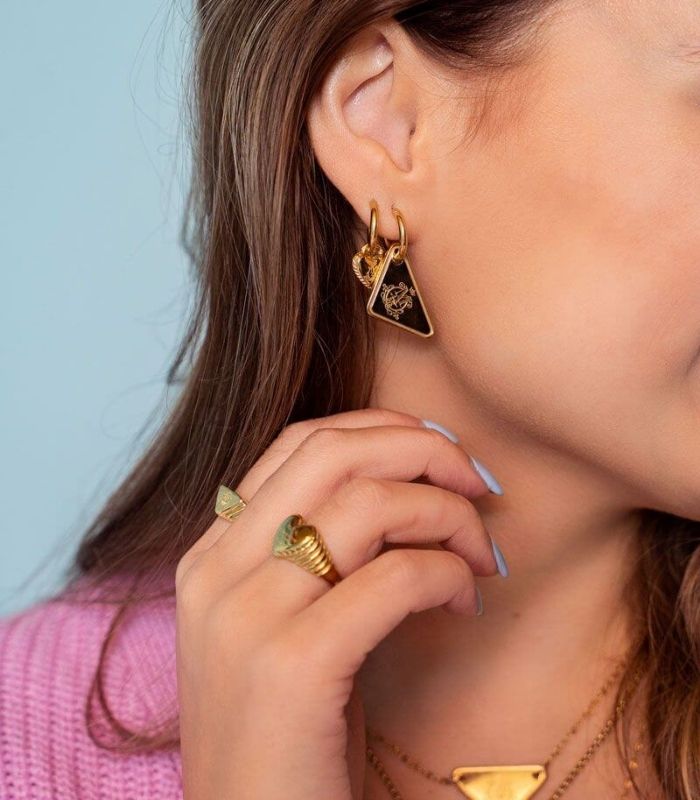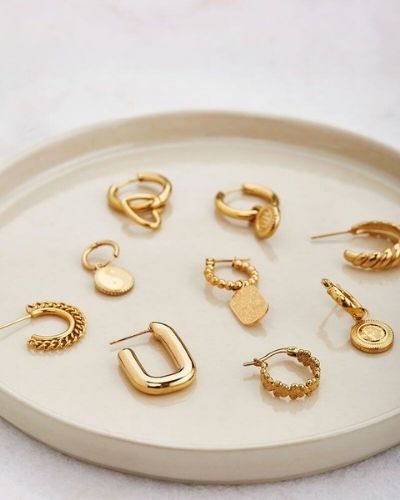 ---
Earring inspiration for multiple piercings
---
Earring inspiration for 2 piercings
One of our forever favourite ear party looks has to be the double piercing look which is why we're happy to give you some new ear party inspiration! Of course, an ear party with only 2 piercings leaves a little less room for achieving that perfectly curated ear party look as you've only got two opportunities to get it right, but that doesn't mean it can't still make an impact. These are our favourite ways to put together the perfect ear party look with doubly piercings.

The more the better! Use your double piercings to their full effect. Why limit yourself to just two kinds of earring when you can just as easily put together all the styles into one perfect earring. Think of statement earrings with pops of colour, rhinestones and unique structures or materials. Whatever you choose, as long as it makes a statement you're good to go! Add a smaller earring to create the perfect balance in the ear, and there ya go! Your new go to ear party look!

Ps: why not try wearing different earrings in either ear, that way you still don't have to choose between your favourites and can instead wear them all. Think in solutions not problems.

Earring inspiration for 3 piercings
Are you part of the triple piercing club? Then you'll know that balance is key when mixing with uneven numbers!

If you're looking for a fun and playful ear party, triple piercings are the way to go! Lucky you! Create an on-trend, playful ear party look by mixing shapes, sizes, colours & metals. Different shapes give off a playful vibe, yet when placed in order of size the look can also be super pleasing to the eye. Whoever said mixing metals was a big no, never tried it! Because, in fact, we love styling gold earrings and silver earrings together. Trust us, it'll open your eyes to so many new possibilities.

Earrings inspiration for 4 piercings
Looking for something new? Say hello to your fourth piercing. Don't hold back, and instead release your inner creative queen, afterall, you've got plenty of space for a tonne of jewels. Finding cute earrings is one thing, but finding enough that'll match nicely is another. Which is why we've put together our favourite ear parties for four piercings.

Why not use double earrings! Double earrings will fill multiple earrings at the same time, which means you don't need quite so many earrings. Fill the remaining piercings with minimalistic earrings for a lovely balanced look.
---
''Wear jewellery like there's no tomorrow''
---
Ear party for every occasion
---
Date night
All eyes on you! When dressing for a date night, everything needs to be right, so too the ear party. The most important thing is that you're the centre of attention on the date, so look for earrings that'll make you the centre of attention. Think statement drop earrings or hoops, add an on-trend ear cuff and go get him!
Office
An everyday ritual needs an everyday ear party! Above all an office ear party needs to be practical as you don't have much time in the mornings. Go for a basic look that you can keep in all week, such as basic studs or delicate hoop earrings. Still looking to spice up your look, go for a mismatched look!
NIght out
All or nothing! A night out is the perfect excuse to take things to the next level. And that calls for a little glitter and glamour! Put your eye catcher in the first piercing and fill up the rest with subtle but sparkly earrings. You know what they say: statement earrings are a girl's best friend!
Holiday
In the mood for a tropical island?! Yes please! I'm going on holiday, and I'm bringing….the perfect ear party. Holidays are all about fun, rest and good times, something you can definitely mirror in your ear party. We say bring the colour, beads, shells and pearls. Need we say more? Boho meets Ibiza!
---
Selected Look
---
With our latest Selected Look collection, making an ear party is no longer a problem! You buy a ready-made set of earrings on a card, with which you can create the perfect ear party! The collection consists of an earring set and two sets with a combination of earrings and studs. Let's make an ear party!
---
Enjoy this blog? Subscribe & receive the latest updates