Styling
How to create the perfect ear party
By Lonne Brummans, 11 February 2021
#earparty has become a household name in recent years. Nowadays, many girls no longer just have the classic piercing in their earlobe, but also a helix piercing, a button in the tragus, or simply several holes in their ears. The more earrings the better! But how do you create a perfect ear party? In this article we give you some pointers, so you can create a cool ear party too!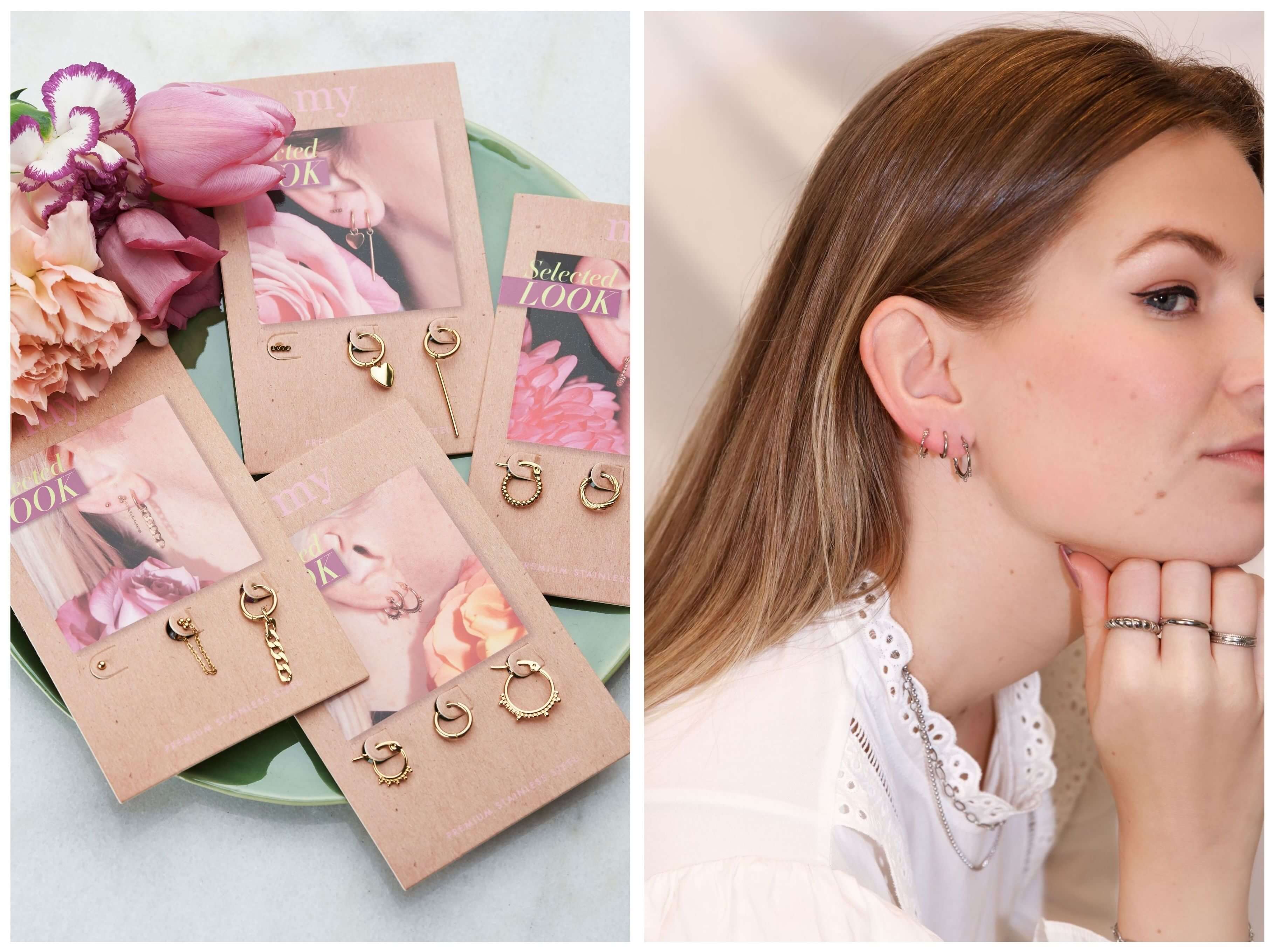 Start with the basics of your ear party
Let's start with an important point; balance. As we just mentioned, the more earrings the better. That said, your earrings will look best if you pay attention to the order. Experiment with different shapes, for example, or put a stud in your last hole to optimise the balance. This will stop your ear party from looking messy.

It's also important to consider in advance what kind of occasion you are going to and what your outfit choice will be. For example, if you are going to a party, it's cool to complete your outfit with a striking ear party. However, when you go to work or school, a quiet ear party is more appropriate. So, think about what you want to express with your earrings!
Different types of ear parties
There are different kinds of ear parties, which we are of course more than happy to share:

1. The minimalistic ear party
A minimalistic ear party consists mainly of minimalist earrings. For example, you can combine small hoops for an exciting look. Of course, you can also combine just studs, which creates a classic look. Finally, for a minimalistic look, you can also combine small hoops with studs, which can make the look a bit more playful. If you really want to create a minimalistic look, we recommend not using too many different shapes and sizes, in order to keep the balance.
2. The ear party with medium earrings
For this ear party you can go crazy with hoops and studs in different sizes! The earrings don't necessarily have to be very big, but they can stand out. It's all about the playful effect you can create with different types of earrings. For example, style hoop earrings with a charm with a basic earring. There's no need to put the biggest earring in your first hole and the smallest in your last. Let your creativity run wild and mix & match as you please!
3. The statement ear party
If you love real eye-catchers, these tips are perfect for you. Important to note: choose one pair of statement earrings and style them with small earrings or studs. Keep your statement ear party balanced. Do you have a party planned this weekend? Then the statement ear party is the perfect match for your outfit!
Selected Look
With our latest Selected Look collection, making an ear party is no longer a problem! You buy a ready-made set of earrings on a card, with which you can create the perfect ear party! The collection consists of an earring set and two sets with a combination of earrings and studs. Let's make an ear party!
Did you like this blog? Subscribe & get the latest updates