---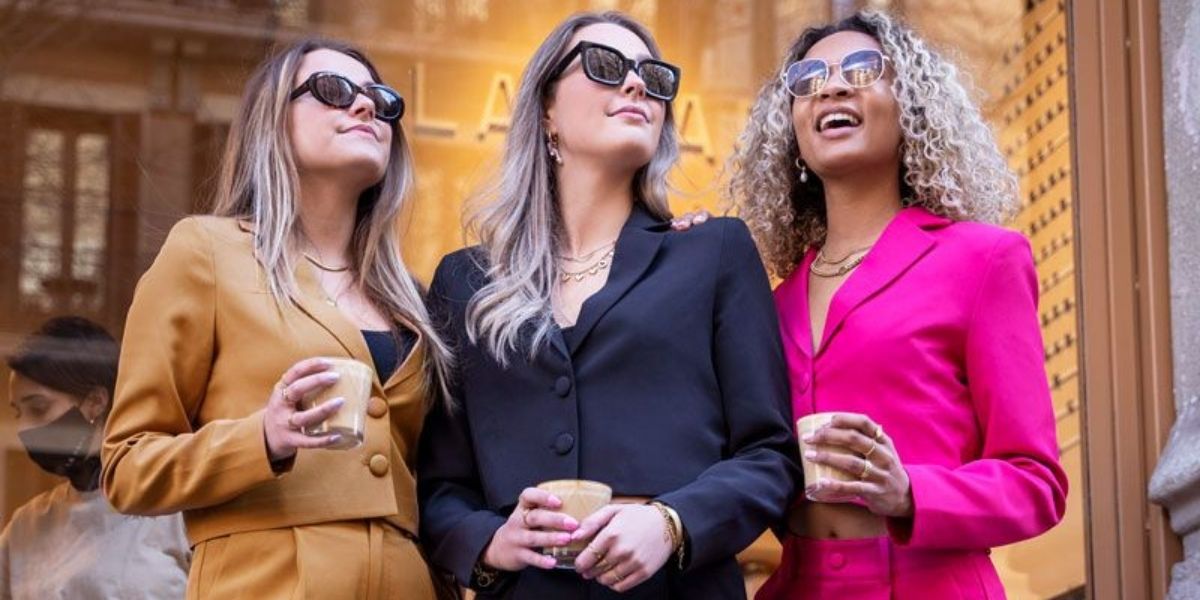 ---
---
---
How to style a women's suit
Who run the world? Girls! Suits just for men? Not on our watch. A women's suit is so hot right now & we're there for it! A women's suit is so much more than an office outfit, it's become an every day staple & we guarantee you've seen women rocking suits on Social media and as street wear. But where can you get yourself a great women's suit? Let's find out!
21 March 2022 | By Victoria Cowan
Read time: 3 mins
---
---
---
A woman's suit makes a real statement! But finding the perfect woman's suit can be a lot more difficult than anticipated. Women's suits are available in all kinds of colours and shapes, making the choice a lot more difficult. We all know those classic women's suits, made up of a jacket and matching pair of trousers or flared pants. But if you'd prefer to stand out from the crowd we recommend a woman's suit with a vest, basically a sleeveless blazer. Wear the vest with a pair of well-cut trousers or a skirt and you're set! Alternatively, spice up your look with a pair of shorts & matching blazer. The search for a good woman's suit is over, because you can easily style the coolest women's suits at My Jewellery!
---
Complete women's suit
---
Yes, you heard us! My Jewellery has just released a new line of suits, a complete women's suit. The 10 years suits collection symbolises the 10-year anniversary of My Jewellery! We couldn't imagine a better gift! The 10 Years Suits are full women's suits, to represent the inner business women in us all. The full suit is made up of a blazer, vest & trousers, and is available in beige, purple, green & black. We're huge fans!
---
"Who run the world? Girls!"
---
How to style a women's suit
---
Wear your suit all day, every day. In fact, why not trade in your usual clothes for the women's suits by My Jewellery, because wearing a suit needs no special occasion. Styling a women's suit is a piece of cake, so let us inspire you! Got a fancy occasion coming up? In that case, style your suit with a blouse and wear the blazer over your shoulders to let the blouse shine. Are you in the mood to party? Your women's suit is the answer! Pair it with a sexy bralet or lace body and you're ready to dance the night away! If you've got a dinner date planned your suit will once again be the perfect outfit choice, guaranteed to make his jaw drop! Finally, if you're going for a more casj look, style your suit with a t-shirt, top or sweater, for the ultimate in cool comfort. There ya go! Proof that a women's suit is the perfect outfit for every occasion, bye bye outfit stress.
---
"Blazer sets for power women"
---
Shop your favourite My Jewellery women's suit & tag @myjewellery to let us know how you style it!
---
Enjoy this blog? Subscribe & receive the latest updates!