---
---
---
---
Bikini trend: glitter!
Say hello to your new favourite bikini trend: glitter bikinis! The glitter bikini trend is an absolute must have if you ask us, and we can't wait to strut our stuff on a tropical island in one of these beauties. Trust us, this summer is gonna be all about the glitter & glamour! Get ready to steal the show in your favourite glitter bikinis!
19 April 2022 | By Victoria Cowan
Read time: 3 mins
---
---
---
The key to a great beach look? Great swimwear obvi! Luckily, we have you covered in that department, because our swimwear has just dropped and we're obsessed! Our glitter bikinis are some of our absolute favourites, which is why we've brought the trend to your doorstep. If you're anything like us you'll appreciate a little glitz & glam, even on the beach! So, you ready to have all eyes on you this summer?! The glitter bikini is the one for you! Whether you're looking for your favourite triangle bikini or fancy a bandeau bikini style this time round, they all come in the best sparkly fabrics, so you get the best of both worlds! These glitter bikinis are real eyecatchers, so get ready to shine on your next beach vacay!
---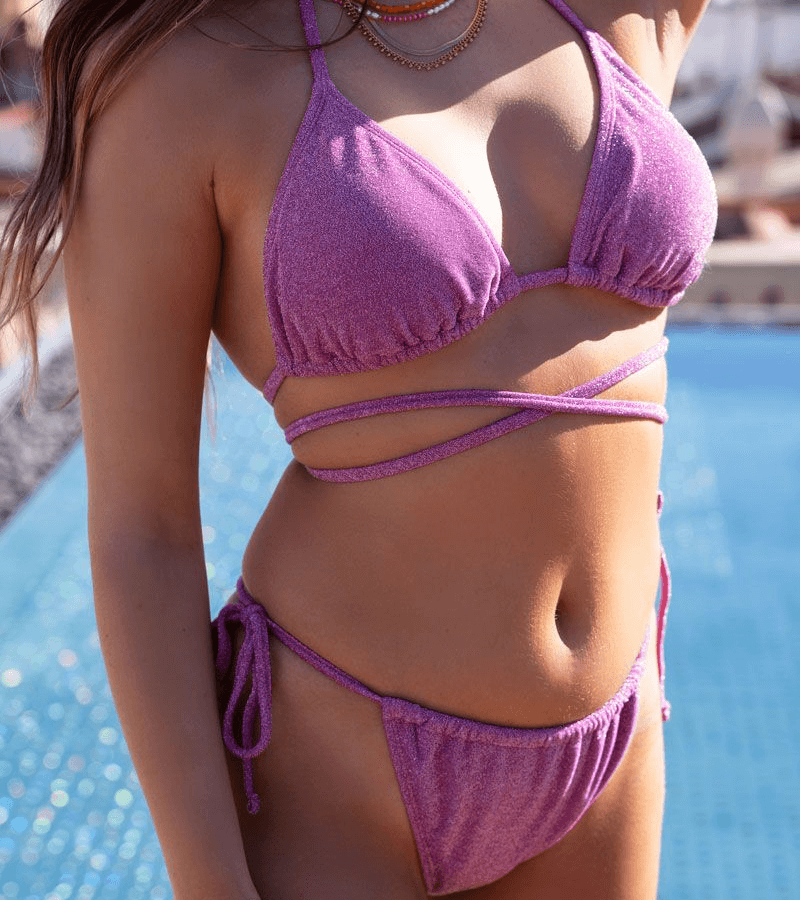 ---
How to style triangle bikinis
Welke bikini past bij mijn figuur?
The hottest bikini trends
---
Glitter has been a style fave for a while now, though it hadn't quite reached swimwear, until now…As such, you'll notice that all swimwear, including swimsuits have been dunked in glitter and been given a sparkling makeover. Glitter swimsuits come in all kinds of fun colours that are sure to brighten up any beach look. Walk along the beach, shine at a beach party or sparkle at the beach bar in your sparkly swimsuit, shorts and cover-up look. Whichever look you go for, you're sure to catch the sun & some eyes!
---
"Life won't sparkle unless you do"
---
Sparkle all year long
---
Whoever said glitter was just for party season, couldn't have been more wrong. Get yourself a glitter bikini or swimsuit and you'll soon be convinced of the merits of glitter in summer! Summer is one big party after all, and all that was missing up till now was the sparkle! But no more, because you + glitter bikini + sunshine = sparkle all day long! You'll literally shimmer like the ocean water where it's hit by the sun. This trend is one for all seasons!
---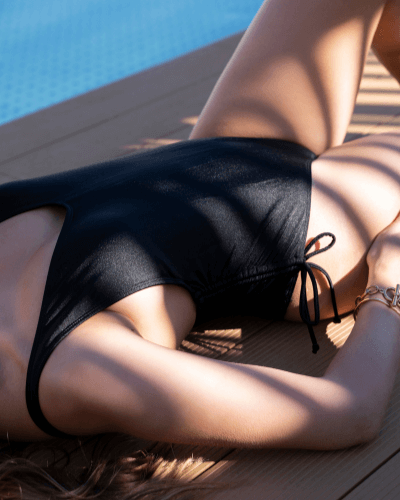 ---
How to style a glitter bikini
---
An on-trend glitter bikini is sure to get you noticed on the beach or by the pool, but what's the absolute best way to style your glitter bikini? Well, you've come to the right place for some inspo, because we can't wait to style our glitter bikinis this summer! Looking to tone down your glitter bikini a little for everyday wear? Grab your favourite sheer white blouse or button down and use it to cover up your shoulders, add some flip flops, a straw hat and pair shorts and you're good to go! Of course, if you're ready to take your glitter bikini all the way, and style it from the beach to the bar, you want to go a little extra. Don't be afraid to accessorise your glitter bikini, simply add a pretty belly chain (trust us, this 00s item is making a real style comeback!), go for some fancy sunglasses and cute anklet to finish off the look with a playful touch. Complete the outfit with a pair of high waisted shorts, strappy sandals and a thin blazer for the ultimate day to night beachwear 'fit.
Wanneer je een Instagram post toevoegt, zorg er dan voor dat je de lege colomn aan de linkerkant toevoegt om ervoor te zorgen dat de post gecentreerd zal worden in het blog formaat. Het is beter om Instagram posts te verbergen voor de mobiele versie van de blog.
---
Subscribe & receive the latest updates
Schrijf je in & ontvang de nieuwste updates