Get your ears pierced at one of the My Jewellery boutiques
Big love for ear piercings
Earrings are our all-time favourite jewellery! You can wear them 24/7 and there's a perfect pair for every occasion. They add a fun dimension to all your outfits and look great on everyone. Don't have any ear piercings yet, or want a second, or even a third ear piercing? Drop by one of our boutiques for an ear party and we'll make sure you'll leave with the most gorgeous earrings!
Get your ears pierced in Den Bosch, Utrecht, Breda, Arnhem, Maastricht, Eindhoven, Haarlem, Amsterdam, Nijmegen, Rotterdam, Groningen, Tilburg or Enschede. At every ear party you can have a pair of piercings for only €19.95! Want only an extra single lobe piercing? Then it's €10.95. More fun! If you spend €30 or more on earrings during an ear party, you get a free ear piercing! Know what you want? Don't wait, put one of the dates below in your calendar. Keep an eye on our social media for more information and terms and conditions, because you don't want to miss out on this!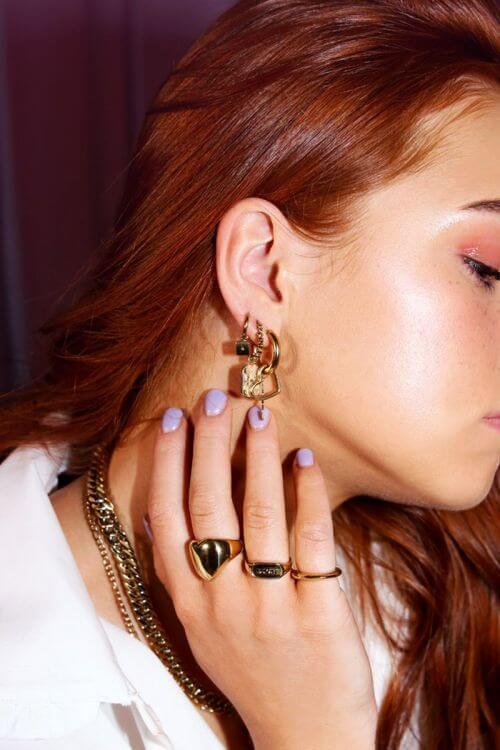 Get an ear piercing, because more = more
The big earring trend right now is: more is more. You can spot it all over Instagram & Pinterest, just one piercing in your ear won't do! More than one piercing in your ear means you can wear more earrings at once, so you can go all out! Minimalist earrings, studs and statement earrings, you can mix it all up and nothing is too crazy!
Complete your ear party
Having your ears pierced is step 1 for the ultimate ear party. Step 2 is the most fun, which is shopping for your ear party of course. Pick different singles for a super fun effect! Lucky you, because with us, you can shop earrings by the piece. Mega convenient! Minimalist earrings are super popular right now. Perfect to mix and match different earrings. Minimalist earrings add a nice touch but don't crowd your look. This way you can wear your ear party with every outfit, every day. Having a party and want to make a statement? You can also find statement earrings in our collection! Perfect to oomph up your outfit so you look completely ready.
Terms and conditions
After showing where you want your piercing, we use a pen to mark the spot with a tiny dot. You can then look at it in the mirror and decide if the mark is placed correctly. With a small instrument the ear is pierced at the correct spot. And the earring and butterfly back are also placed automatically. What else you need to know if you are having your ears pierced.
Not more than three piercings in one ear and only if there's enough space.

We do not pierce at the top of your ear, so no cartilage piercings.
Clean the front and back of your earring 2 times a day for 2 weeks with the aftercare lotion on a cotton swab.
Avoid swimming, taking a bath, or going to a sauna for 2 weeks after getting your new piercing.
Do not twist the earring! This will open the wound in the piercing.
In case of inflammation, do not take the earring out during the first 3 days because of possible bleeding. You can take the earring out after 3 days so it can close back up again. You'll have to wait 6 weeks to get a new ear piercing.
If there is inflammation, always check that the butterfly or earring back is not pushed in too tight.
Make sure your hands are disinfected before touching a new piercing. The less you touch it the better!
It is necessary to wait 6 weeks before changing your earrings.
Remember to keep wearing your earrings for the first six months, otherwise your piercing may close.
Piercing your ears costs €19.95 per pair. Only want a single ear piercing? No problem of course, then you pay €10.95.
Ear piercings are subject to age restrictions. We apply a minimum age of 12 years. Anyone under the age of 16 years will need permission from a parent.