---
---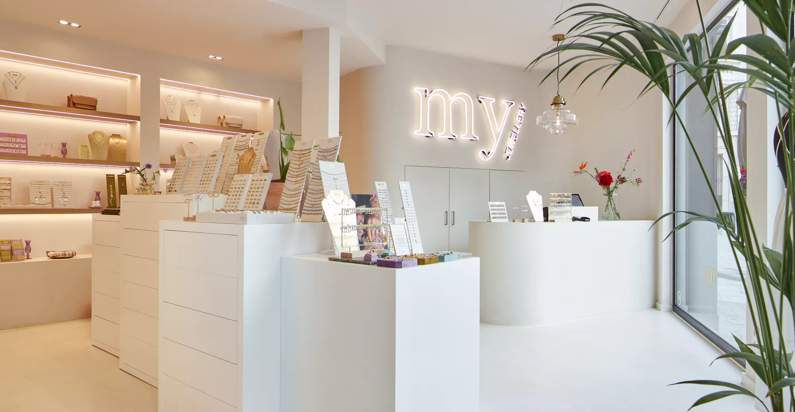 ---
---
---
Opening a new My Jewellery boutique
If you've ever visited a My Jewellery boutique, you'll have noticed what a unique and amazing experience it is! Discover how our boutiques get their entirely unique My Jewellery touch and find out all about the process of opening a new boutique here.

26 January 2023 | By Victoria Cowan
Read time: 4 min
---
---
1. Location, Location, Location
---
Without the location, location, location, there's no boutique! First thing's first, finding the right location. We always focus on the largest & most popular cities in The Netherlands, Belgium and Germany, with vibrant highstreets, gorgeous city facades and fun attractions. We love celebrating the smallest and biggest moments in life, so you'll find us any place that's ready to embrace a jewellery party. Our Brand Boutique and Retail Managers scout the locations after which our founder, Sharon Hilgers, carefully checks out the space before deciding to open a boutique there. We often choose locations that are off the main highstreet with all the large chain stores as we prefer quieter & more unique locations surrounded by cute boutiques.

"We look for locations on streets that suit the My Jewellery brand, and always make sure to look around the location for on-trend restaurants and shops. We were sold on the Cologne location because it was situated opposite a cool cinnamon bun bakery." - Megan, Retail Managers at My Jewellery.

---
---
---
---
---
You might like these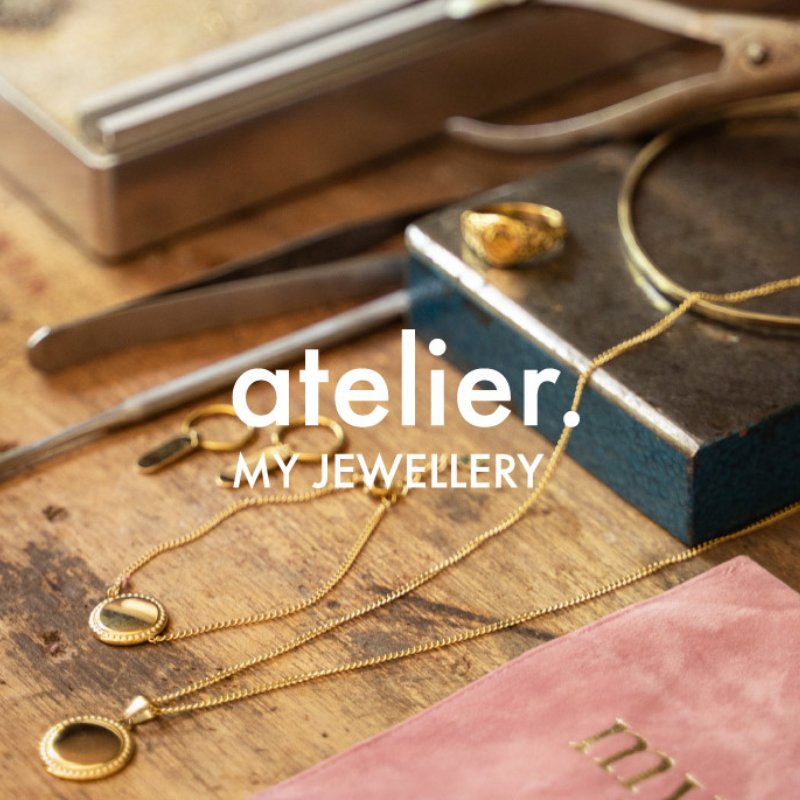 Jewellery engraving at My Jewellery | How we do it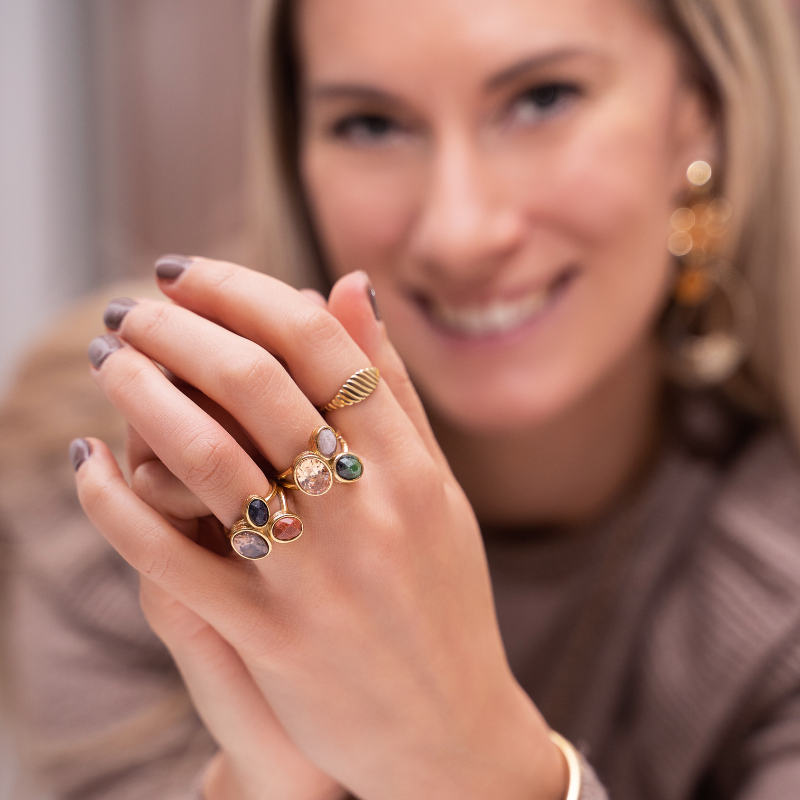 My Jewellery 11 years strong | The story of our gemstone rings
The process of launching a jewellery collection at My Jewellery
2. The design of our boutiques
---
Once we've decided on a location, the next step is to come up with an interior design concept! We always work with experts to ensure a unique My Jewellery vibe at our new boutique, so we'll work with "Mr Stir architect and planner" to design the interior design and develop the overall concept. Once the location is sorted the architects will determine whether the My Jewellery boutique can be brought to life in the space and they'll brainstorm ways to incorporate certain interior design trends. Everything is measured up and a new design is created! Of course, we'll always include our signature velvet curtains, white plastered walls, copper shelving, herringbone floors, neon lights and pink & gold accents. In our latest boutique openings we've focussed a lot on organic shapes and concrete walls, which we've really loved.
After finishing the drawing designs we trust the architect to have a close relationship with the contractor to make sure our love of jewellery and fashion comes through in the atmosphere of the boutique! We want to inspire and encourage you to celebrate life and accessorise your life with the most on-trend clothing and beautiful jewellery.
---
---
3. Visual merchandising to create the perfect interior
---
After a few weeks of renovating the boutiques it's time to get into decorating the space! This is where the term Visual Merchandising comes into play. Visual Merchandising is the way in which our items are displayed in the boutique, in other words our clothing and jewellery isn't just portrayed randomly, instead it's all done very consciously. Our Visual Merchandisers provide the boutique staff with clear instructions regarding the product display all guaranteeing a neat and accessible boutique that offers something for everyone and has all items & sizes in stock. In the meantime we'll have ordered plenty of gorgeous accessories with which to decorate the space, think lovely linen curtains for the changing rooms, mirrors, lights, cushions for the waiting rooms, vases, signs, plant pots and so much more. We add a finishing touch and the My Jewellery vibe with unique accessories!
---
4. Putting together the perfect team
---
To make sure you're offered the perfect advice, find the perfect gift and get inspired in the process, the next step is to make sure we put together a great team of boutique girls! We think it's important that our colleagues are excited about the products and know how to read our customers to figure out what they want. They'll also help you find the perfect gift for yourself or a loved one. Besides a Store Manager and Assistant Store Manager we go looking for sales talents and part-timers who will perfectly represent the My Jewellery brand and give you the best My Jewellery experience. Megan, our Retail Manager, adds: "in the best case we also offer the new team a two week trial period at one of our other stores to help them gain some experience."
---
---
---
---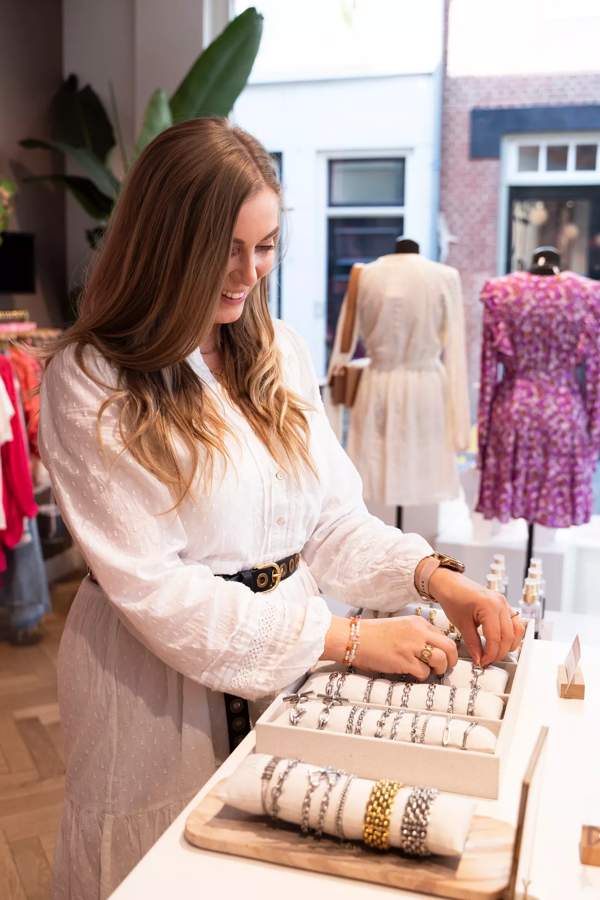 ---
5. The boutique opening
After putting together the team it's time to determine the perfect opening date, one which avoids public holidays, shopping week, holidays or sales periods, and then it's time! The boutique is ready to open.
We usually celebrate the opening with a big party and special offers on opening day! We'll welcome customers with bites, music and goodie bags and celebrate together in a big way. We hope you're looking forward to visiting one of our boutiques because we can't wait to welcome you!
---
Get on the list & get inspired!
Get on the list & get inspired!