#myjewellery styled by you!
Tag your posts with @myjewellery to get featured on our feed
My Jewellery Atelier
Get your jewellery engraved and create a meaningful piece that you'll cherish forever.
Treat your inbox!
Sign up for our newsletter & receive a 10% welcome discount! We will be the first to inform you about (exclusive) discounts, the newest items and much more.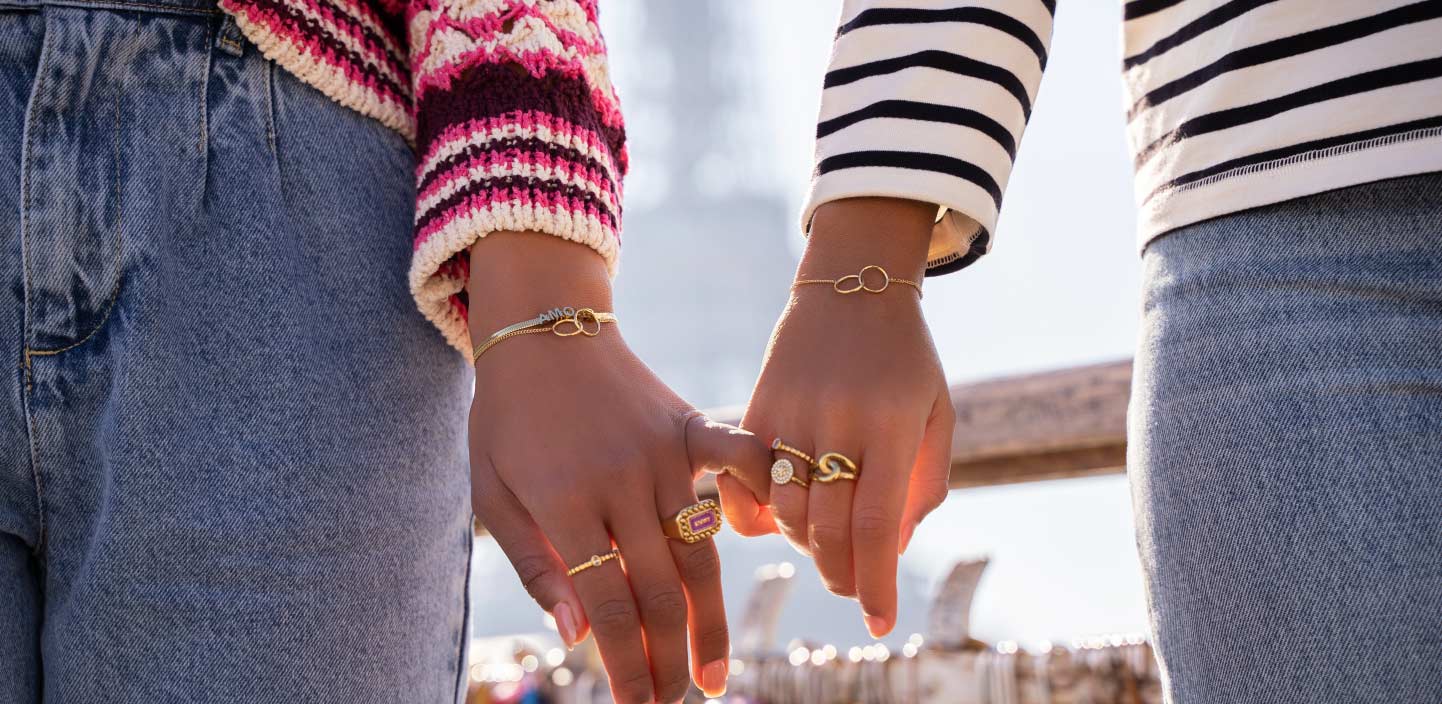 Jewellery, accessories & clothes!
Spring is in the air!
The most on-trend jewellery, latest fashion trends, coolest accessories, beautiful prints, and the nicest clothes. You can find it all at My Jewellery! Our new-in category is updated every day with on-trend jewellery, clothing, and accessories! Shop the most beautiful necklaces, bracelets, earrings, rings & many more fantastic items! My Jewellery is the leading jewellery label right now. What started as a hobby has blossomed into an online e-commerce business with boutiques across the Netherlands. My Jewellery wants to inspire fashion lovers, keep them up to date with the latest trends, and always offer a large & varied selection. That's why you've come to the right place for your new jewellery stash, cute outfit or matching accessories. Shop online where we offer fast and easy deliveries, and fast shipping. Or come and shop at one of our boutiques. When will we see you? You could always visit one of our boutiques in one of our many boutiques in The Netherlands, Belgium or Germany. Our customers have given us an 8.7 rating on Feedbackcompany! Leave your feedback and join our other 15.000+ My Jewellery reviews.
Discover your spring outfit at My Jewellery
Blue skies, flowers blooming, longer days, it must be spring! A new season means it's time for a new wardrobe! And you're definitely in the right place for new clothes at My Jewellery! Shop the most on-trend clothes with cool prints, basic colours and beautiful patterns with us. Our webshop is updated with new items every day, so you'll look the part every season. Let us line up all the spring essentials for you! First of all, spring dresses, because there's nothing cooler and more on-trend than dresses for spring! Not quite warm enough for bare legs and sandals? Why not go for one of our long dresses with some sneakers. The same goes for our skirts, as they also make the perfect spring style combo with sneakers. Style a skirt with a cute top, women's sweater or T-shirt, and you're ready to rock your day in the perfect spring fit. Just because the sun is out doesn't mean your pants need to be relegated to the back of the wardrobe just yet! A great pair of jeans, trousers or flares are perfect spring style items, and the main perk is that your pants lend themselves to mixing and matching like no other. Pair with a blouse and layer over a cute gilet for ultimate spring vibes! Northern European spring often still calls for a jacket, luckily My Jewellery has tons of lovely spring jackets and transitional jackets. After all, layers are key for spring. Pair your top with a blazer or cardi and you're good to go for the entire evening. Another thing to look forward to in spring is the arrival of our favourite parties: festivals! Shop your next festival outfit and festival essentials at My Jewellery, so you'll have something hanging in your closet for all of those spontaneous parties you'll end up going to this spring/summer! Bohemian festival has to be the ultimate trend when it comes to festival looks, so go and get your fave items & dance all day! Finally, no spring is our favourite pastel colours! From lilac to lemon, soft pink to airy blue, pastels are the perfect spring fashion colours as they reflect the return of sunshine and flowers. Not sure how to wear pastels? Check out the blog to discover which pastel shades suit you best.
The best spring jewellery
Jewellery, that's how My Jewellery started, but in the meantime, it has transformed into a leading online company within the fashion industry. Jewellery will always play an important role within the My Jewellery collections because jewellery is the perfect finishing touch to your outfit! Besides that, jewellery is also a great gift to give to a loved one, who wouldn't have the biggest smile on their face when they open a lovely gift package and see a beautiful piece of jewellery in it. Alternatively, hint to your loved ones how much you'd like to receive a beautiful piece of jewellery. Whether you or your loved one loves eye-catchers or prefers more minimal pieces, wants new rings, earrings, a bracelet, watch, charms or a super cool necklace, we are here for you! Filter on silver jewellery or gold jewellery for a good overview! Or search within the different subcategories to find your perfect match. And it's not just women's jewellery, we also offer men's jewellery. Almost all My Jewellery's jewellery is made of premium stainless steel. This is a strong material that does not discolour, is 100% waterproof, and therefore very durable! Besides the fact that you will always find good quality jewellery at a nice price, My Jewellery is also always keeping an eye out for the latest trends. The jewellery trends you can now spot in our collection are suspender earrings, pearl jewellery, ear cuffs and vintage jewellery. Want to wear several chains, rings, bracelets, and earrings all together? No problem, because more is more! Create an ear party with different earrings such as ear hoops & studs. Did you know it's also possible to pierce your ears in one of our boutiques? It's easy to plan an appointment online.

Gifts from My Jewellery
Looking for the perfect gift? My Jewellery to the rescue! Who doesn't love gifts? Whether giving or receiving gifts, we love it all! There's no better feeling than making someone happy with a present from My Jewellery. Our favourite jewellery to gift is something from our personal jewellery collections: such as our birth month jewellery, zodiac jewellery and initial jewellery! These are such unique items to gift to someone you love. So, are you still looking for the perfect gifts for her? Why not check out one of our gift categories, such as gifts for mum, gifts for your best friend and gifts for your girlfriend. Luckily, My Jewellery has something for everyone. We have gifts for beauty lovers, fashionistas, and those who love all kinds of accessories. Gifts that have been selected and chosen with care & attention, that's how you'll really make your giftee feel special. Add a lovely card or beautiful gift wrapping, and make your gift giving experience even better. Do you have an questions regarding your purchase or the My Jewellery items? The My Jewellery customer service team is always there to help. Simply get in touch by phone, email, chat, Facebook messenger or WhatsApp. For inspiration, information, the latest trends & advice check, why not check out our blog page! Happy Shopping at My Jewellery!