---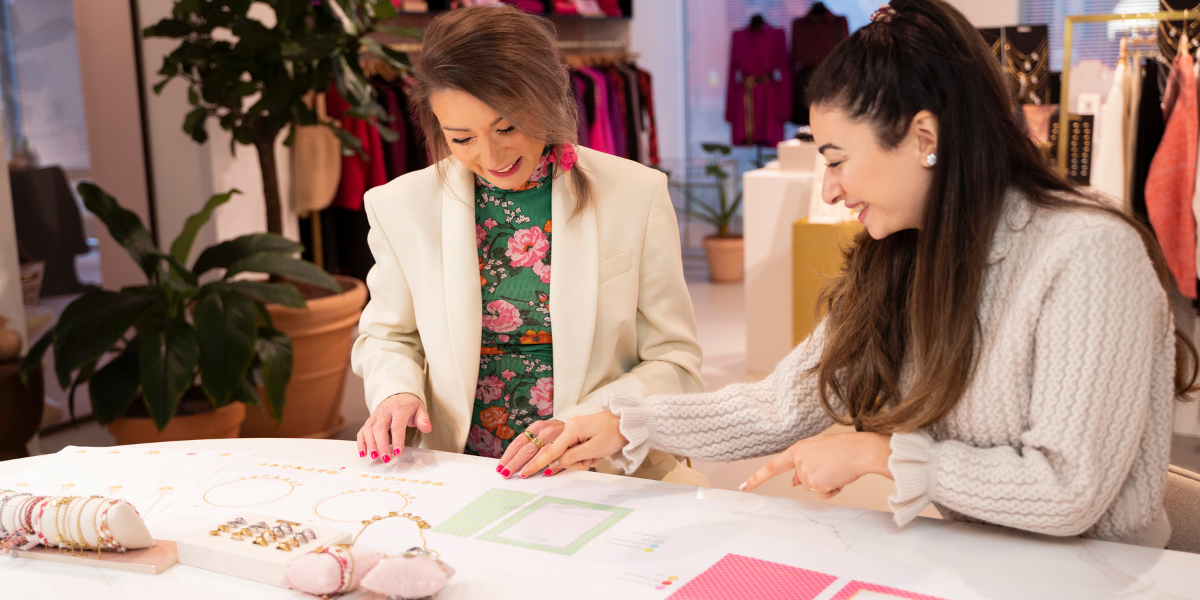 ---
The process of launching a new jewellery collection by My Jewellery
Always wondered what goes into launching a new jewellery collection? Well, we spoke with jewellery buyer Marina and product & graphic designer Marjolein to ask them all about the story behind the new Candy Couture collection.
19 January | By Victoria Cowan
Reading time: 2 mins
---
---
When it comes to inspiration for our collections, we look at absolutely everything. "We'll take inspiration from everything around us" explains Marina. "Whether it's a stroll through town, cool ideas we saw in shops, or trends and social media, genuinely, everything inspires us." Marjolein further explains that she saves all her inspiration to her phone, particularly inspiration from such sources as Pinterest, she elaborates: "Whenever we're talking about a new collection or any new ideas we've got, I'll think: oh hold on, I've got some images & inspiration that would suit these ideas. This could be anything, from interior design to shop windows, and oftentimes new ideas will pop up just from looking at these images."
Marina remembers coming across a lot of tennis rackets, lollies and smiley faces, so the Candy Couture collection was designed to meet those trends. "It always starts with an idea, and then come the creative & design processes."
---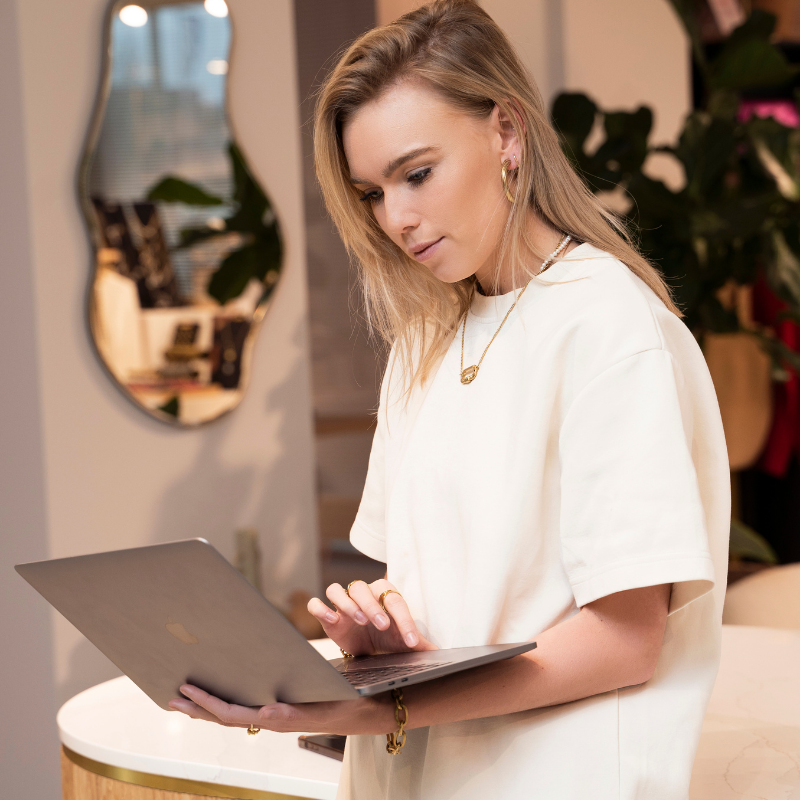 Meet the colleague | Brand coordinator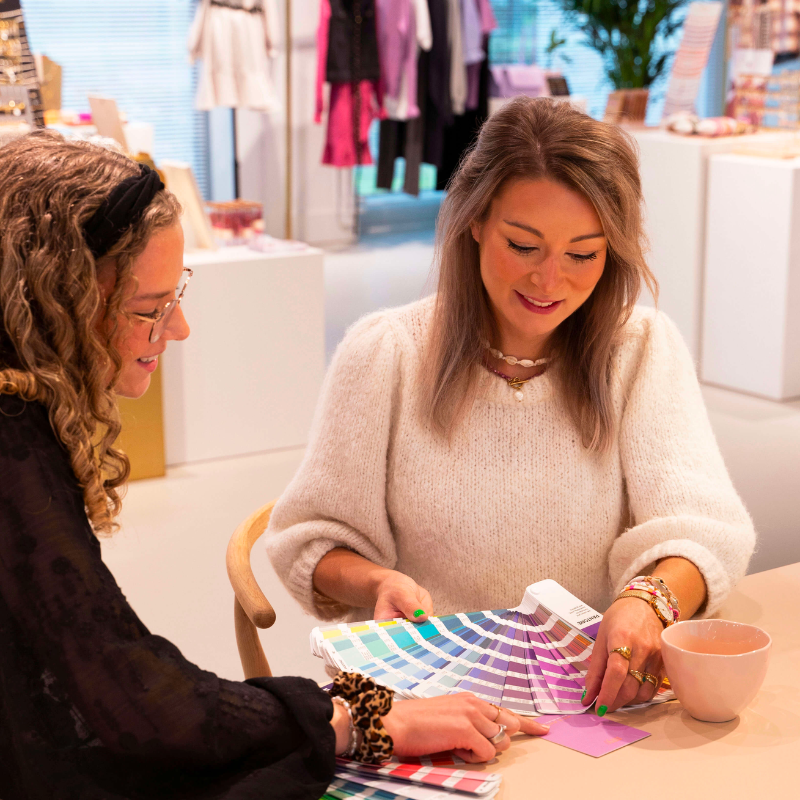 Meet the team | Creatives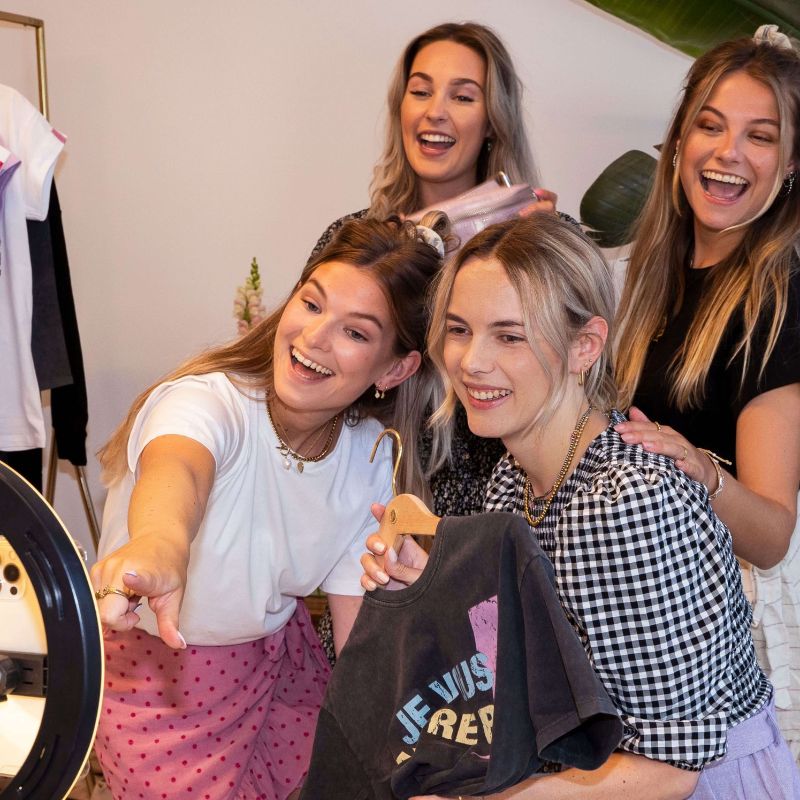 From design to collection
---
A collection starts with the above inspiration & lots of discussions between various colleagues and Sharon, the owner of My Jewellery. After more brainstorming and coming up with concrete ideas for the collection, Marjolein will start designing some pieces to determine the style of the jewellery. These designs are then reviewed and adjusted multiple times. Once the colours, styles and drawings are finished, everything is sent off to the suppliers, who in turn will send back samples of the pieces. "We'll do checks based on quality, colours and shapes. Based on that we'll determine what to change or keep", explains Marina. "We consult with your suppliers daily, and from them we'll receive information, images and videos of the jewellery. That allows us to give feedback, which the suppliers use to adjust the collection where needed." Marjolein elaborates: "We'll keep filtering down until we're completely happy, after which we'll order the collection."

Next up for the purchasing team & designers? To think of the display design, the perfect spot in the boutiques to present the jewellery, packaging, and basically everything else you could think of when it comes to designing a collection. For The Candy Couture collection the branding team came up with the idea to present the pieces in vintage striped candy bags, completely fitting with the collection, and it's up to the purchasing team to further develop and implement the idea.
---
---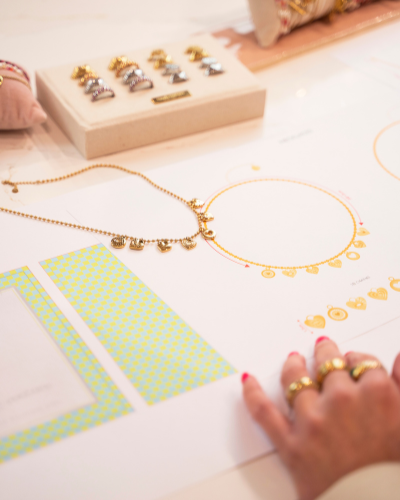 ---
Marjolein & Marina are really excited about the new Candy Couture collection. "This collection was all about giving our customers a huge dose of fun. Especially during these strange times, we just felt it was important to create a collection of playful jewellery that can be worn during all the sweetest moments of your life. It's also the perfect collection to mix 'n match with as it includes bracelets, necklaces, rings and earrings, and each and every piece is a proper piece of eye-candy! Our bestsellers are also back in this collection, albeit in a slightly different version. So, you might spot the lips of our bestselling Très belle top on the jewellery, and there's also a slightly new version of our love lock necklace & the beaded necklaces resemble sweets."
---
Subscribe & receive the latest updates
Sign up & get the latest updates