---
---
---
---
My Jewellery 11 years strong | Our gemstone rings
---
To celebrate our 11 year anniversary we're relaunching one of our most loved pieces from the past and giving it a fresh update. Sharon Hilgers, founder of My Jewellery, is here to tell you all about her journey and our new line of gemstone rings celebrating 11 years of My Jewellery!
---
3 October 2022 | Victoria Cowan
Read time: 5 mins
---
---
11 years strong rings
---
To celebrate our 11 year anniversary we're relaunching one of our most loved pieces from the past and giving it a fresh update. I love how jewellery trends come back in style and our Gemstone Ring Collection is one that is definitely a trend to watch. I've always loved colourful stones that carry a special and deep meaning which is one of the main reasons I wanted to reinvent this style. This unique collection contains stones that will help to inspire, energise and motivate you, just like making the most beautiful jewellery and putting a smile on your faces inspires, energises and motivates me.
---
Summer Souvenirs: the story behind the collection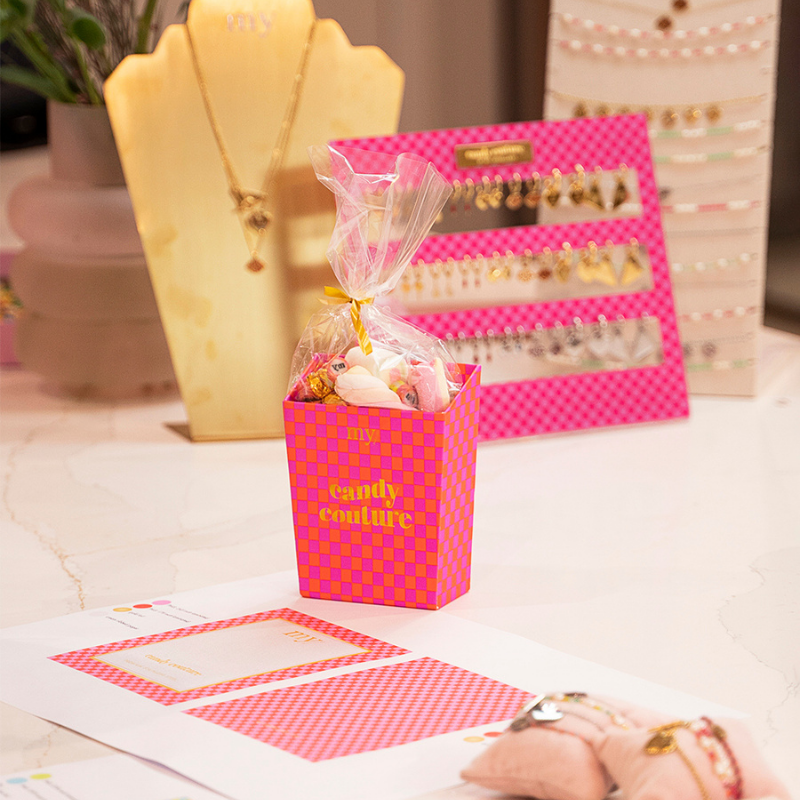 Launching the Candy Couture collection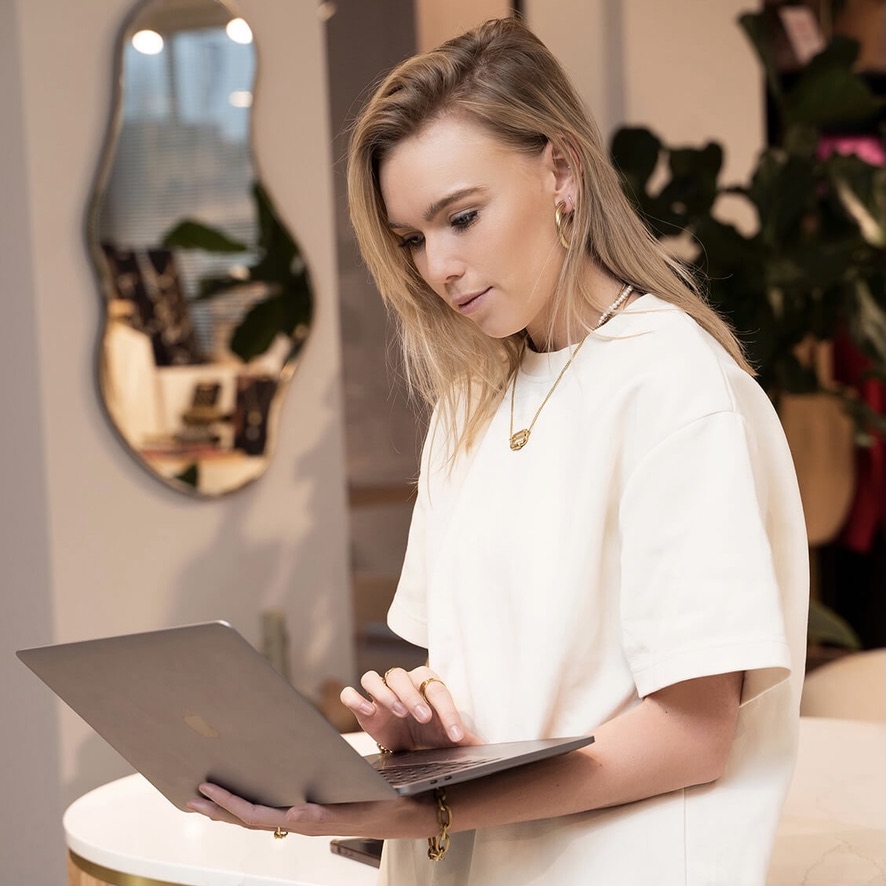 Meet our brand coordinator
---
11 year journey
---
11 years down the line I am so proud of the company we are today. Over the years the development of our signature My Jewellery brand has taught us many lessons, all of which have made us even more ambitious than ever before. By learning on every step of our journey, and being inspired by your needs and wishes, we have always managed to create pieces of jewellery that you cherish which is why I'm so excited to launch this collection of luxurious rings inlaid with precious gemstones full of symbolism. I'm so happy that our iconic rings from 11 years ago, which I have so many happy memories of, have been reinvented and hopefully they'll allow you to make beautiful memories too. I'm honoured that you've been on this journey with me, so please see this collection as an ode to our shared memories! I can't wait to continue to make jewellery that will experience all of life's adventures with you.

With love,

Sharon
---
"An ode to our shared memories."
---
---

---
The meaning of our stones
I specifically chose to include meaningful gemstones in our anniversary ring, because it makes these rings all the more special and memorable. I know these rings will become your go-to ring and they'll experience so many of life's adventures with you! Each ring contains three different special stones, so take your pick of the ring and colours that most speak to you!
Ring 1: Champagne zirconia, amethyst & red emerald

Ring 2: Red agate, rose agate & synthetic rhodochrosite

Ring 3: Gold stone/sands, blue sands & coffee zirconia

Ring 4: Rose quartz, spectrolite & snowflake obsidian

Ring 5: White zirconia
Can't decide on the ring you want? Well, the meaning behind these healing stones might be able to sway you in a direction! These are the special meanings of our 11 year strong rings
---
Zirconia
Zirconias resemble diamonds which is why they are often assigned as a birthstone to April, and the zodiac signs Aries & Taurus, both of which fall, at least partly, in April. They're often seen as the stone of practicality as they improve focus and clarity, and also represent purity, happiness and spiritual protection. So, all in all, a pretty special stone to carry close to yourself.
Amethyst
We probably all know Amethyst because of its gorgeous colour and relative popularity, but it also has some beautiful qualities. For instance, did you know that Amethyst represents groundedness, calm and tranquillity? As you wear your ring, put your hand close to your stomach or heart and you'll also feel all of your anger float away. Amethyst truly has a right to be one of the most popular (semi-precious) gemstones if you ask us!
Agate
Agate is an incredible earthy stone so it's no surprise that it helps to centre and anchor you to the earth. This stone is especially powerful for earth signs like Taurus, Virgo and Capricorn, though everybody can benefit from an agate's power to help you slow down and love yourself more. We love seeing the beauty in an agate as much as it allows us to see the beauty in the world too.
---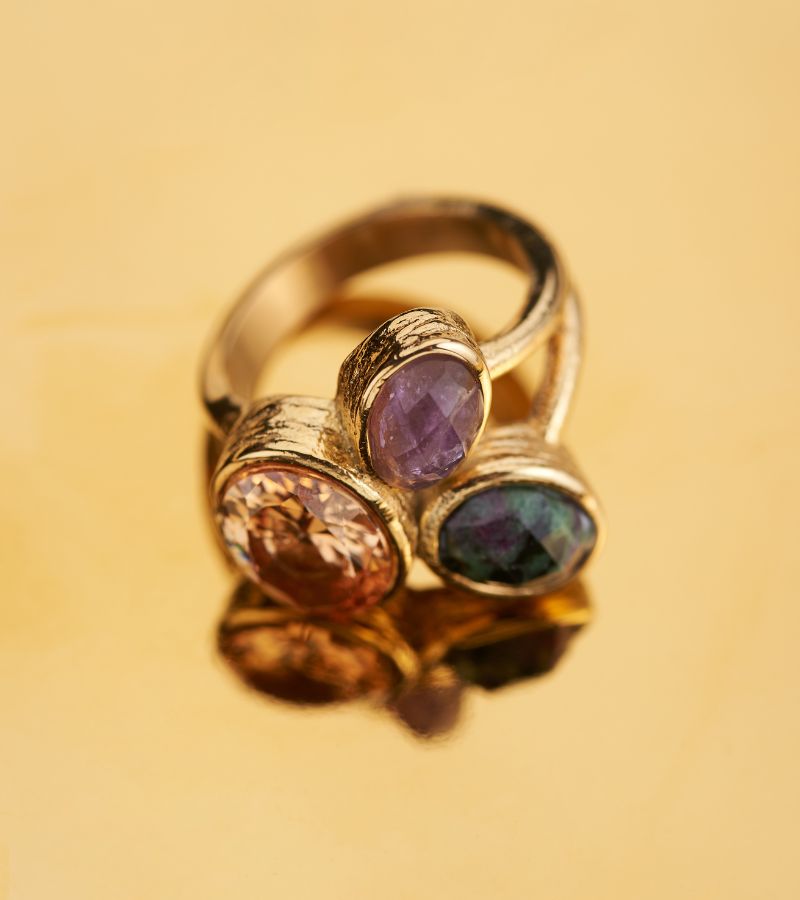 ---
Rhodochrosite
Raspberry pink and bright red come together to form this glorious stone. Much like red and pink are the colours of confidence, Rhodochrosite is also the stone of confidence and strength. Keep your Rhodochrosite ring close to you and you'll be able to handle anything and everything in your life!
Rose quartz
Rose quartz has to be one of the most romantic, feminine and lovely stones around and we're not afraid to say we love it! Gentle, comforting and healing, this is truly a magical stone, and if you're looking for love this is the stone to keep close to your heart!
Spectrolite
Spectrolite is a type of Labradorite which is a semi-precious gemstone with gorgeous colour spectrums, it's like carrying the Northern Lights on your finger! The Spectrolite is almost only found in Finland, so there's lots of mysticism and folk stories attached to it, no surprise really then that this stone will protect your spirituality and intuition.
Snowflake Obsidian
Like a snowflake, each snowflake obsidian is unique and individual, and isn't that just the perfect representation of your own uniqueness?! Snowflake obsidians are all about calmness and stillness, whilst balancing the mind and bringing light in the darkness. So you see, if you're ready to embrace your true unique self and find harmony in your life, this is the ring for you!
---
Get on the list & get inspired