---
---
---
How to use: a Gua sha stone
Chances are you've heard of Gua Sha stones, the biggest skincare hype of the last few years, but do you actually know how to use this gorgeous stone tool to fully enjoy its magical healing properties? Discover all about the ancient origins of the Gua Sha stone, how best to practice Gua Sha stone massages and how to make the most of its incredible benefits here! This is your one-stop shop to discovering how to use a Gua Sha stone!
11 January 2023 | By Victoria Cowan
Read time: 4 min
---
---
Where did Gua Sha stones originate?
---
The practice of Gua Sha (a.k.a scraping) has been around for centuries, with historical records dating back to the Stone Age, making it one of the oldest Ancient Chinese medical practices in the world! While the practice was originally performed using coins, household items such as spoons, and fingers, the most commonly used tool nowadays is the Gua Sha stone generally made of jade, roze quartz or other semi-precious mineral (often also said to hold medicinal properties). In Ancient Chinese practice, Gua Sha was often used to help with heat stroke and seasonal diseases like the flu, with practicioners believing the recirculation of the blood expelled negative energy and rejuvinated the body. Nowadays, the practice of Gua Sha stone massages is used mostly to reduce puffiness and rejuvinate the face, so read on to discover how to use it properly and discover its benefits for yourself!
---
What does a Gua Sha stone do?
---
Ancient Chinese practices have been rediscovered over the years for all of their holistic medicinal properties, so to the Gua Sha stone. A Gua sha massage is all about scraping the skin with a smoothly sharpened tool. The best way to start your Gua Sha stone massage practice is to prep the skin with a hydrating oil which will allow for a smoother scraping action on your face.
Below is a list of what a Gua sha stone can do for you:
It improves blood circulation and promotes taut/smooth skin
Gua sha is the tool for when you want to improve the blood circulation in your face, which has a positive influence on the skin´s ageing process. Gua sha also prevents inflammations (pimples) and gives you a healthy glow.
Helps relax the muscles
Scraping Gua sha over your skin has a relaxing effect. This is because the movement you make with the Gua sha stone breaks down the muscle tissue. This allows your blood to flow better and relaxes your muscles.
Makes the puffiness in your face disappear
Sometimes you may wake up with fluid accumulation in your face. Massaging the skin helps to drain the fluid from your face. A Gua sha is the best tool to get rid of all that fluid quickly and efficiently. This will make all the puffiness disappear from your face!
All in all, the Gua sha relaxes your skin and stimulates cell renewal, tightening your facial contours and giving your skin a fantastic glow. And that, of course, is what we all want!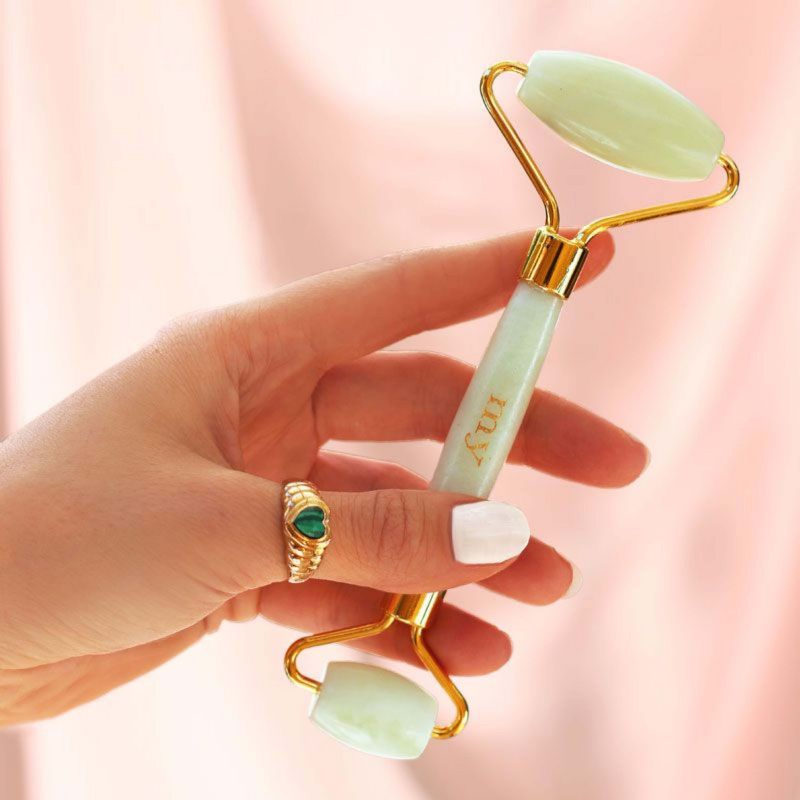 Inspiration for wedding guest makeup
How to create an easy makeup routine
---
How to use a Gua Sha stone?
---
To get such beautiful skin, you can incorporate the Gua sha facial treatment into your beauty routine. The basic technique involves an upward movement with light pressure. Place the flat side of the stone on your face at a 45-degree angle and move the stone up and out from the centre of your face in smooth movements. Applying an oil makes the process a little easier.
Curious about the specific steps? Then watch the tutorial.
---
How to clean your Gua Sha stone
---
Have you finished your Gua Sha massage? Clean the stone with a mild detergent and warm water and dry the stone well afterwards. Make sure you clean the stone not only after treatment, but also before treatment. Just before you start using the Gua Sha, it's important to make sure that there are no bacteria on the stone.
---
Make the most of your Gua Sha stone with these tips
---
1. Please note: Do not use the Gua sha scraper if you have a rash, eczema or sunburn, as the friction on your face may actually cause more irritation.
2. Drink a lot of water after using the Gua sha stone, as this will promote the removal of toxins.
3. Always use the stone gently during the Gua Sha massage to avoid scratching your skin too badly.
4. Remember that redness and blotchiness can occur and that's completely fine, as that's your skin healing itself.
5. If you're on any blood thinning medication check with your doctor if it's safe to use a Gua Sha stone.
Curious to find out the benefits of Gua Sha stones, get yourself a face roller or Gua Sha stone and complete your beauty routine!
Get on the list & get inspired!