---
---
Meet the colleagues who have changed roles within the company
In this blog we'd like to introduce you to some of our colleagues who have changed roles within My Jewellery. From intern to brand coordinator & logistical administrator to HR-assistant, read all about the steps these colleagues have taken at My Jewellery.
8 March 2022 | By Victoria Cowan
Read time: 6 mins
---
---
Maud Corstjens
From Assistant Manager to Retail Support Coordinator Netherlands
---
From the beginning to now
"I worked as Assistant Manager at our boutique in Maastricht for two months, before becoming the Maastricht boutique store manager for 2 years. Last November I started in my current role as Retail Support Coordinator for Brabant, Limburg and Belgium.

I'm really enjoying my new position and it's definitely given me the opportunity to grow, but it's also taken some getting used to, mostly because my new role involves a lot of travel. My previous role was always in Maastricht with a team of colleagues that I saw more than my own partner(!) and it's very different now, but that has given me the opportunity to get to know a lot of new people too. I'm currently also working on opening up the boutiques in Belgium which is super exciting and has been so educational!"
Changing roles within My Jewellery
"From the very beginning I saw My Jewellery as a young and growing company with space and freedom for self-development. There's a lot of guidance and every department is willing to help each other which makes for a great working environment."
What have I learned
"You have to get the best out of yourself and make the most of every day to achieve your goals."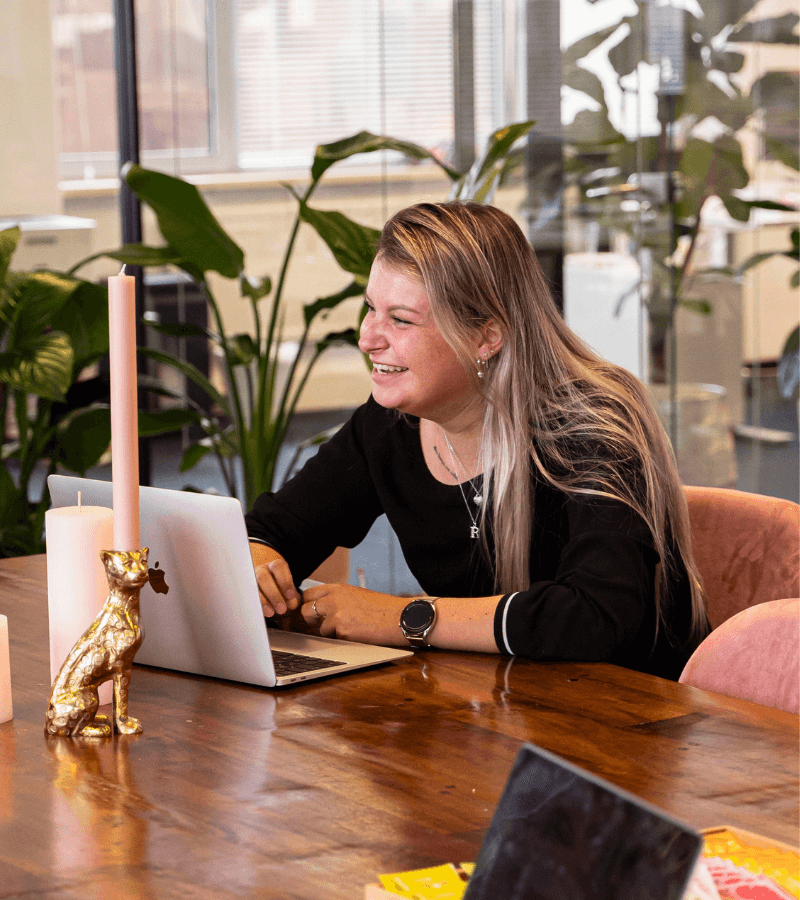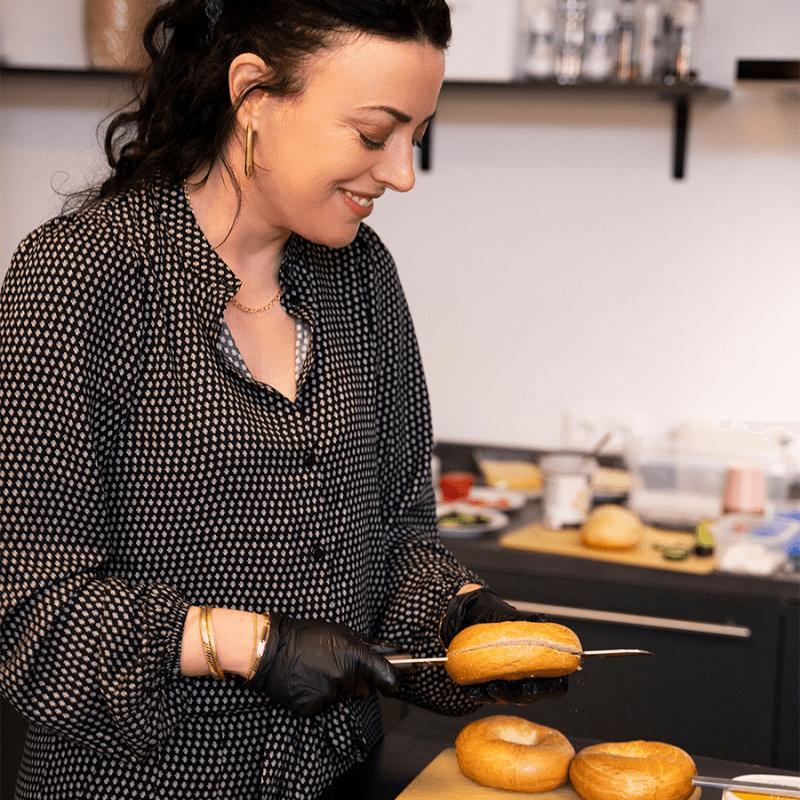 Meet the team | Facilities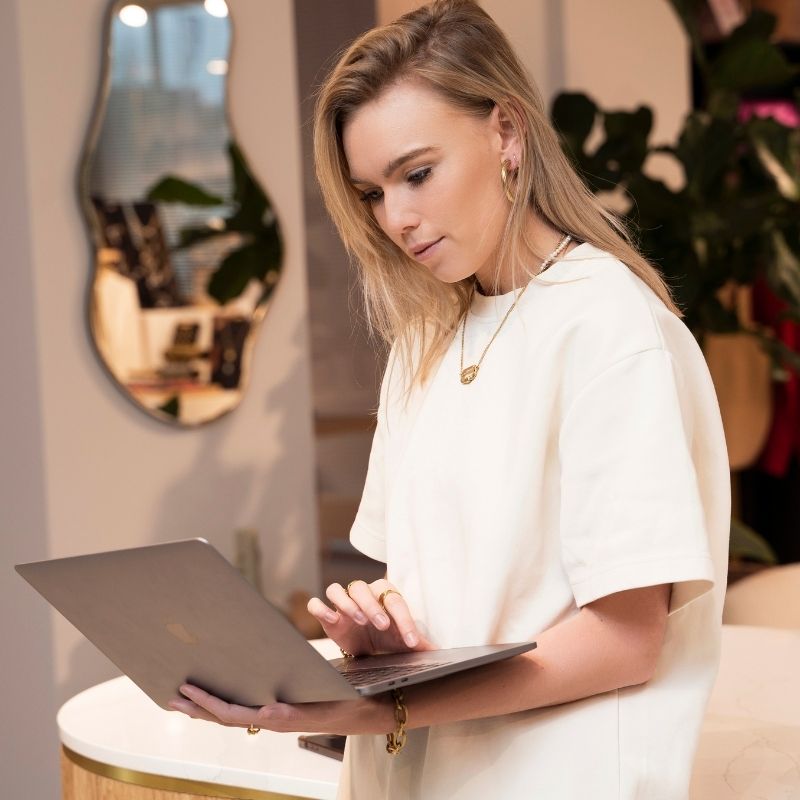 Meet the colleague | Brand coordinator
Sophie Groothuis
From logistics worker to HR-assistant
---
From the beginning to now
"Initially, the plan had been to work at My Jewellery for a couple of weeks and earn some extra cash before going travelling for 2 months. However, plans change! I was given such a warm welcome at My Jewellery, and I felt instantly at home here, so I ended up staying. I started as a logistics worker at the warehouse in April 2019, I did that for about 7 months before making the change to Warehouse Personnel Planner in November 2019, and then in April 2021 I switched it up again and took on the role of HR assistant Warehouse & HQ in the HR department.
I really like my current role. I never really knew what it is that I wanted to do, but since I joined the HR department I genuinely feel like I've found my place. There are so many opportunities for self-development and they've really guided me in all the HR tasks. I'm always offered new opportunities within my role, and they've allowed me to grow and take on new responsibilities so quickly. For instance, I know have final responsibility for our administration, and I'm joint project leader on the implementation of a new personnel system."
Changing roles within My Jewellery
"The application process was fairly easy both times I went through it. The first time, I went up to my supervisor and expressed my interest in the role of Personnel planner, after which I was invited for an interview and after the second interview I was offered the job. The second time I had realised that the role of Personnel Planner wasn't quite right for me, so I mentioned that to my manager who proceeded to help me look at other options within the company and she then arranged an interview with the HR-advisor of the warehouse.
My Jewellery is a super fast-growing company which means there are so many opportunities for personal growth and development, and I feel like that is also very much encouraged. Everyone is open and friendly towards each other, and you feel instantly involved with everything, as if you've been at the company from the very beginning. The fact I also met my boyfriend here, is an added bonus."
What have I learned
"I've learnt that everything is possible as long as you believe in yourself and show what you're worth. Don't stick around somewhere if it no longer fulfills you and actively look for new opportunities!"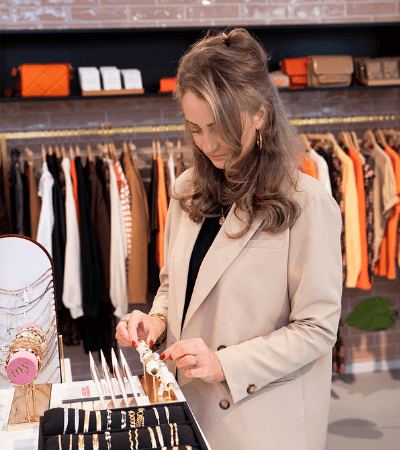 ---
Megan van Eenennaam
From Assistant Manager to Retail Support Coordinator Netherlands
---
From the beginning to now
"I started out as assistant store manager at the Amsterdam boutique 3.5 years ago, and a year later I was promoted to store manager. I worked as the (assistant) store manager for a total of 3 years, but in July 2021 I was given the role of Retail Support Coordinator The Netherlands. So far I really love my new role! I'm out and about visiting our boutiques in different cities every day, and combine that with one office day a week, so it's a really varied role and I can honestly say that every day is different. What I love most about my position is the fact I get to be really involved with the boutiques as well as the other teams & departments, and we're all working towards new developments within My jewellery.

I've loved My Jewellery from the beginning! You immediately feel like you're involved with all the goings-on at the company and everyone is just so open to new ideas and suggestions. Throughout the years this is really something that hasn't changed and the atmosphere feels the same."
Changing roles within My Jewellery
"Going through the application process felt quite strange, because at this point I was so familiar with My Jewellery! I had to write another letter of motivation in which I had to explain why I wanted to move to this role, and that was, admittedly, quite scary! Eventually, it all ended up being okay, because deep inside I kind of knew what I was getting myself into and it all went very smoothly."

What have I learned
"If you really want something, you've got to go for it 100%! I was really young when I started my journey at My Jewellery, and I love looking back on the years and seeing what I've experienced and achieved. It really is a reminder that anything is possible!"
---
Eline van Heumen
From Customer Care Worker to Product Content Administrator
---
From the beginning to now
"I started out at My Jewellery as a Customer Care worker and did that for about 1.5 years, until I started my new role as product content administrator in January of this year.
From the moment I started at My Jewellery it was like being enveloped in a warm blanket. Colleagues would come over for a chat, and that's something that has always remained the same. My new team has also been super welcoming! I really enjoy my new role. It allows me to be creative, and it has also given me more responsibility. Seeing beautiful new items and being able to put them on the website so they look their best is genuinely so exciting, and every day I feel lucky to be able to go to work, which I think says a lot!"
Changing roles within My Jewellery
"Internal applicants aren't given preferential treatment over external applicants once the vacancy is online, so the job application process is the same for everyone. I think it's important to remember that this means that you could be rejected, and you'll still have to enjoy going to your original job. This meant that applying to another job within My Jewellery was a pretty big step, but I've always relied on the fact that My Jewellery is open to & encourages personal development. So, even if I hadn't been offered this job, I know they would've encouraged and helped me to set new goals and targets that would've allowed me to continue to enjoy and challenge myself in my previous role. This was definitely very comforting!"
What have I learned
"To always pursue your dreams and not be afraid to fail, because whatever happens you'll always learn from it."
Joan Pijnenburg
From Cleaner to Personnel Planner
---
From the beginning to now
"I started out as a cleaner at HQ which I did for about a year, after which I moved to the Warehouse and worked as a cleaner there for 1.5 years. Then in July 2021, I started as Personnel Planner at the Warehouse.

When I started out as a cleaner I felt so welcome at My Jewellery. I've always enjoyed working here and have never felt less than anyone else. My new role has been great so far. Every day is different and there are so many development opportunities. I feel really proud to be part of this company."

Changing roles within My Jewellery
"I plucked up my courage and made my interest in the position very clear. Then, after two interviews with Manja and the HR/Recruitment team, I finally got that all important phone call."
What have I learned
"To believe in yourself and do the best you can every day to achieve your goals."
Subscribe & receive the latest updates