Info & advice
What body type do I have?
By Tessa van Dashorst, 15 June 2022
Every woman sometimes struggles with her outfit for the day. So many nice items in your wardrobe, but you still find that your outfit doesn't quite fit like you want it to. We know that feeling only too well! That's why we felt it was time to dive a little deeper into all the information and tips & tricks that can help women with different body types find their perfect match! Questions such as 'What shape do I have?', and 'What clothes are right for me?' are now a thing of the past! Read on to find out which body type you have!
How do you start?
1. First take a look at the overview diagram below.
2. Take a good look at all the body shapes and decide, based on the images and key features, which figure type suits you best. Not sure? Then measure the circumference of your shoulders, waist and hips and compare them with the outline diagram.
3. Scroll further down the page to see styling advice for each body type to create the perfect outfit.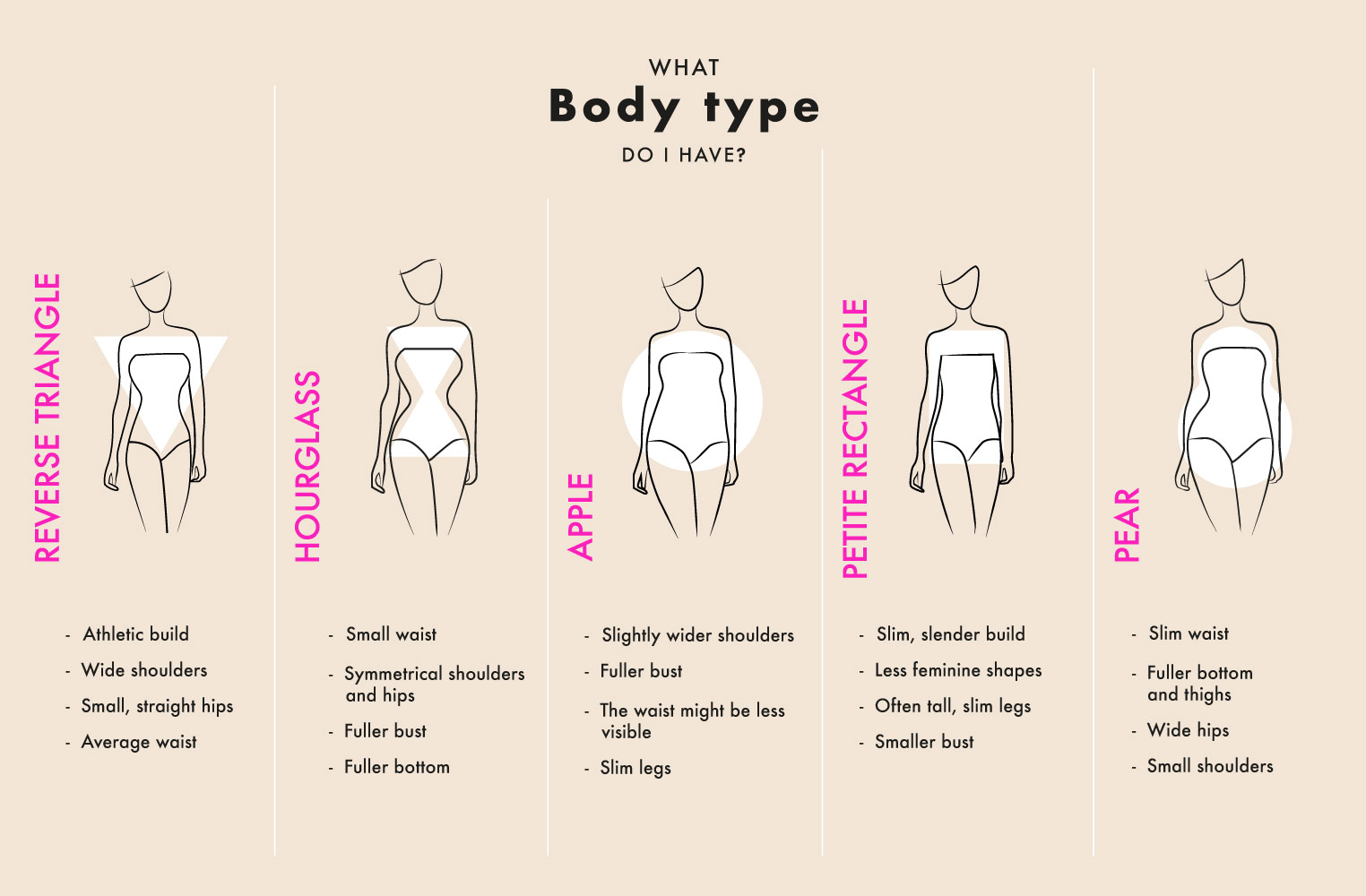 Reverse triangle
Dos
• A-line skirts or dresses balance your shoulders and hips
• Prints on the bottom of your outfit draw the focus away from your shoulder
• Tops with a round neckline draw attention away from your shoulders
• Jeans that sit on the hips make your hips look wider

Don'ts
• Tops or blouses with prominent shoulders put the focus on your shoulders
• Narrow spaghetti straps make your shoulders wider
Hourglass
Dos
• Always emphasise your waistline
• A short jacket or blazer will show off your narrow waistline
• Shirts with sleeves that end at the waist emphasise your waistline
• Trousers or skirts with a high waistline emphasise the right point

Don'ts

• Trousers or skirts that sit on the hip because your waist is less prominent
• Horizontal stripes at the widest point of your body. This draws attention away from your narrow waistline.
Petite rectangle
Dos
• Tailored tops or blouses emphasise your slim upper body
• Wide trousers or skirts give the lower half of you more 'body'
• Dresses with a fitted top and wider bottom create curves
• Wear a belt to emphasise your waist

Don'ts

• Vertical stripes emphasise your narrow build
• Shapeless clothes like a boyfriend blazer or oversized sweater dress make your figure look shapeless
Pear
Dos
• Wear heels to make your legs look optically slimmer/longer
• Accentuate your upper body with ruffles, puff sleeves, prints, etc.
• Tops with a tailored fit emphasises your narrow waistline
• Keep your clothes calm at the bottom
Don'ts

• A pencil skirt emphasises your hips, as do lively prints and thick fabrics.
No pockets on the hips/thighs or buttocks, as you will put extra emphasis on this area
Apple
Dos
• Always focus on your slim legs
• Generous V-neck tops, dresses or blouses accentuate your décolleté and make you look slimmer
• Trousers or skirts with a print emphasise your slim legs
• Jeans or light trousers with flared legs balance your slim legs with broader shoulders

Don'ts
• Chunky knit jumpers or cardigans will emphasise your broader torso
• Tight tops accentuate your wider waistline
Did you like this blog? Subscribe & get the latest updates