---
---
---
---
---
Which earrings suit your face shape best?
What is an outfit without a pair of beautiful earrings? Exactly! Nothing at all! But which earrings are best for your face shape is the real question? There are so many different face shapes and even more different kinds of earrings, so there's a lot of choice. To make it easier, we've listed what face shapes go best with what type of earrings! We would also like to give you a few tips on which earrings from My Jewellery you should definitely choose if you have decided what face shape you have! Keep reading.
19 October 2022 | By Tessa van Dashorst
Read time: 4 mins
---
---
Step #1: Determine your face shape
---
You don't have to be a maths whiz to figure out your face shape. By following a few simple steps it's easy to find out. You will also find that you will soon be able to recognise some characteristics of your face shape.

1. Stand in front of the mirror in the bathroom and make sure your hair is in a tight ponytail. Now, you can clearly see all the contours of your face.
2. Look straight into the mirror and draw the contours of your face on the mirror with lipstick.
3. If you then take a step back, you will quickly recognise a face shape. If you are still in doubt, some characteristics are described below for each face shape.
---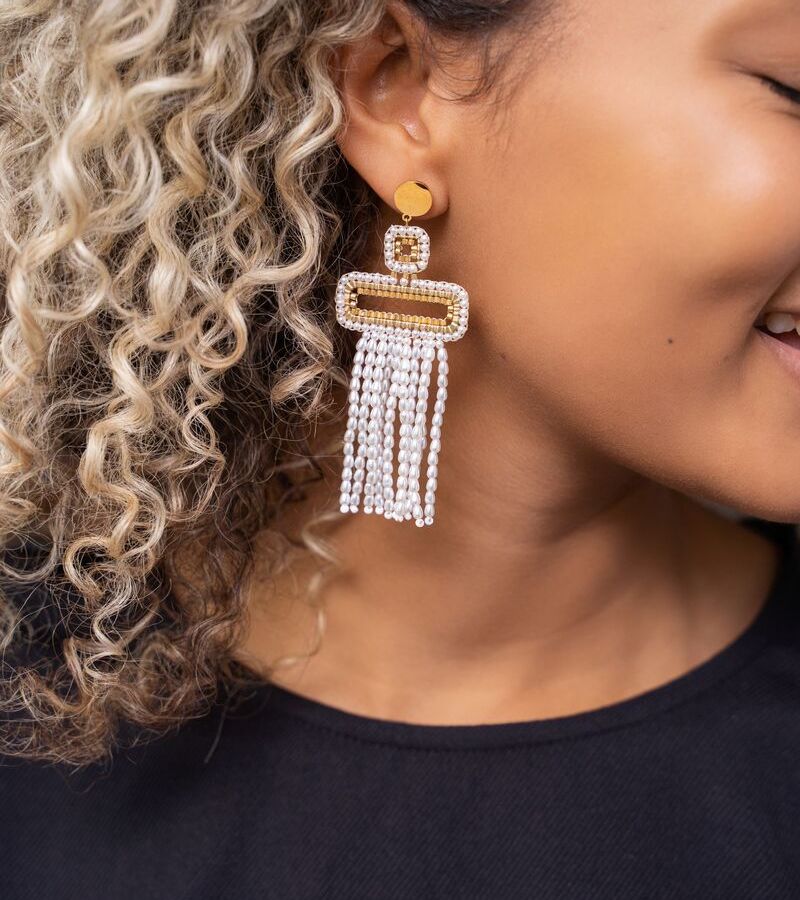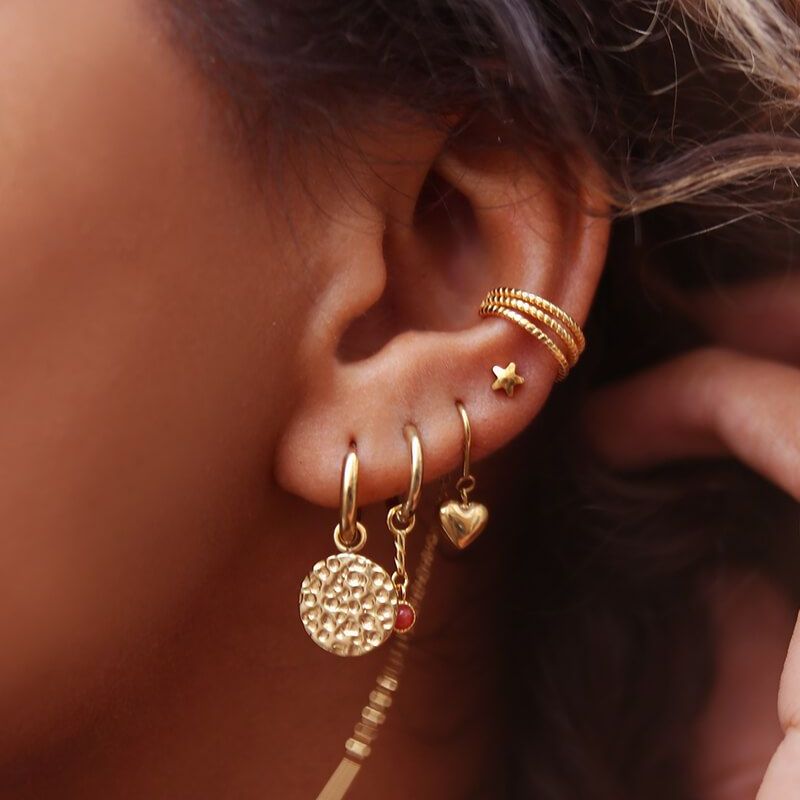 Create the ultimate ear stack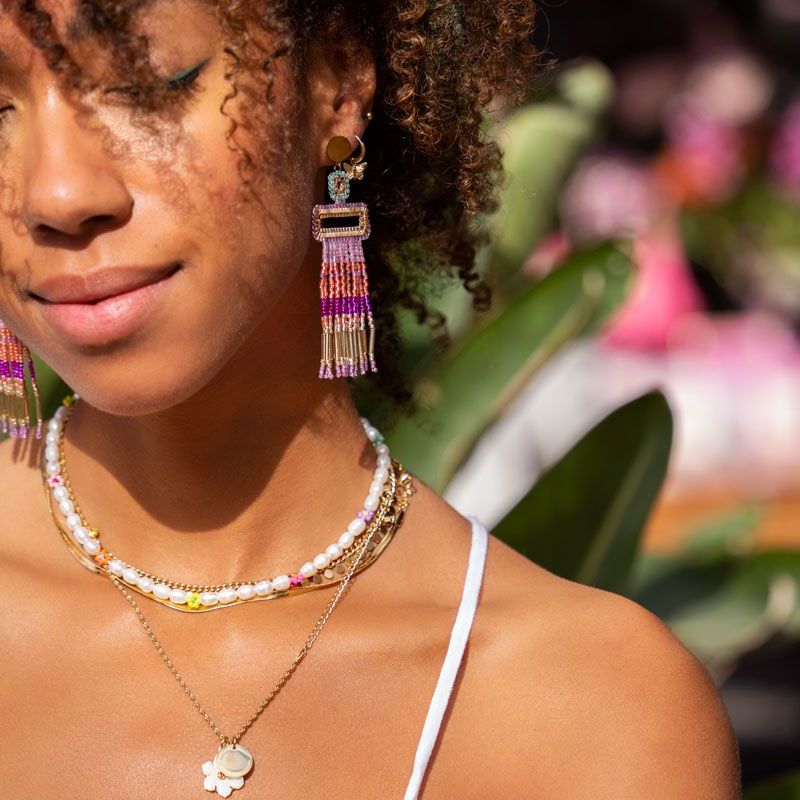 How to style statement earrings

---
Do you have a round face?
---
Then your face is a bit fuller with a round chin and hairline. The widest point of your face is at the level of your ears and cheeks.
In this case, choose oblong or square earrings! When you have a round face, you often want your face to appear a bit longer and narrower, so choose a counterbalance. Round with round is therefore also a no go because this can make your face look a bit bulbous. Go for our rectangular drop earrings for example.
---

---
Do you have a long face?
---
This face shape is similar to an oval face. The difference is that an elongated face has a tighter jawline. Furthermore, the cheekbones are about as wide as the forehead, the chin is often narrow and the jaws wide.
With this shape, choose short and wide earrings. They make a long face look wider and shorter. When you wear elongated drop earrings, the elongation will be emphasised even more, which you would rather not have. Go for a pair of cute studs! The butterfly studs and the pearl studs will look great on you if you have an elongated face. If you have multiple ear piercings you can combine with these studs to create a complete ear party!
---

---
Do you have a square face?
---
If you have a square face, your jawline is often wide and angular. Also, your cheekbones and forehead are the same width.
Round earrings it is! Square and round are the perfect match. Round earrings make your square face look smaller, especially round pendants. So, statement earrings are really something that would work for you if you have a square face. Take a look at these hits below.
---

---
Do you have an oval face?
---
Then you are very lucky! Oval is a face shape that actually suits everything. You can recognise an oval face especially by the jaw line which is slightly narrower than the width of your face at the level of your temples.
The entire My Jewellery collection is made for you. Couldn´t be better, right?! Style away with rings and studs if you have multiple piercings in your ears. When you have a party to go to you can choose dashing statement earrings, and for work, subtle ones.
---
---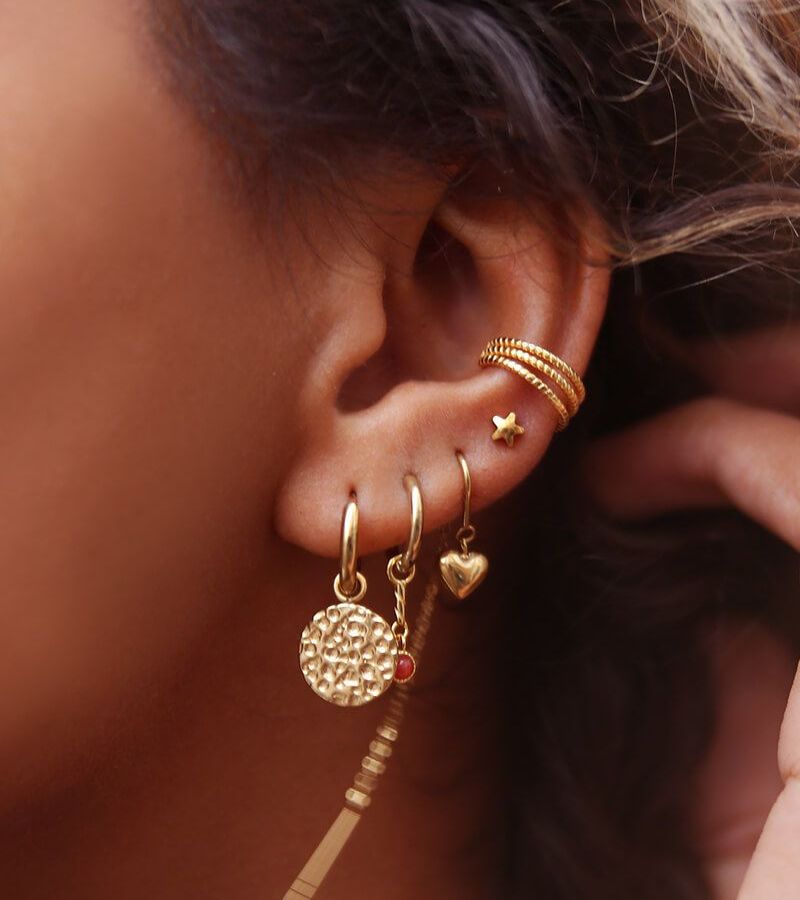 Get on the list & get inspired!