---
---
6x unique ways to style your chunky jewellery
We're just gonna put it out there: chunky jewellery is a trend that is here to stay! It's really as simple as that. From chain necklaces to chunky bracelets, chunky chain jewellery is the instant style factor we're always looking for in an outfit. Much like a slick of red lipstick or a perfectly styled updo, chunky jewellery does wonders for making your casual outfit look put together with minimal effort. With the added benefit of being far easier to maintain throughout the day than your red lip and updo, 'cos let's be honest ain't nobody got time for that. We've got places to go, people to see! Looking for the best ways to style your chunky jewellery? Look no further, because these 6 ways to style your chunky jewellery are going to help you elevate your fit to new style heights. Check 'em out!
21 April 2022 | By Victoria Cowan
Read: 4 mins
---
---
#1: Minimalist chunky jewellery
---
Thought there was no place for minimalism when it comes to styling your chunky jewellery? Then think again, because chunky jewellery actually lends itself beautifully to minimalist style! A silver chunky necklace is the perfect finishing touch to an otherwise super casj t-shirt and jeans combo, but adds just enough luxe to make your fit look considered, put together and completely on-trend, babe! When it comes to minimalist styling the key is not to go overboard with chunky jewellery, which means minimal stacking and no wearing bracelets, necklaces, earrings and rings all at the same time. Minimalism is about keeping your choices very considered and very lowkey, yet never boring. If you want to attempt a minimalist stacked style, pair a single chunky chain necklace with a couple of delicate & dainty necklaces for a stacked yet minimal look that's high in the style stakes! Alternatively, go for one chunky chain necklace and a few rings to add some different levels of textural layers to your look. Our favourite minimal chunky jewellery outfit? It's gotta be the influencer style staple, think: style icon Hailey Bieber. So go for a classic white t-shirt, vintage high waisted jeans, cool sneakers, leather blazer, a cap and, of course, your chunky jewellery. Influencer status complete.
---
---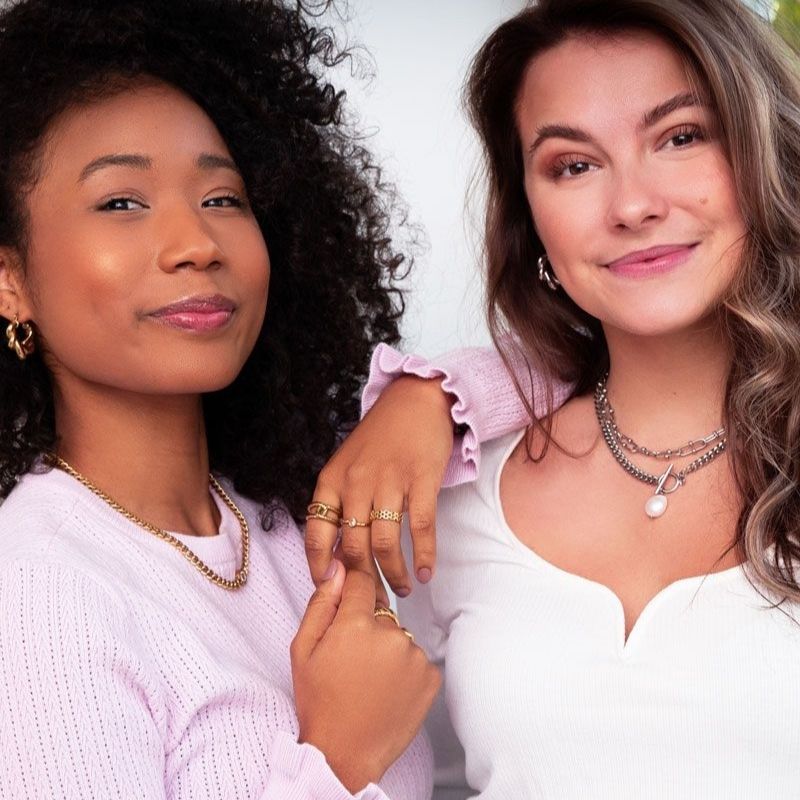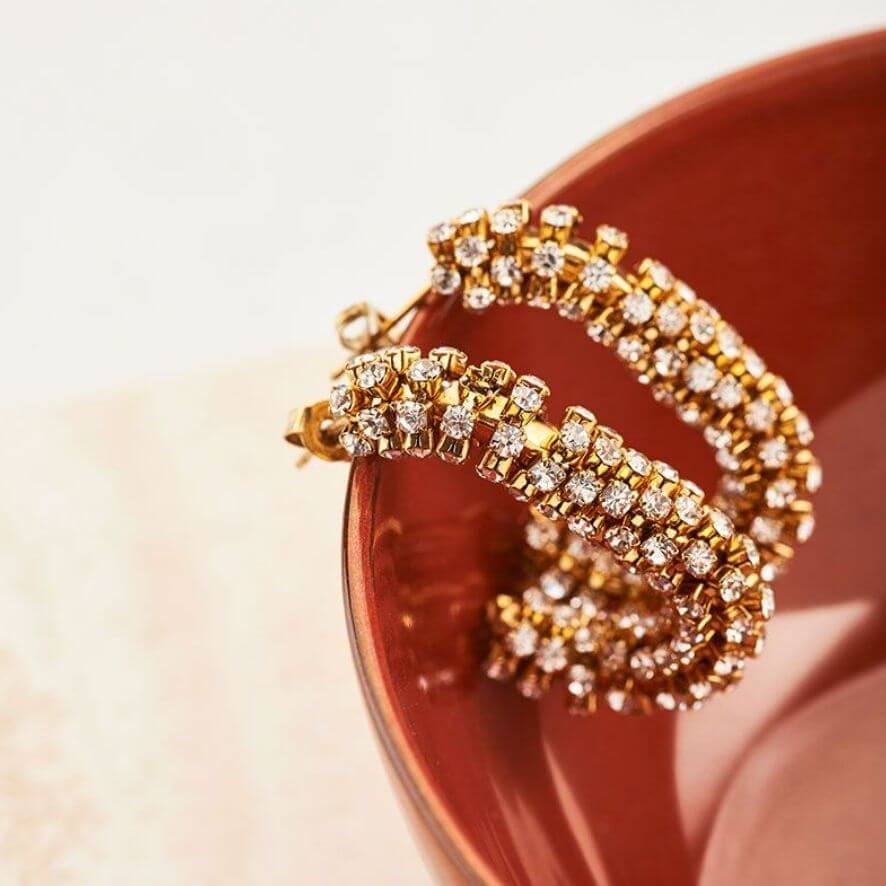 How to style statement earrings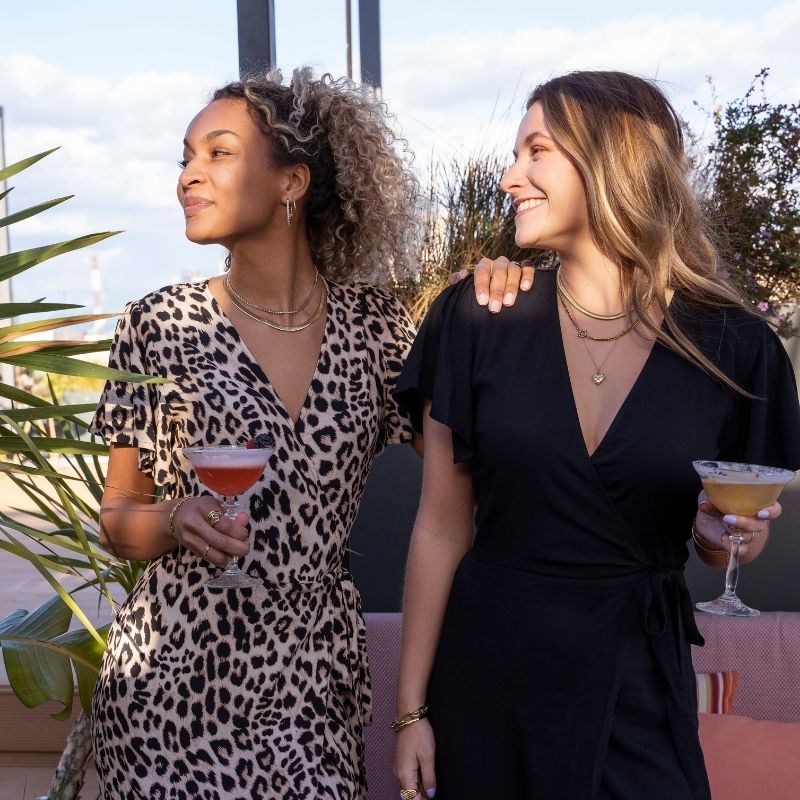 Wedding guest dresses for different wedding themes
---
Of course, every jewellery lover loves a bit of maximalism from time to time, and we're no different! Why choose only one of your favourite gold chains when you can wear them all to create the ultimate necklace party! If you're dressing up for a party, or simply want to make a style statement with your jewellery look, maximalism is the way to go. After all, when done right, more can definitely be more. If you're wanting to go to the max there's a few things to look out for. Firstly, add interest to the party by combining necklaces and bracelets with different chain weights, this will really allow every piece to stand out on its own as well as complementing the other pieces. Secondly, don't be afraid to go bold and layer up on necklaces, bracelets and earrings, but do try to keep them all in the same metal colour. That way your look will be maximalist but not OTT. Afterall, maximalism is all in the small details.
---
"People who wear jewellery, only accept good vibes!"
---
---
Chunky jewellery can often feel a touch casual or bold, but if you're wanting to create more of an elegant & feminine look, you really don't have to overlook your chunky pieces! Simply style your chunky jewellery with more girly items and you'll have yourself a gorgeous, balanced jewellery look. We love styling our chunky chain bracelets with colourful rhinestone studded rings for a fun & funky look, whilst our chunky chain necklaces look amazing paired with pearl adorned pieces. Why not mix and match your pieces by going for chunky rings and necklaces but adding an elegant touch with dainty pearl earrings and charm bracelets. Our Shapes & Pearls Collection is the perfect pairing with chunky chain jewellery, as the pretty pearls will really match well with more chunky pieces. Style your feminine chunky jewellery combo with a pretty dress for ultimate girly style, or give it an edge with a blazer and pants combo. Whichever look you go for, have some fun with it!
---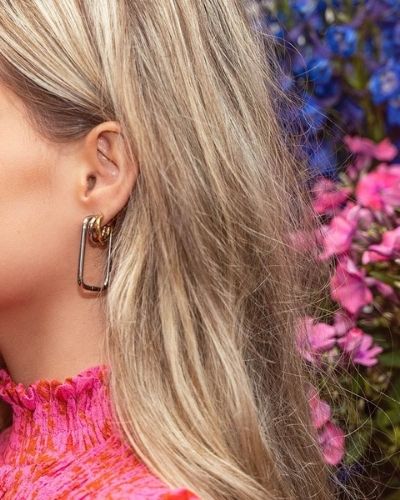 ---
#4: Mixed metals - Gold & Silver
---
Sure, for years you were probably told never to mix your metals….but that style mantra is old news! Nowadays, we're all about mixing our metals for a super cool overall vibe. Whether you go for a mixed metals chunky necklace stack, or choose to mix your metals in different jewellery pieces, silver earrings with gold necklaces for example, a mixed metals jewellery look is sure to give you a stunning fashion edge. The best way to style mixed metals is to steer clear of busy prints or too much colour, as it's all about the mixed metal details with this look, and you want to avoid it all becoming too busy or muddled. A sleek jumpsuit or playsuit is the perfect style base to experiment with your mixed metals chunky jewellery look. Not too sure about it, well, you won't know till you try! And we're secretly pretty confident you'll love this look as much as we do!
---
#5: All about chunky bracelets
---
We often tend to focus on our necklace game, going for layers of pendants, chains and chokers around the neck, but this season is all about bracelets. Trust us, it's their time to shine! So grab as many chunky bracelets as you can find and stack 'em high on your wrists. The more the better! Bracelets also offer the perfect opportunity to try out all the previously mentioned styles, because they deserve their time in the spotlight, so try out mixing your metals or add pretty pearl bracelets to the look. The options are endless! Chunky bracelets also look ah-ma-zing styled with your watch, especially if you mix the chain weights and mix the metals. This is a style combo you need! Obvi, if you go for a bracelet stack you wanna show it off, so short sleeved tops or dresses are the way to go here. Grab your fave leather pants, add a short sleeved top and layer over a gilet to match the layering of your chunky bracelets and you've got yourself THE look.
#6: Beachy chunky jewellery vibes
---
Whether it's summertime or you're simply off for an off-season holiday to a tropical destination, when the sun's out you're often overcome with the desire to adorn yourself in all the prettiest shell and beaded jewellery, that's no reason to leave your chunky jewellery at home though! Chunky jewellery looks amazing on bronzed skin and adds a level of luxury to your swimwear look that looks incredible as you laze by the pool or hit that hot pool party. Go for full-on resort vibes in a glitter bikini or swimsuit, add a couple of pieces of chunky jewellery - like your favourite 100% waterproof & tarnish resistant chunky necklaces and chunky bracelets from My Jewellery - finish off with a pretty beach dress or cover-up, a big hat and classy sunnies and you're ready for a day of pure fun in the sun in style! If you prefer a more relaxed beachy vibe, our Springstones Collection is the one for you! Simply style your chunky jewellery with jewellery adorned with shells, crystals & glass beads, add your favourite crochet dress or playsuit and tie a head scarf around your head, and you are beach ready, girl! Get ready to shine in the sun!
"Jewellery is like the perfect spice - it complements what's already there"
---
---
Subscribe & receive the latest updates
Subscribe & get the latest updates