---
---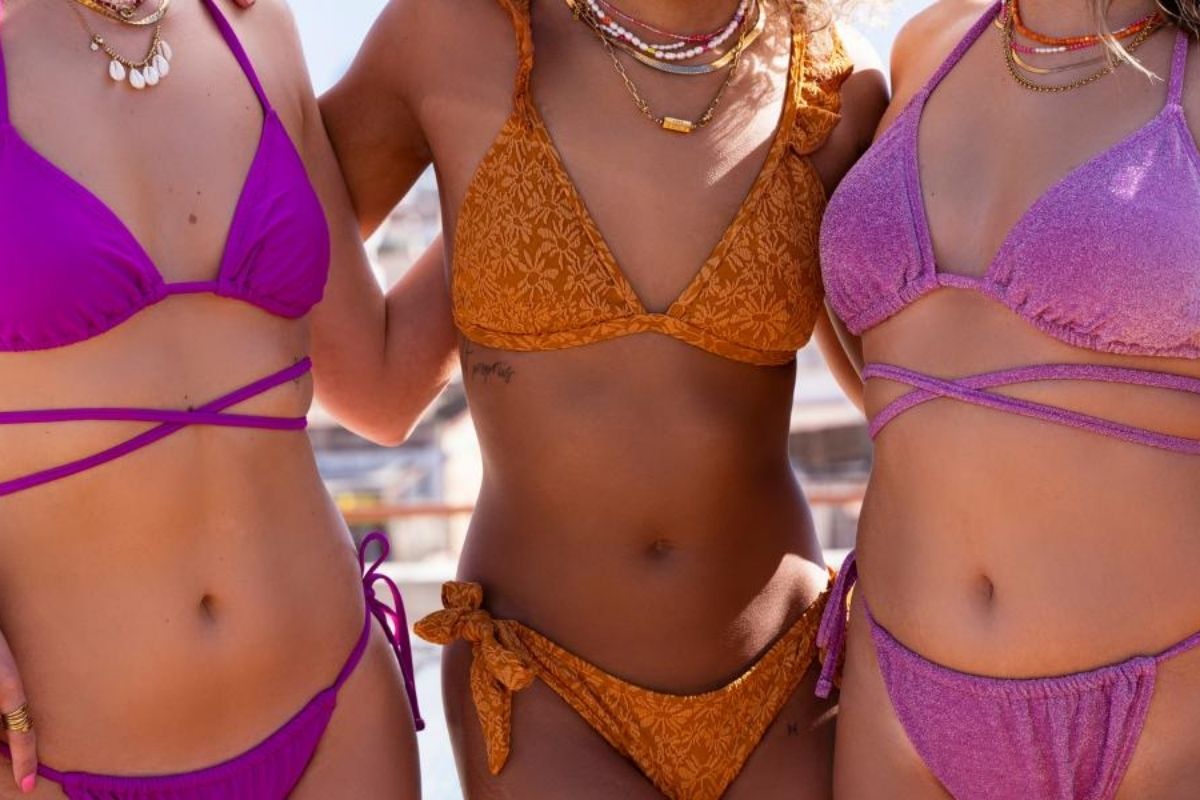 ---
---
---
---
Which bikini suits my figure?
Aloha summer! At My Jewellery, we believe it is important that your swimwear gives you self-confidence. That is why this special blog will tell you which bikini best suits your figure. You can then shop the perfect match right away. Go see for yourself!
13 April 2022 | Victoria Cowan
Read time: 4 mins
---
Inverted triangle body shape
---
Are your shoulders broader than your hips and are you fuller at the top than at the bottom? Then these tips will help you on your way to the perfect bikini!
A top with straight straps will make your shoulders look smaller.
A top in a dark colour will accentuate your body perfectly.
Eye-catching bottoms will draw attention away from your broader shoulders.
A halter top bikini will make your shoulders stand out.
Narrow spaghetti straps will make your shoulders wider.
Bandeau bikinis will emphasise the width of your shoulders
---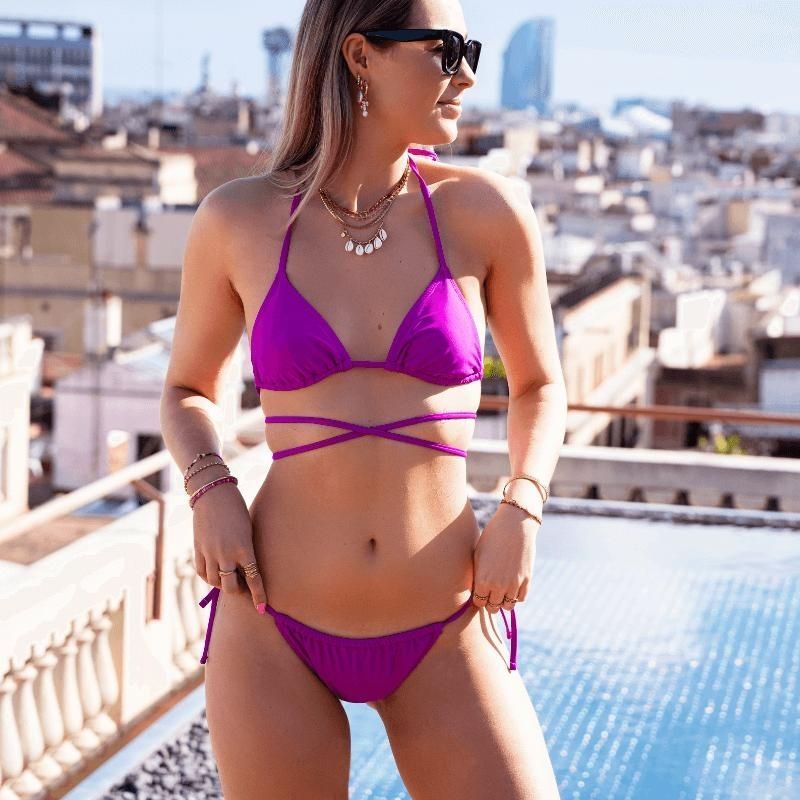 How to style triangle bikinis
How to mix 'n match bikinis
---
Hourglass body shape
---
Lucky you! You have the figure that every woman envies. You have a narrow waist, slightly wider hips and a good pair of shoulders. You can actually wear any kind of swimwear, from bikinis to swimsuits, but these tips will ensure you make the best choice!
High waist bottoms will emphasise your perfect waistline.
A triangle bikini or one with a halter top will place more accent on your figure, making your curves stand out even more.
Are you more into swimsuits? A swimsuit with vertical stripes will do the most justice to your figure.
Be careful with extra deep décolletés.
Low bottoms will draw attention to the widest part of your body (and we don't want that!)
A halter top in a size too small will do nothing for your figure.
---
"Every body is a bikini body"
---
Apple body shape
---
Is your volume mainly around the upper body? Do you also have full breasts, broad shoulders and an indistinct waistline? Then these are the bikini tips for you!
A bandeau top will ensure that you don't emphasise your breasts.
Prefer covering up more? Wear higher bottoms to accentuate the narrowest part of your waist.
Bikini bottoms in bright colours or with a nice print look especially good on you.
A halter top will emphasise your breasts.
Small, low-cut bottoms will emphasise the widest part of your body.
Small prints or horizontal stripes will make you look taller than you really are.
---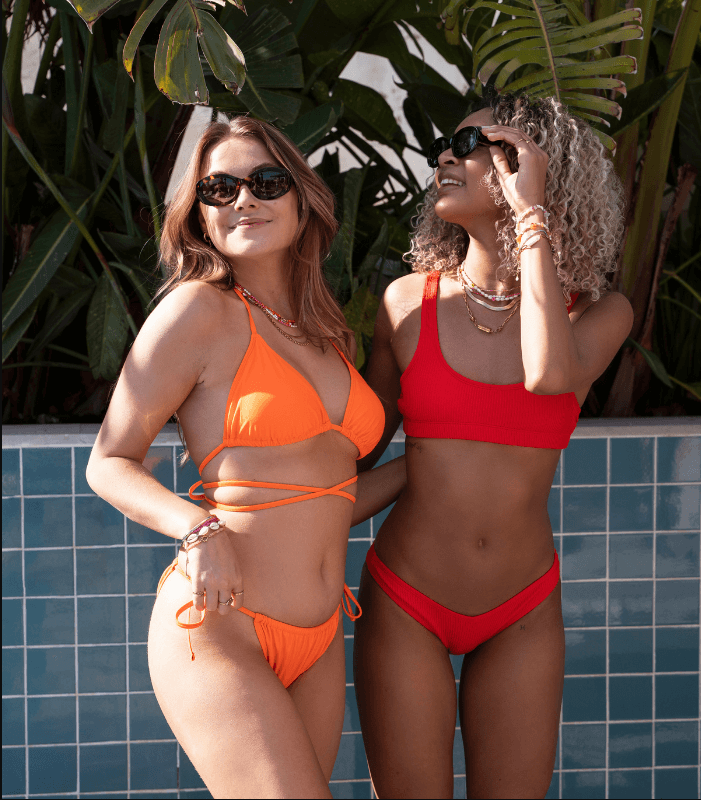 ---
Athletic body type
---
Hey power woman! You are lucky to have an athletic body. To create a more feminine shape with a bikini, read the tips below.
Bikini bottoms with narrow straps will make your buttocks look fuller.
A triangle bikini top styled with bottoms with bows will give your body more feminine curves.
If you are not a fan of bikinis, no worries, a swimsuit also suits you well!
Anything with extra details like ruffles & bows will look fantastic on you, more is more!
High bottoms will make your buttocks disappear.
A bandeau bikini will emphasise your straight figure.
Straight shoulder straps will create the impression that you are slimmer.
---
Pear shape
---
Do you have narrow shoulders, a slim waist and broader hips and do you want to emphasise your upper body? Then choose a flamboyant top and apply the tips below!
A bikini top with a print or a lot of colour will emphasise your upper body.
A bandeau bikini or a halter bikini will make your shoulders look broader.
Low-cut bottoms will make your hips stand out less.
Bottoms with ruffles & bows will emphasise your hips.
Bikini bottoms with a broad waistband will emphasise the lower part of the body due to the extra fabric.
Bottoms with a lively print will emphasise your hips.
---
---
Size table for My Jewellery swimwear collection
---
If you already have an idea of which bikini or swimsuit best suits your figure, but are uncertain about the size to get, then take a look at the tables below. Measure yourself!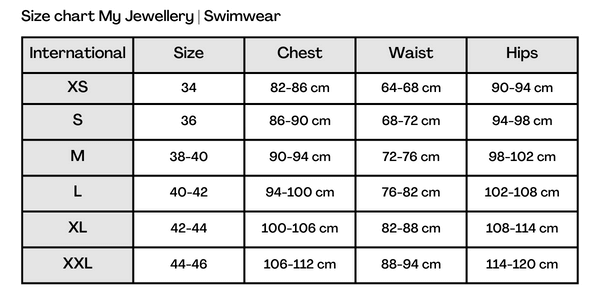 ---
Extra tips for the perfect bikini for your body shape
---
If you have darker skin, bright colours will look great on you.
Do you have paler skin? Then choose darker colours such as black, burgundy, brown or dark blue.
You can create more volume at your bottom or breasts by adding ruffles or frills to your bikini or swimsuit.
Halter and triangle bikini tops emphasise the breasts.
You can emphasise the pros of your figure by wearing colours and/or patterns.
If you want to hide something, go for a dark, solid colour.
High-cut bottoms will make your legs look longer.
Your breasts will appear larger & broader in a bandeau bikini top.
---
Enjoy this blog? Subscribe & receive the latest updates
---