Self-care
Self-care moments with: Kelly - Graphic Designer
By Tessa van Dashorst, 29 October 2021
The new beauty essentials by My Jewellery have made it super easy to create a self-care moment for yourself. Wanna know how to use the beauty products to give yourself a zen moment? Keep reading! These self-care moments blogs are all about inspiring you to create that moment of self-care for yourself. We've asked our My Jewellery colleagues to take us through their personal self-care moments, name their favourite My Jewellery beauty items and give us their best self-care/beauty tips. Life isn't just about working hard, that's why we believe it's so important to schedule moments of peace for yourself. Work hard, relax harder! In this blog Kelly takes us through her self-care moments and gives us a sneaky insider's tip on a product that's simply unmissable from your beauty stash.

Name: Kelly Adriaansen
Position: Graphic Designer
How do you like to start your day?
I really enjoy my mornings; I like to take my time for them. When I get out of bed, I first hug my two kittens. After that, I put my mobile phone against the bathroom mirror to watch my guilty pleasure, the Dutch soap 'Goede Tijden, Slechte Tijden' while I get ready.
Ever since I was little, I have always loved makeup. I like to test new products and I always try different brands. But for my daily office look, I go for a more natural one. First, there's BB cream, then concealer on the places where I need it, bronzer for a beautiful tanned look and last, my eyebrows. I find my eyebrows really important. I draw my eyebrows with some powder and I brush them upwards with eyebrow gel. Makeup ready? Then I will brush my hair quickly and put on the clothes that I selected the day before. Ready to go!
What is your ultimate self-care moment?
It may sound odd, but my ultimate self-care moment is cleaning my entire apartment until it's squeaky clean. After cleaning, I take a nice warm shower with a hair mask, face serum and body lotion. I then jump on the couch to watch my favourite tv show without feeling like I still need to do something. That is my ultimate me-time moment!
What's your favourite beauty essential from the new beauty line?
My favourite beauty essential has got to be the lip oil. I always have these dry patches on my lips, and this product ensures that your lips stay nourished with a beautiful gloss.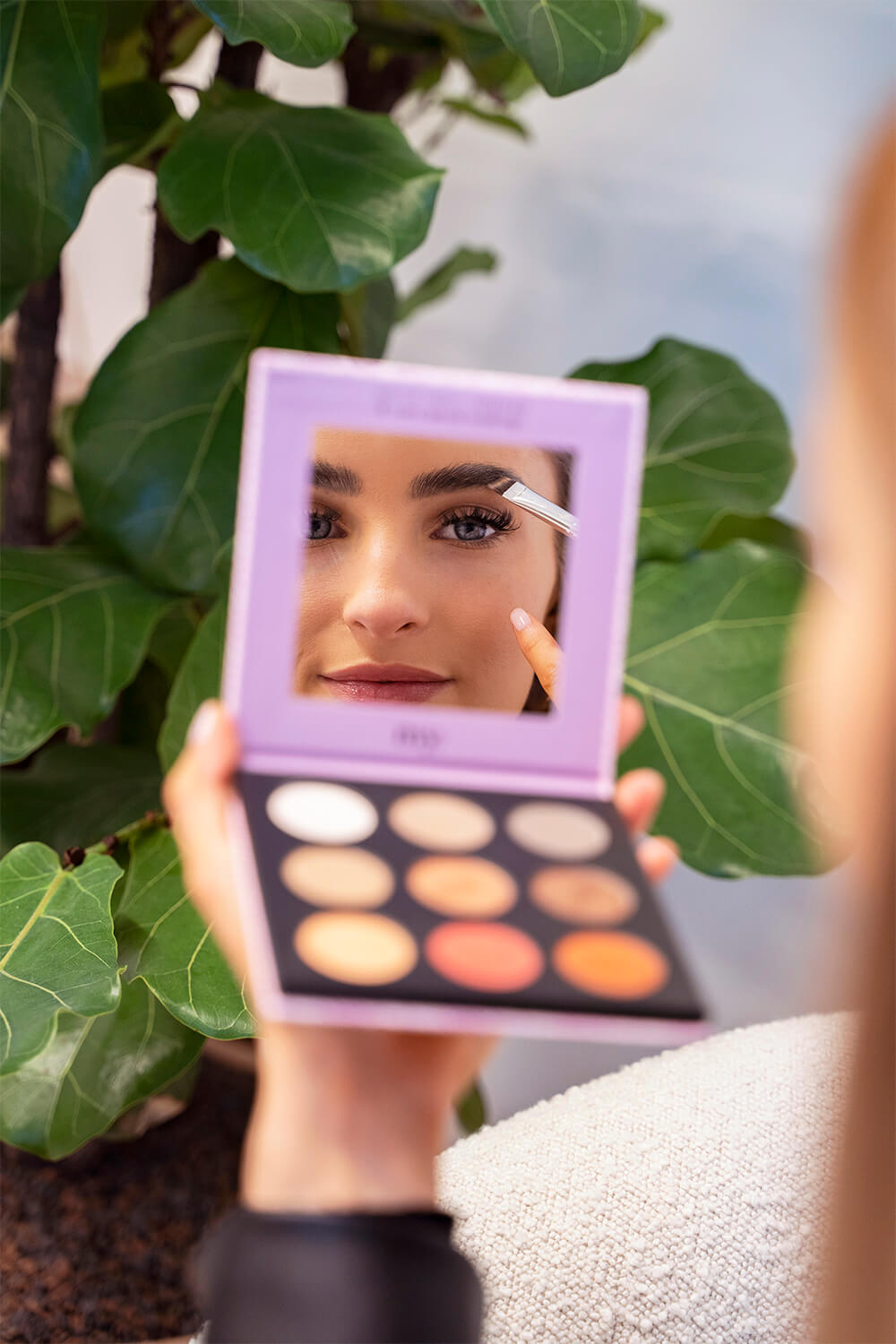 How would you describe your makeup look?
I like to experiment with makeup but during office hours, I keep things natural. For a night out with friends, I often add nude-coloured brown lipliner to my look with some eyeshadow and highlighter.
What's your ultimate self-care/beauty tip?
I often receive compliments on my 'eyeshadow' look, but funnily enough, this isn't eyeshadow. I actually use the bronzer that I put on my face above my eyes. It creates a beautiful look with the brown colour matching my blue eyes.
Shop Kelly's beauty favourites
Enjoy this blog? Subscribe & receive the latest updates