Self-care
How to apply highlighter
By Victoria Cowan, 14 October 2021
When it comes to properly applying highlighter the trick is to start with a great base! In fact, this is rule number one when it comes to applying any makeup, and professional makeup artists swear by it. Beautifully smooth and prepped skin will make your highlighter truly pop! and that's exactly what you want your highlighter to do. As part of our beauty collection by My Jewellery we've created two beautiful & versatile highlighters that we promise will become your new go-tos. The lovely creamy Drops of Glow liquid highlighter will add a gorgeous glow to your complexion, while the silky smooth Magic powder highlighter's natural highlighting effect is sure to make heads turn. And we love that they're 100% vegan! Not sure how to properly apply highlighter? Read on for all the beauty industry secrets.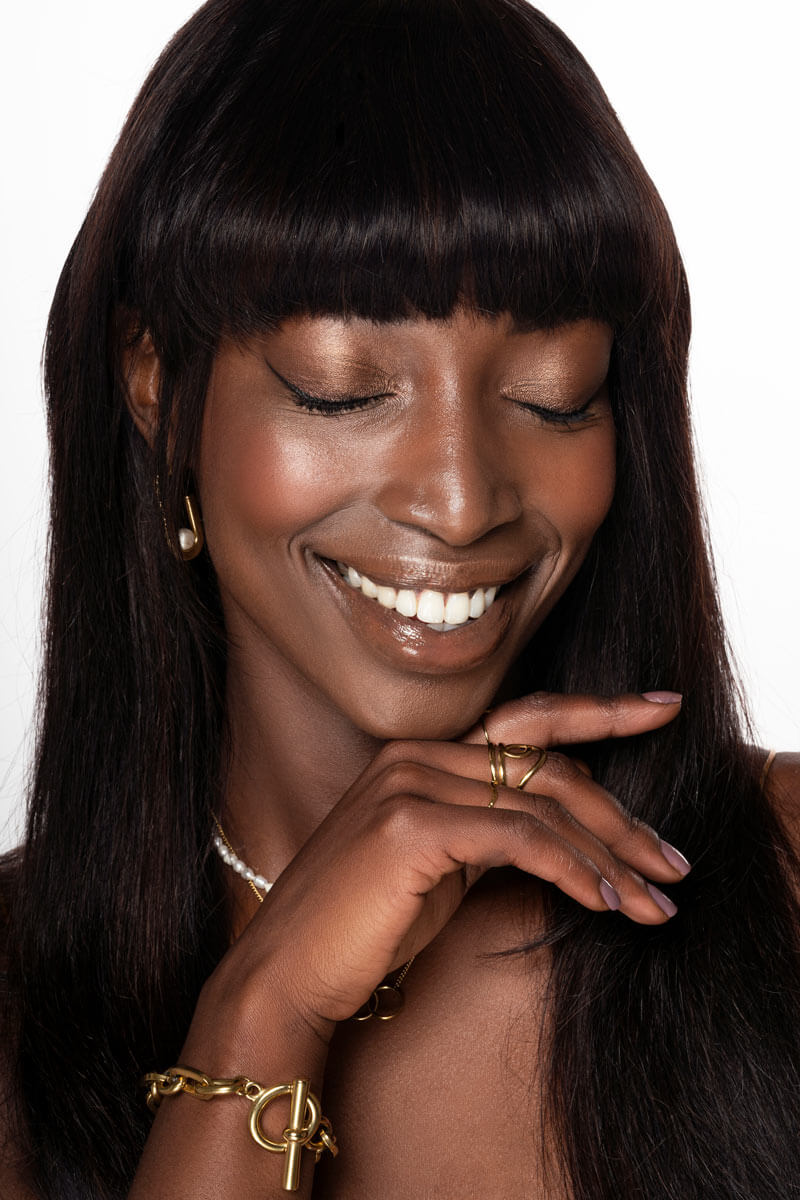 Choosing the best highlighter makeup for your skin type?
As part of our My Jewellery Self Care line we've created two different highlighter makeup formulas. Drops of Glow is a beautiful liquid highlighter, while Magic Highlighter is a stunning powder highlighter, but how do you decide which formula is better for your skin type? Well, a general rule of thumb is that liquid highlighters work better on dry skin, while powder highlighters are better for skin that has a tendency towards oiliness, but the way you intend to apply your highlighter is an equally important indicator of which formula will end up working best for you.
How to apply liquid highlighter
Liquid highlighters tend to be a little more versatile in use than powder formulas, as they can be blended in with your other makeup, so start by determining how highlighted you want your makeup look to be and work from there. For super healthy and dewy looking skin apply your liquid Drops of Glow highlighter over your moisturiser but before any other makeup, cover with your favourite concealer and/or foundation and finish off with a few extra drops of highlighter on your cheekbones for a radiant look. If this isn't quite illuminating enough then add a couple of drops of highlighter to your foundation instead. Radiance guaranteed! Of course, you can't go wrong with adding your highlighter the traditional way by adding it as the final touch to the end of your makeup routine, blend with your fingers for a flawless finish.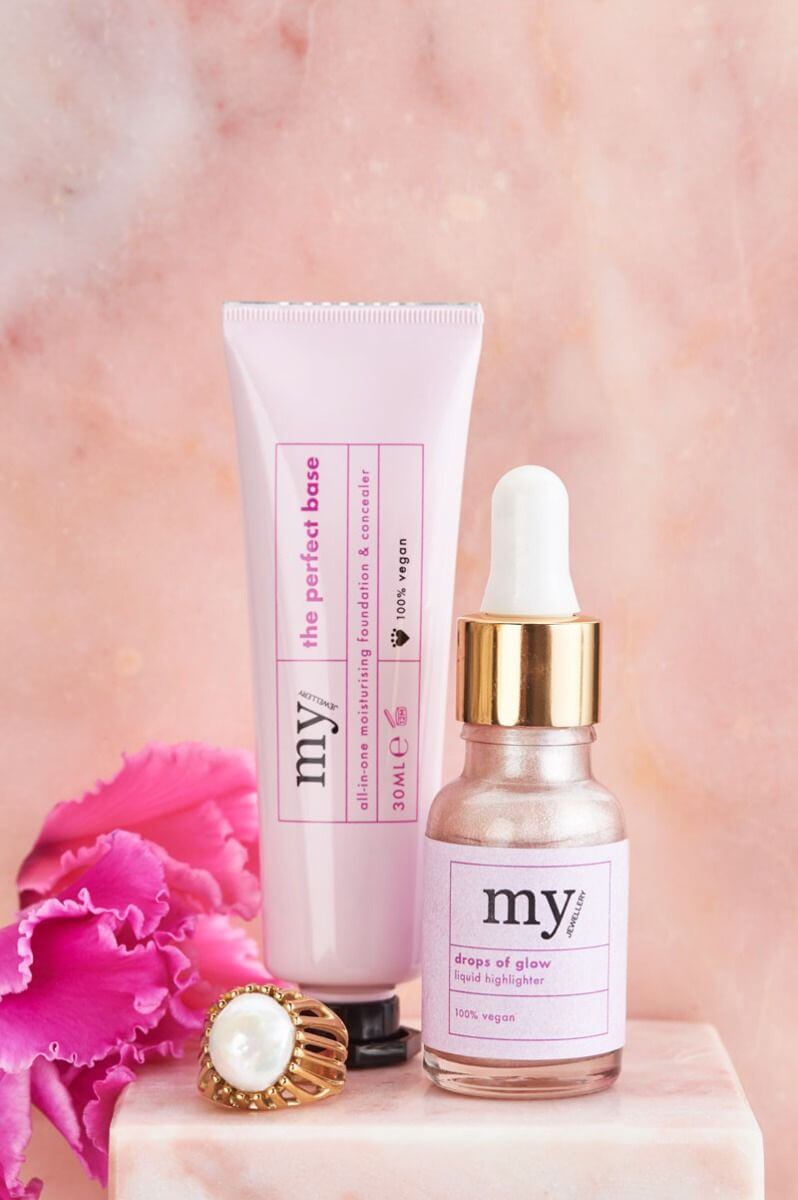 How to apply powder highlighter
Unlike the Drops of Glow creamy liquid highlighter, the Magic highlighter powder is a dry formula which should be applied as the last step in your makeup routine, as it won't blend with your other liquid makeup products. Use a fan brush for light coverage on large areas (such as your cheekbones) while a damp sponge or compact brush will result in full on shine, a small pencil brush is the ideal tool for smaller face areas (like the inner corner of your eyes). Long-lasting glow guaranteed.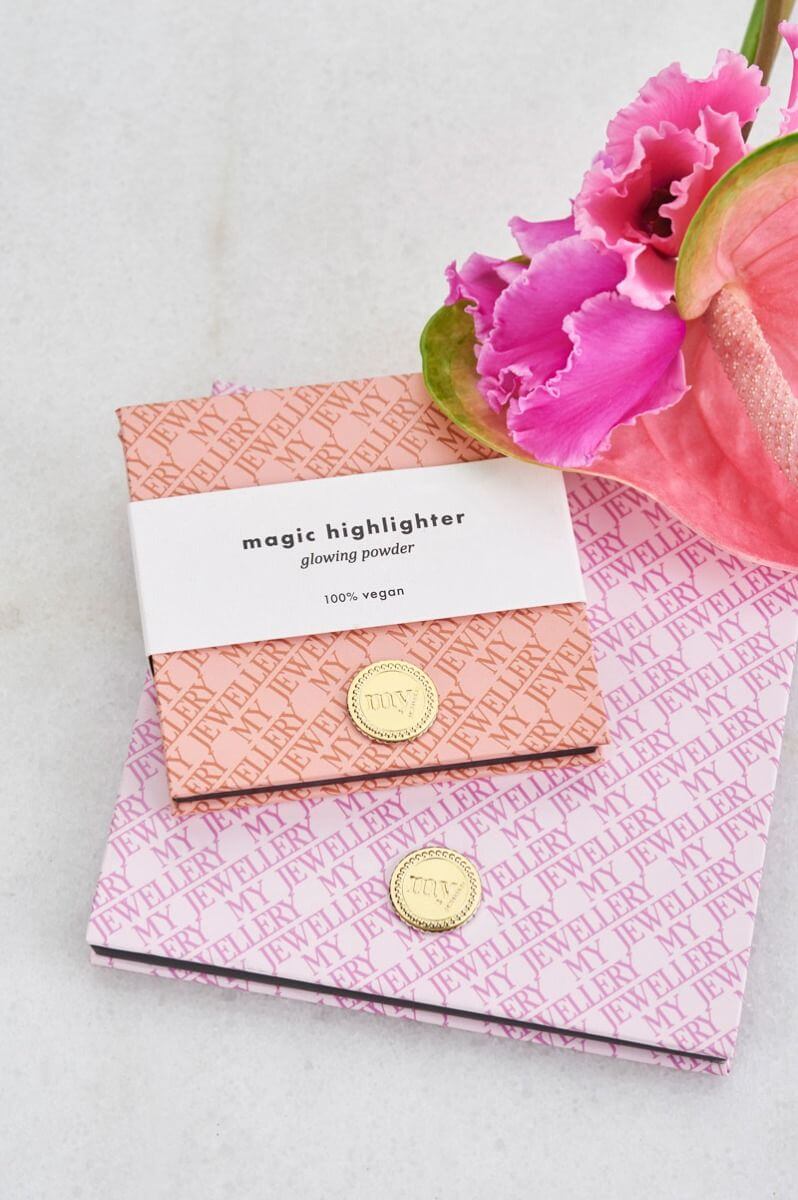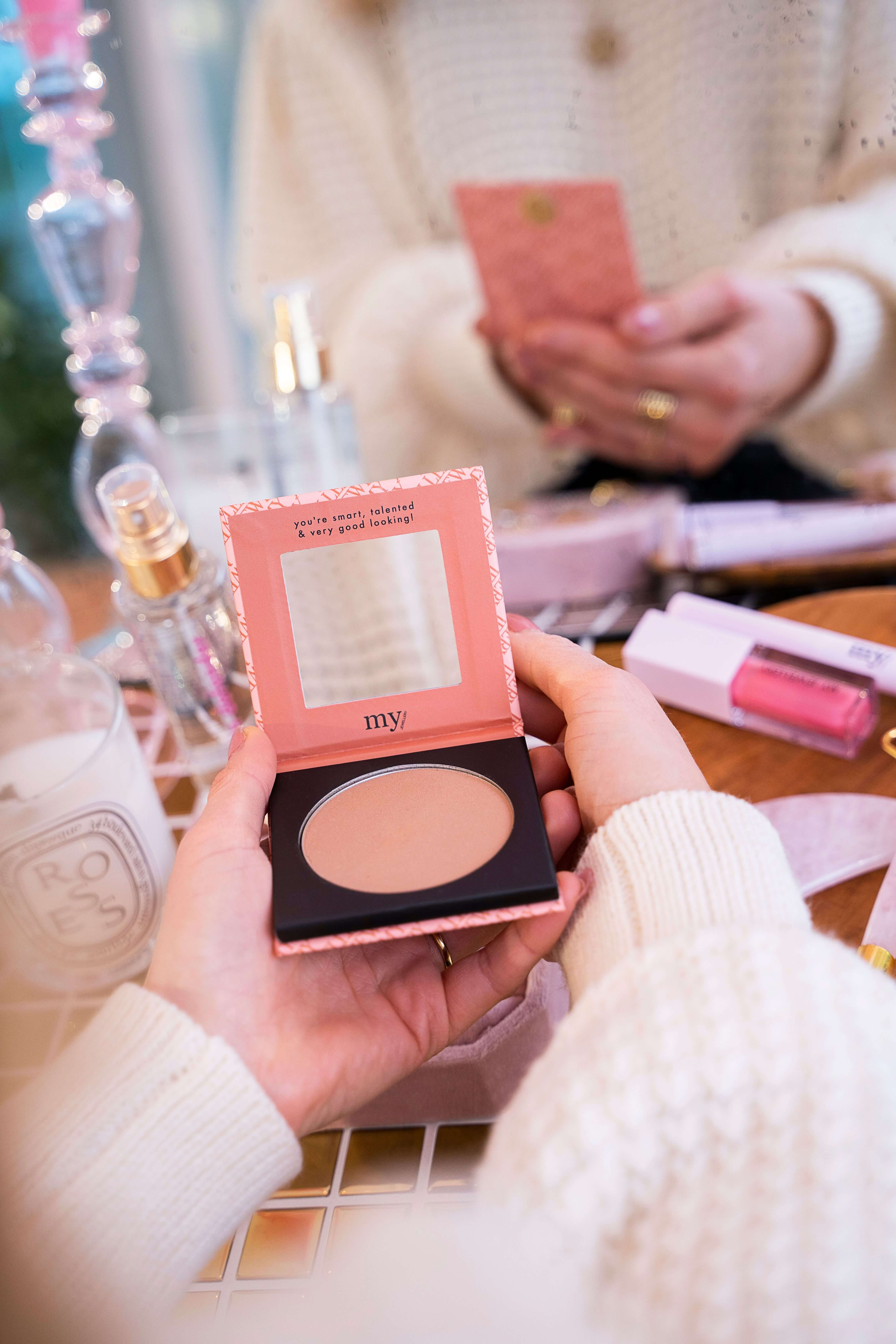 Where to apply highlighter | the 7 secrets
Many of us will know to put highlighter on our cheekbones, but did you know there are in fact seven areas of your face that would benefit from a touch of highlighter. Yes, really, seven areas! So if you're ready to achieve that perfectly healthy & glowy highlighted look keep reading, cos we've lined them all up for you.
1. Your cheekbones
Unsurprisingly, highlighter on your cheekbones is first in the list. By highlighting your cheekbones you're framing your face and giving the illusion of high cheekbones and a more angled facial shape. Our Magic Highlighter makeup beautifully captures the light and is the ideal highlighter for your cheekbones because you can simply brush it on for an instantly brighter complexion.
2. Your cupid's bow
The cupid's bow is a much smaller area of your face, but by applying highlighter makeup to this area you can instantly impact your appearance. The cupid's bow is the little dip in the centre of your top lip, and by adding a drop of liquid highlighter or brushing on a little Magical highlighter, you instantly draw the attention to your lips and create the illusion of fuller lips.
3. The arch under your eyebrows
A swipe of highlighter on the arch under your eyebrows goes a really long way to lifting your eyes and giving the appearance of a brighter and more fresh-faced visage.
4. The arch above your eyebrows
While you're applying highlighter makeup to the arch under your eyebrows, don't forget to add a touch to the arch above your eyebrows as well. This will really accentuate your eyebrows, and accentuated eyebrows in turn help accentuate your eyes. So it's a definite win-win.
5. The inner corner of the eye
If you're going for a minimal makeup look but would still like to highlight your eyes then smudging a little powder highlighter like our Magic highlighter in the inner corners of your eye is the way to go.
6. The bridge of your nose
When applying highlighter it's important to think of all the areas of the face that 'stick out' because they're more likely to catch the light, and nothing sticks out more than your nose. Create the appearance of a long slim face by highlighting the bridge of your nose with a couple of drops of Drops of Glow, thereby drawing an invisible line from your cupid's bow up to the top of your face, elongating and drawing attention to the centre of your face.
7. The centre of your chin
Continue that invisible line from the bridge of your nose to your cupid's bow and finish by putting a touch of highlighter on the centre of your chin. It may seem like overkill but trust us, it'll create a defined and streamlined look!
Enjoyed this blog? Sign up & receive the latest updates