---
---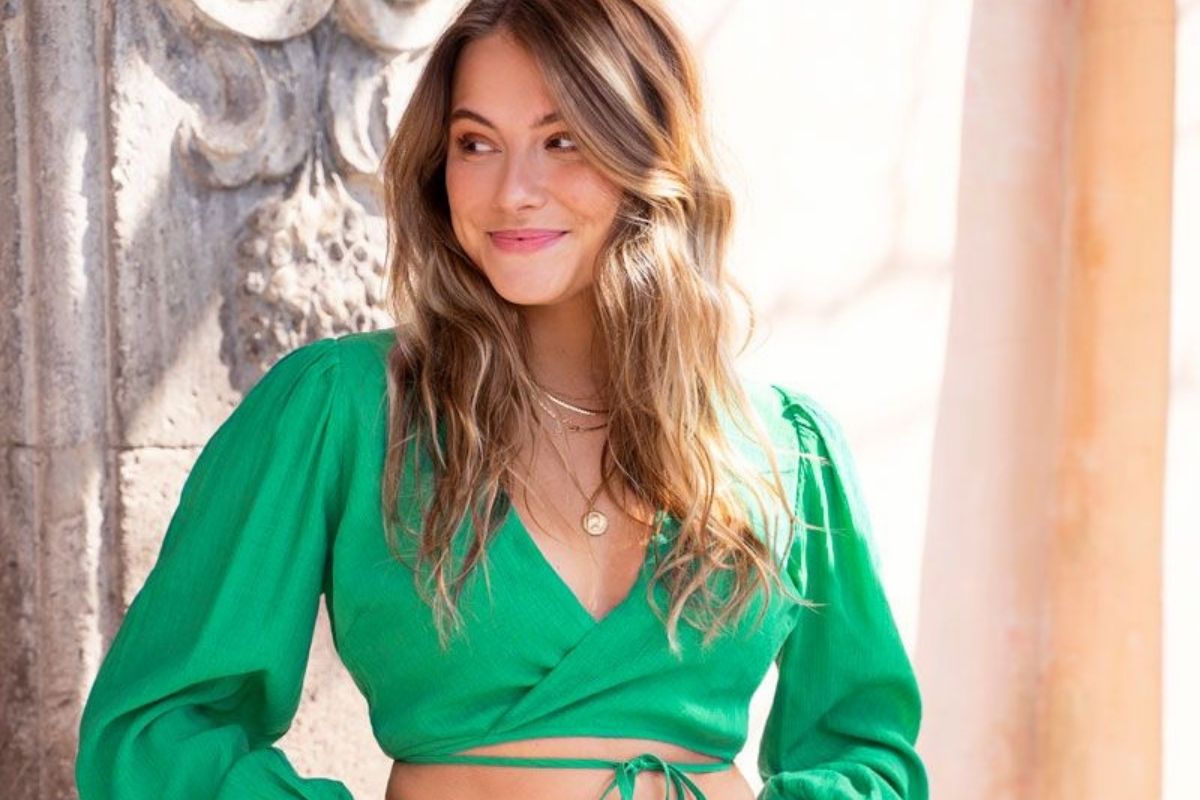 ---
---
The Y2K trend: How to wear it in 2022
One of the beautiful things about fashion is that it's always cyclical. Hold on to something long enough and you're almost guaranteed to see it come back into fashion at some point. You've probably heard your mum or aunt exclaim excitedly more than once that her favourite 70s flares or 80s blazer are back in style, and now it's finally the chance for 90s babies to rejoice about all the clothing they kept from the late 90s & early 00s, cos Y2K fashion is back, and it's back with a bang! Here's how to wear the Y2K trend with some 2022 flair.
26 April 2022| By Victoria Cowan
Read time: 6 mins
---
What is the Y2K aesthetic?
---
From iconic popstars, like Britney and Christina, to the dot.com boom, the late 90s and early 00s was a time of change, technological advancement and a whole lot of bubblegum pink! If you're part of the TikTok-loving Gen Z era that has brought back the Y2K style a mere 20 years since it was first in style, you're going to love what's on offer in all of your favourite fashion stores. If, however, you're still traumatised by the double denim ab-baring crop tops and low-slung jeans combo styled with way too pointy-toed kitten heels from the first-time around, you get to breath a sigh of relief at the fact that those original Y2K staples have been given a 2022 glow up, and are now nowhere near as horrifying as they were then. Is the Y2K trend 2.0 still characterised by being short, bright and metallic? Yes. Is there a way to wear Y2K fashion that doesn't give you nightmarish flashbacks to its original early 00s heyday or make you look like you're going through an early mid-life crisis? Also, YES! Plus, let's be honest, it's futile to resist, best accept that the return of the Y2K aesthetic was bound to happen, crank up a lil X-tina (don't pretend you don't remember all the lines to Dirrty) & party like it's 2002.
---
10x iconic Y2K style pieces to look out for in 2022
---
While neutrals and minimalist style have been setting the tone for many an influencer's insta feed and our clothing racks & closets for a good while now, with our renewed sense of post-covid freedom and hankering for nostalgia and happier times through social media mediums like TikTok we're seeing a major shift to more colour and no-holds barred fashion and no style era was quite as zany, colourful, and fun as Y2K. It's time to let go of all of your fashion rules and embrace the crazy. We're talking pigtails, butterfly hair clips, frosted eyeshadow, (micro)mini skirts, crop tops, belly chains, low-rise jeans and halter neck styles. If you're in need of some Y2K style inspo appropriate for 2022, steer clear of the original Y2K style maves: Britney Spears, Paris Hilton & Sarah Jessica Parker/Carrie Bradshaw, and look to those current style icons who've managed to give their own 2022 twist to Y2K style. We're talking Hailey Bieber - who has absolutely nailed her casual street style/Y2K vibe- Kendal Jenner, Bella Hadid, Doja Cat, Dua Lipa & basically every it-girl at Coachella this year. To make it a little easier to perfect the Y2K trend in your everyday life we've put together our favourite Y2K style pieces to slowly introduce a bit of 2022 appropriate Y2K style to your closet. Check 'em out!
---
If there's one fabric that screams both summer and Y2K it's gotta be crochet. This lace-like fabric was a firm favourite for that early 00s boho style, and it's the perfect place to start when introducing Y2K to your 2022 self. Go for a Y2K staple halter neck/ hanky style top in crochet and nail two trends in one. Alternatively, add just a hint of crochet by going for another Y2K fave: the crochet belt or neck scarf. A subtle nod to the style, that'll add a cute boho edge to your fit!
---
"Dressing up like it's 2004? That's *actually* hot."
---
#2: Cutouts & wrap details
---
Y2K style was about showing a lot of skin! Cutouts were one of the main style features, but if all that skin isn't exactly your thing, one of the coolest ways to counteract it slightly is by wearing tops or dresses with wrap details. Wrap details can be tied around your midriff to show some skin, but keep a lil mystery too. Go for crop tops with tie wraps, or take your Y2K style to the beach and go for wrap bikinis. Alternatively, grab yourself a top or dress with cutouts at the waist and add a belt to break up some of the skin.
---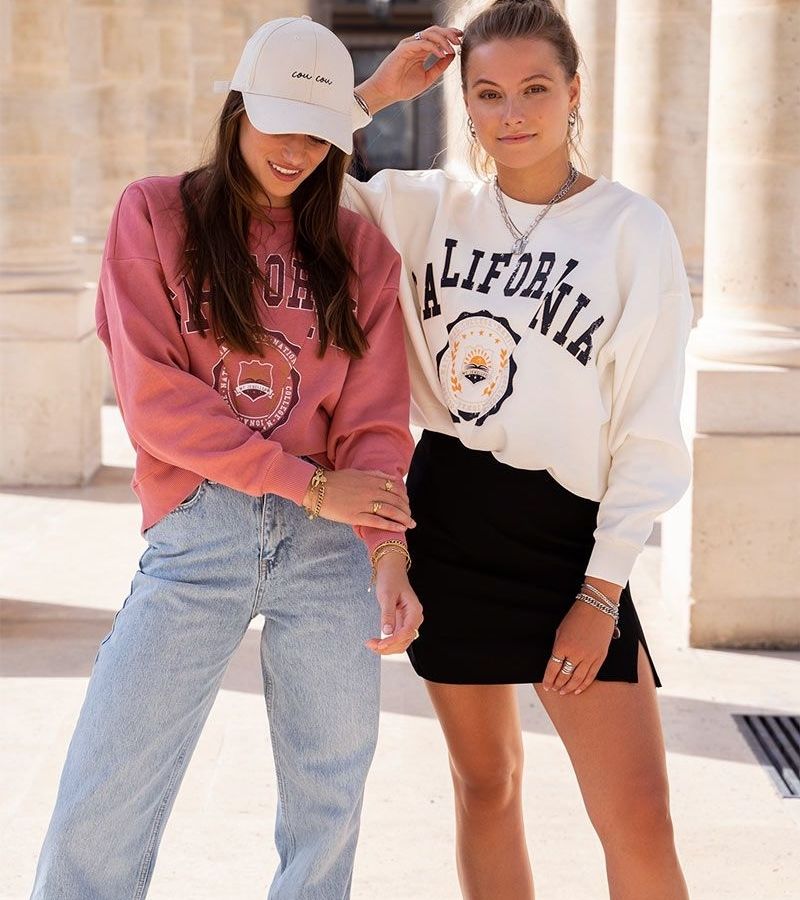 ---
7x Major trends for spring 2022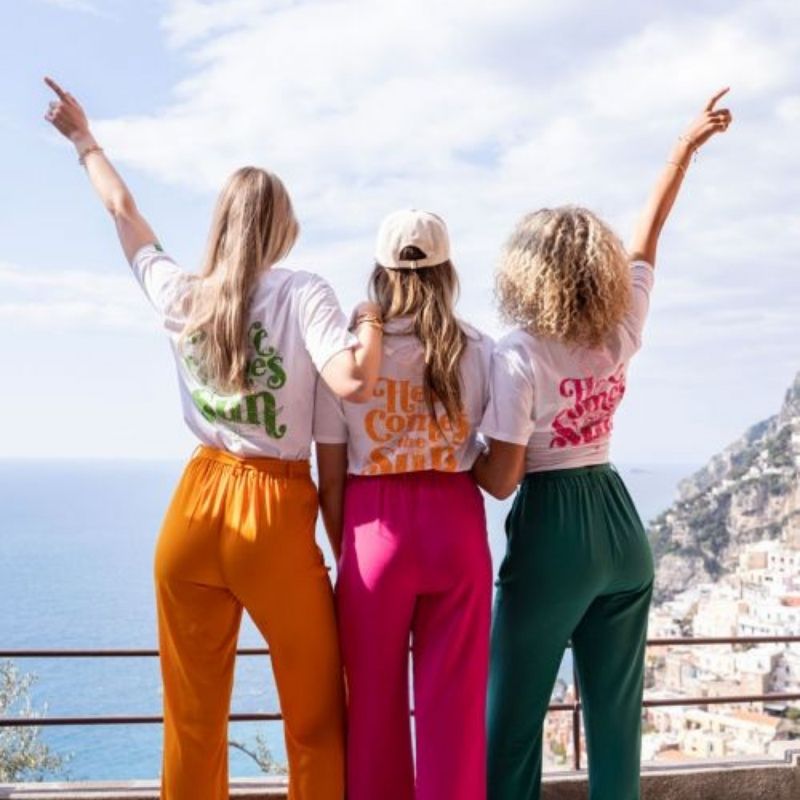 Colour blocking: how to get it right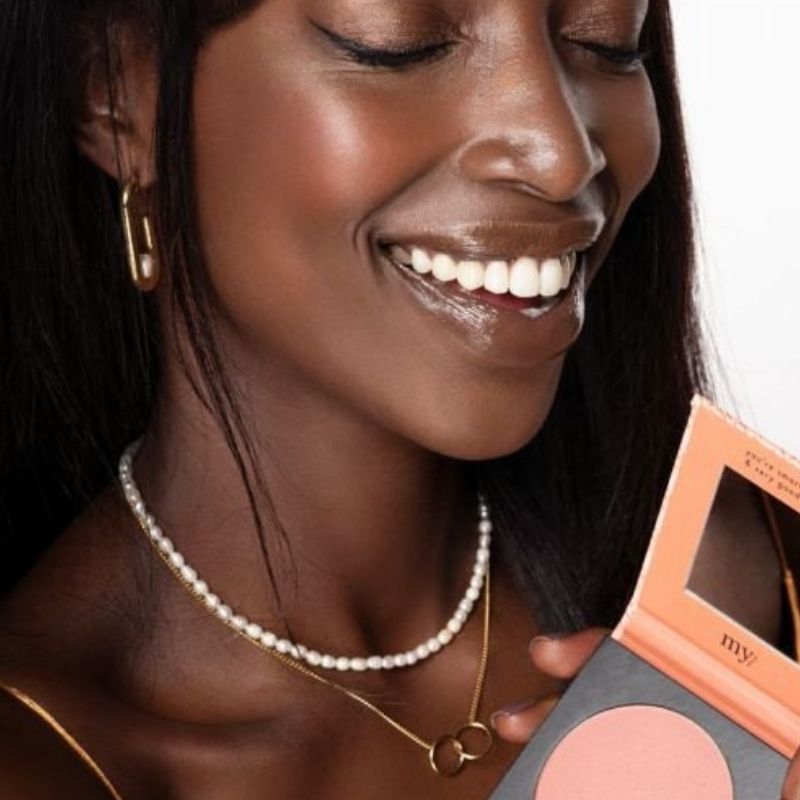 ---
#3: Y2K is all about the belly - from chains to piercings
---
Ah yes, the early 00s, the era of the belly if ever there was one. Then again what would you expect from a style era that was all about low slung jeans and crop top combos….that's a lot of belly skin on display. It was basically style-fate that our early 00s obsession with accessories and bellies would come together and manifest themselves into a love of belly piercings and belly chains. And, with our 2022 love of a piercing stack, we can't really be surprised that belly piercings would make a comeback either! Adorn your midriff with the prettiest belly chains and belly piercings and add a touch of sparkle to your fit. Not sure about showing off your belly? Simply wear your belly chain over your fave tee for a look that's comfortable yet cool.
---
Check out your fave teen 00s queens - we're looking at you, Lindsay and The Olsens - and you'll see that ruffles were a firm fave! Ruffles, frills, fringing, feathers you name it, Y2K aesthetic owned it. Luckily, ruffles also happen to be one of the most wearable 00s styles to have made a 2022 comeback. Pretty ruffles look good on just about everyone, and can add a lovely ethereal quality to a chiffon summer dress and equally add a little interest to an otherwise basic t-shirt. Trust us, this is a trend you're going to want to try.
---
#5: Pleated skirts are it!
---
Remember that iconic Britney vid of her dancing in the school hallway? Yea, when Baby One More Time peaked, so did our obsession with pleated skirts. Giving serious sexy schoolgirl vibes, these pleated skirts were everywhere for a while, and now they're back. Depending on how you style your pleated skirts, they can give off preppy tennis style/school girl/librarian/ or cool girl vibes. Style your black pleated skirt with a black cutout top and strappy sandals for a great going out-out look, but add some white socks, sneakers and a collegiate sweatershirt and your look is cool prep all-over! Looking for a more elegant version? Style your pleated skirt with a matching cropped blazer, in a pretty pastel shade and you've got yourself a lovely wedding or summer party co-ord fit!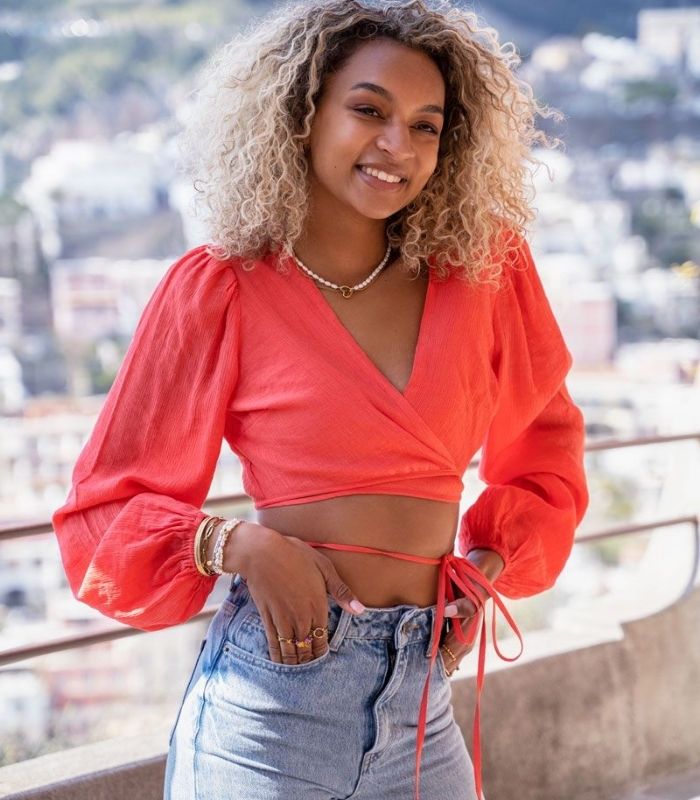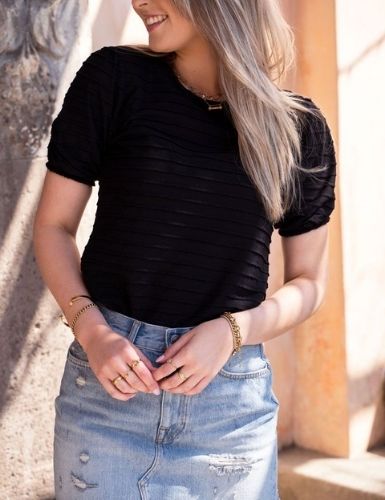 ---
#6: For the love of baby t-shirts & printed logos
---
Say goodbye to your fave oversized shirts and hello to baby t-shirts and printed logos. A baby t-shirt is basically the cropped and shrunken version of your favourite shirt. Style your printed baby t-shirts with high-waisted cargo pants or printed flares for an updated version of this Y2K aesthetic. Add your favourite sneakers or chunky boots, some cute braided pigtails and minimal hoop earrings for the ultimate 00s meets 2022 fit.
---
#7: Double denim - double trouble
---
Ask anyone who lived the 90s & 00s to name a double denim duo and they're guaranteed to name the same couple: Britney Spears & Justin Timberlake. 20 years since their iconic all-denim everything jaunt down the red carpet, double denim has -thankfully - been given a 2022 glow up. Given the way street style icons like Bella Hadid are rocking double denim in 2022 style you could say they had the right idea in the early 00s, cos let's be honest, she's makin' it look hella cool. Go for modern cuts, like high waisted, tailored jeans and an oversized denim jacket, styled with the right accessories, and you've got yourself one great look!
---
---
In a case of don't ask questions, just accept it, 00s style became 'mildly' obsessed with butterflies. From tattoos to jewellery, and butterfly clothing & tops to hairclips, everything became butterflied. And if there's one sure-fire way to give your 2022 the Y2K aesthetic it's to throw some butterflies at it! Try styling your space buns (another 00s fave) with butterfly hair clips, the more colourful the better, or go lowkey by adding some butterfly jewellery to your jewellery party. Alternatively, go for a blouse or top with a pretty butterfly print for a subtle nod to this Y2K style icon.
---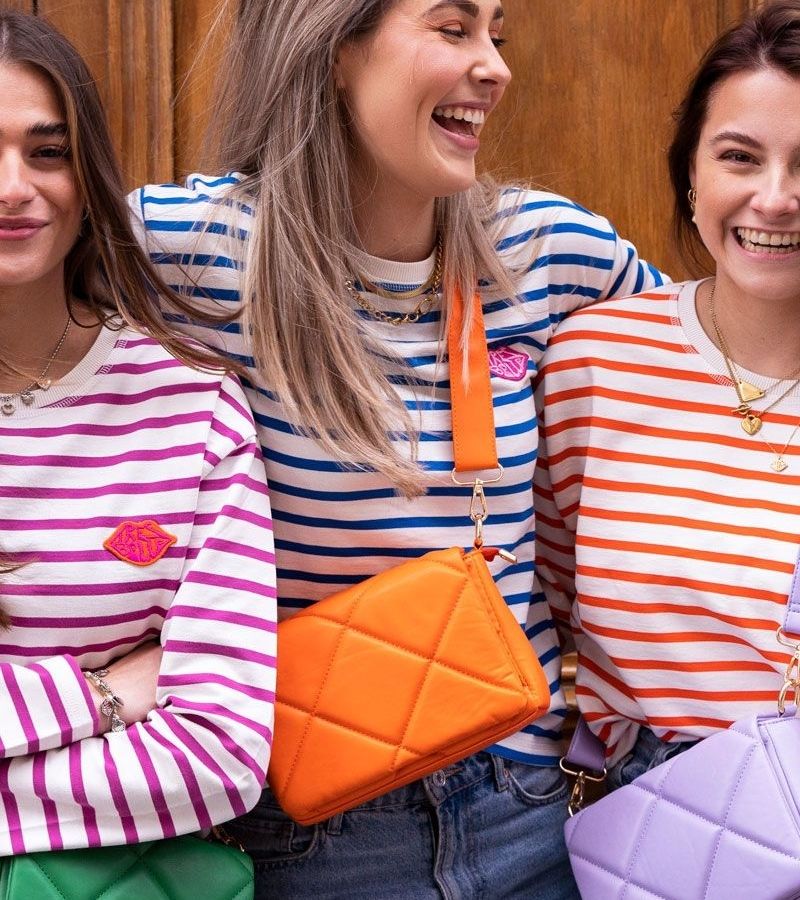 ---
#9: Athleisure - comfort in style
---
As much as flares & platforms scream 70s and shoulder pads are totally 80s, velour tracksuits have become synonymous with the Y2K aesthetic. Look up Y2K on Pinterest and you're sure to see everyone and their dog (we see ya, Paris) strutting around in a velour tracksuit. Nowadays, thankfully, the velour is gone. But the athleisure trackies are still very much in. Go for a matching loungewear or sportswear set in muted tones and style with a cap, cool sneaks and high socks for a 2022 version of the look. If you're in the market for a summer appropriate loungewear set, we've also been obsessing over cute shorts and t-shirt sets in bright colours and comfy plush materials. This trend is definitely here to stay, and we're so here for it!
#10: Y2K - all about the accessories
---
If you're not rockin' a neon (baguette) handbag yet, what have you been doing?! A brightly coloured handbag is basically the easiest way to add a pop of Y2K to your look. Equally, a pair of rectangular sunnies, preferably with pink or blue tinted lenses, is a sure fire way to hit the nail on the Y2K trend. Of course, you could go all out and add some diamantes too, afterall Y2K trend is all about standing out and embracing all that is 'wrong'. Basically, the trick when it comes to Y2K accessories is to go for bold and to go for colour, you wanna be a walking talking dopamine hit in an on-trend fit.
"More butterflies, please."
---
---
Subscribe & receive the latest updates