---
---
---
The secret to ring stacking
A new trend that makes us, as jewellery fans, very happy: ring stacking! Wearing multiple rings in different styles and combinations may take some getting used to. That is why My Jewellery is happy to explain how to put together the perfect ring stack.
4 July 2022 | By Demi van Lankveld
Read time: 2 min
---
1. Choose a style
---
Do you go for minimalistic or over the top ring stacking? Of course, you base your style on the latest trends, but also on the rest of your outfit. When you want to wear several rings on one hand, then check carefully whether these match the rest of your look.
---
2. Determine the number of rings
---
Combining multiple rings also depends on the quantity. When you go for a minimalistic look, you can combine many more rings than with a statement look.
---
3. Build a base
---
Now that you know what style and quantity of rings will be in your stack, it´s easy to form the base. Try to combine basic rings, such as initial rings or minimalist rings, with each other on one hand, looking particularly at what you think is beautiful.
---
4. Complete your ring stack
---
With ring stacking, it is always important to keep the 'eye-catcher' until the end. For example, a signet ring or gemstone ring. It goes without saying that you want to give it a good spot in your ring stack so that it really stands out.
"Save the eye-catcher for the end"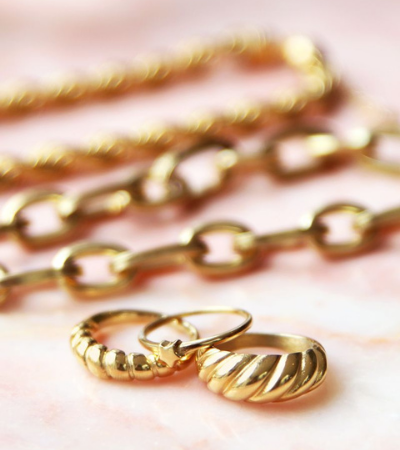 Ring stacking for various occasions
---
1. Office
No better way to rock up to the office than with hands full decked out in rings. Typing suddenly got a whole new layer of fun now that you're hands sparkle in the light. Go for a variety of minimalist rings to keep your ring stack from looking a bit too ott for the office - and to save yourself from getting too distracted by your pretty hands. Add a pinky ring for a super playful & fun look. Work it!
2. Night out
A date night, drinks with the girls, or night of dancing... it all calls for a ring party on your hands! Why not get the party started with some statement rings?! Take two unique and standout rings and pair them with more basic pieces to really make them standout. Pearl rings, signet rings and sparkly rhinestone rings are some of our favourite rings - so perfect for nights out when you want all eyes to be on you!
3. Holidays
We're major fans of wearing loads of rings during a sun, sea and beach vacay! My Jewellery rings are made of premium stainless steel so they won't tarnish, meaning a dip in the pool or a snorkelling sesh is all okay. Whether you're off on a skiing holiday, a cute city trip or simply planning on lazing by the pool for two weeks, you simply need to finish off your look with the best ring stack. Beaded rings are perfect for sunny beach holidays, while timeless basics like our initial rings are the perfect city break choice. Which ring stack are you going to go for on your next holiday?
We're in love with the ring stacking trend! Have you already created a trendy look with multiple rings together? You can always go for a ring set, that way you'll be done all in one go! Want to know more about ring stacking? Checkout our video:
Enjoy this blog? Subscribe & receive the latest updates