---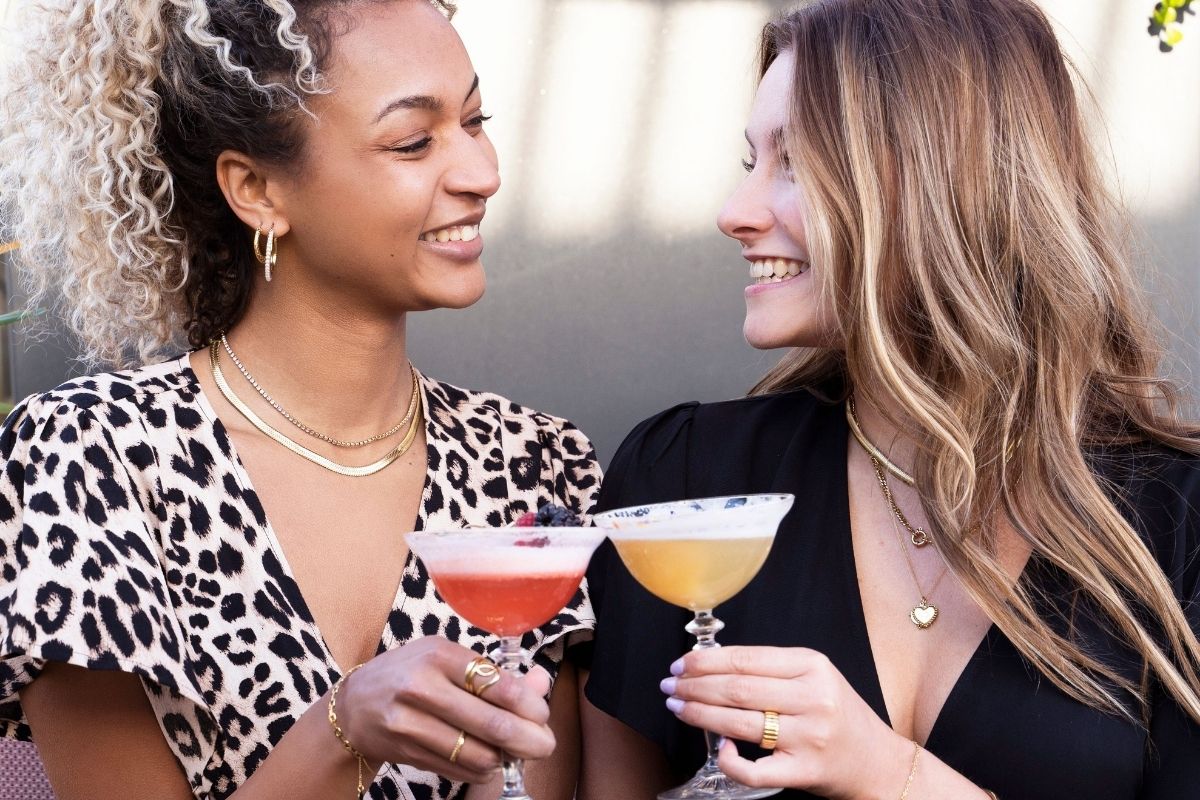 ---
---
---
Wedding guest outfits for different wedding themes
Wedding season is upon us! From May till September love truly is all around, with couples saying their I Dos seemingly every weekend, so chances are those beautiful creamy white invitations are already beginning to pile up on your mail shelf. Time to get excited for wedding cake, beautiful decorations, fun on the dancefloor, and, most importantly, shopping for your new wedding guest outfit! Before going out on your shopping spree there's a few important things to remember, not least of which is finding the right wedding guest outfit for the wedding theme! Nowadays there's loads of different wedding themes, so allow us to name the most on-trend wedding themes and inspire you to the perfect wedding guest outfit for different wedding themes!
29 March 2022 | By Victoria Cowan
Read time: 7 mins
---
---
Wedding guest attire for 6x different wedding themes
---
Getting dressed for a wedding is no easy feat. Regardless of how many weddings you've been to, the dress code and formality will always be a little different, sending you straight back to square one and having to figure out the right look! Luckily, weddings these days have far fewer rules than they used to (bye-bye frou-frou bridesmaids dresses!) but that doesn't mean there aren't still some key rules to abide by when it comes to wedding guest outfits. So, while there is more freedom when it comes to picking out your wedding guest attire, don't even think about whipping out your favourite pair of jeans or that fabulous leather mini just yet! Nope, wedding guest attire is still all about sticking to the dress code and the proposed (ahem…) wedding theme. Have those gorgeous wedding invites been piling up, leaving you in despair and excitement in equal part at having to find the right wedding guest outfit for a themed wedding? Well, worry no more, because we've come up with a comprehensive guide to the dos & don'ts of wedding guest attire and put together a list of the most popular wedding themes of the year and exactly what to wear to nail the theme! So, let's say 'I Do' to these perfect wedding guest outfits for themed weddings.
---
Wedding guest dress code dos & don'ts
---
When it comes to dressing for a wedding there are a few hard and fast rules that simply won't ever change. The first being: never (and we mean, never!) wear white! It might go without saying, but it deserves repeating, because trying to steal the bride's thunder by turning up at her wedding in white is sure to kill the friendship. And yes, an off-white or very pale yellow or pale blue, is still white. Next up: if there is a dress code, for the love of all things bridal, stick to the dress code! Of course, we're fully aware of the full-blown panic attack an ambiguous dress code like 'beach formal', 'semi-formal' or 'dressy-casual' can induce, but when it comes to dressing for a wedding it's best to stick to the age-old style adage: better to be overdressed than underdressed. In other words, leave the sneakers at home, because trust us, even with the word 'casual' included in the dress code, this is a wedding you're going to…it's really not going to be that casual. With those rules in mind it's time to get to the fun part! Choosing the perfect wedding guest dress for a themed wedding.
---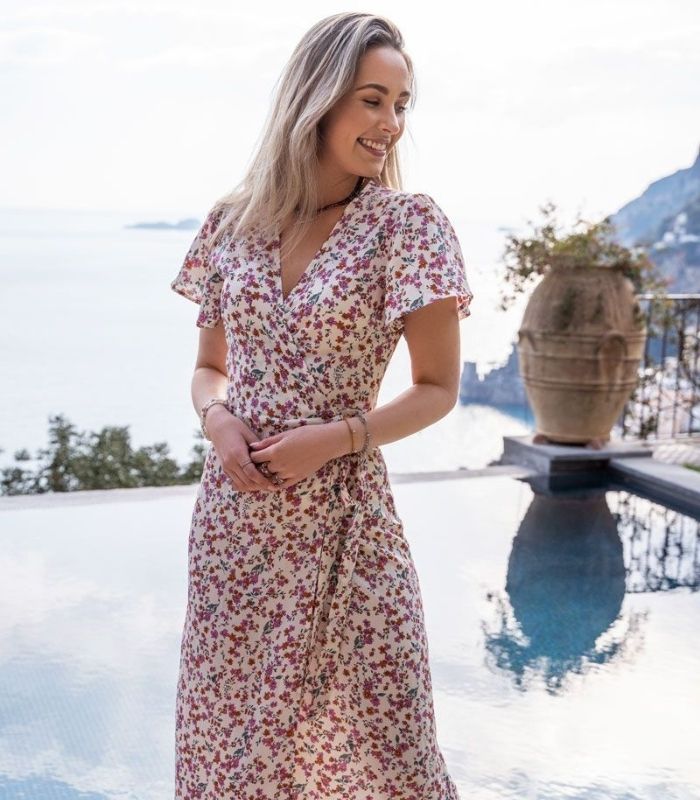 ---
7x Major spring trends for 2022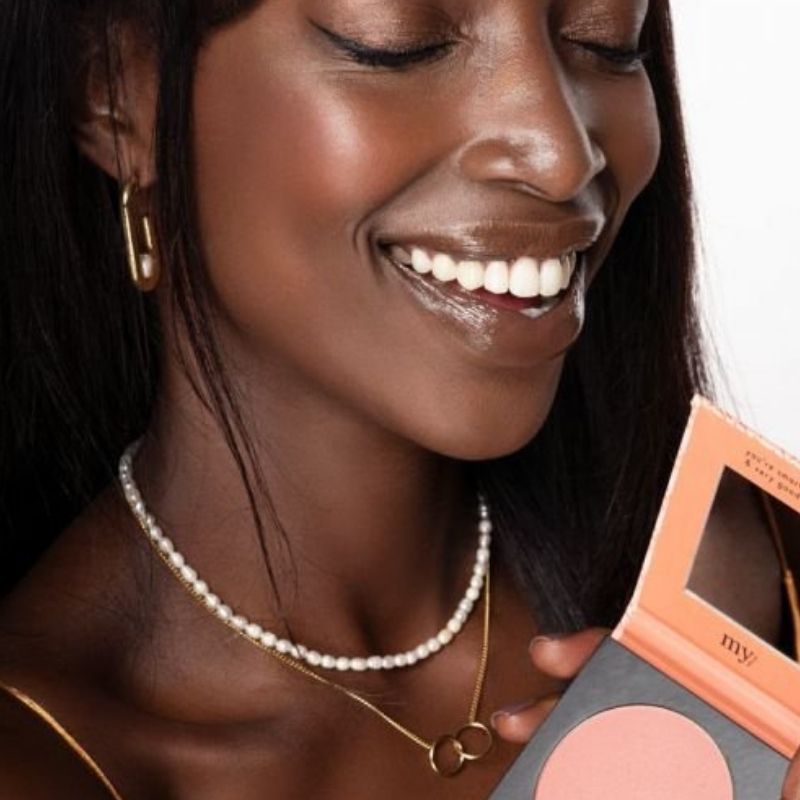 8x Makeup trends for 2022
Wedding guest outfits for a beach wedding
---
Beach weddings can be tricky as there's a few things to take into account, not least weather & your surroundings. Beach weddings will most likely take place in summer, hopefully on a beautiful sunny day, but if there's one thing to say about beaches it's that they can be hella windy. So, that means you're dressing for warm and windy weather, and sand…lots of sand. Taking all of these elements into account our favourite and most appropriate wedding guest outfit for a beach wedding would have to be a floaty long dress and block heeled sandals combo. Beach weddings tend to be slightly more low-key, dressy-casual affairs, so leave the heavy structured satin dresses and super sexy heels at home, and instead opt for light fabrics that'll float in the wind. Sunglasses are entirely appropriate for a beach wedding, as are pretty beaded bracelets. Bring the sea into your outfit by accessorising with gorgeous pearl jewellery such as the pieces that make up the Shapes & Pearls collection, or add some hair pins with pearl details to keep the wind from blowing your hair all over the place!
---
"All you need is love...and an open bar"
---
Wedding guest attire for a destination wedding
---
Wow, if you've been invited to a destination wedding all we can say is, jealous! Destination weddings are all the rage and we're so here for it! From gorgeous chateaus in France surrounded by bright purple lavender fields to beautiful garden weddings in Italian vineyards deep in the rolling Tuscan hills, or even dreamy Grecian weddings set in between the stark white & blue architecture of Santorini with endless views of the sapphire blue sea, all we can say is, wow, because you're in for a magical wedding experience! When choosing the appropriate wedding guest attire for a destination wedding, knowing the vibe of the wedding and the matching dress code is key. A French or Italian wedding will likely be slightly more romantic & rustic while Greek weddings are all about bold colour and modern vibes. A pretty dress is always a safe bet for any dress code, after which it's all about the details to set it apart. A v-neck dress or wrap dress in a soft floral print with balloon or puff sleeves has a super romantic vibe, equally a neutral-coloured satin midi skirt with matching strappy top or wrap top would look amazing in France or Italy. Meanwhile a bold colour or tropical print jumpsuit or dress would look amazing set against the white & blue backdrop of Greece. Gold jewellery is the perfect accompaniment to your destination wedding guest outfit as it will highlight your golden tan and sparkle in the sunshine!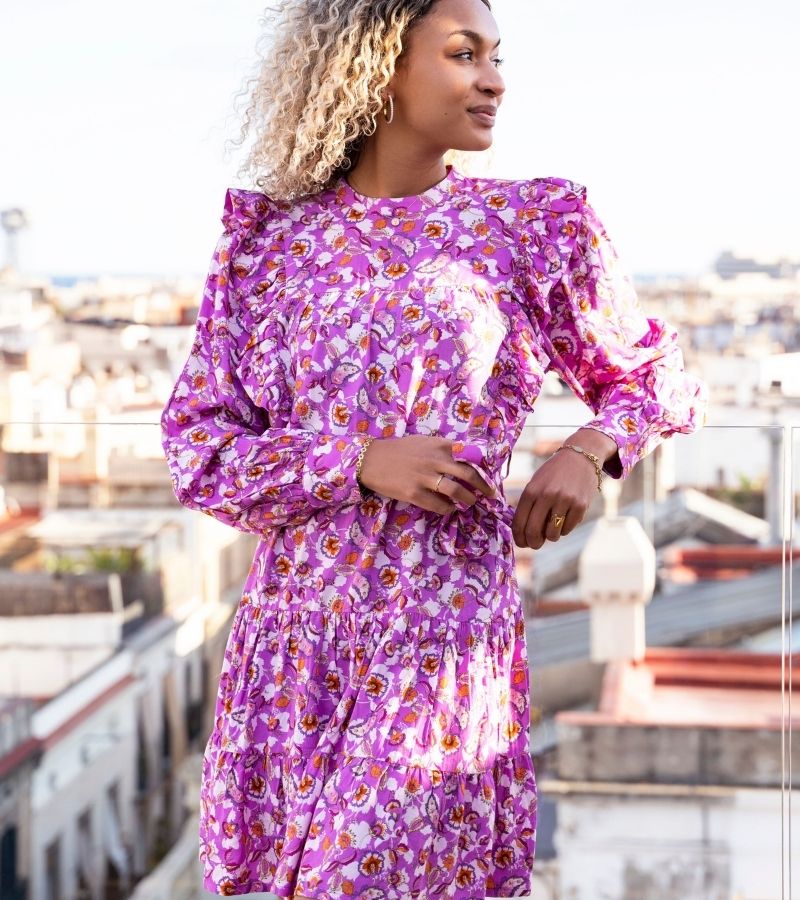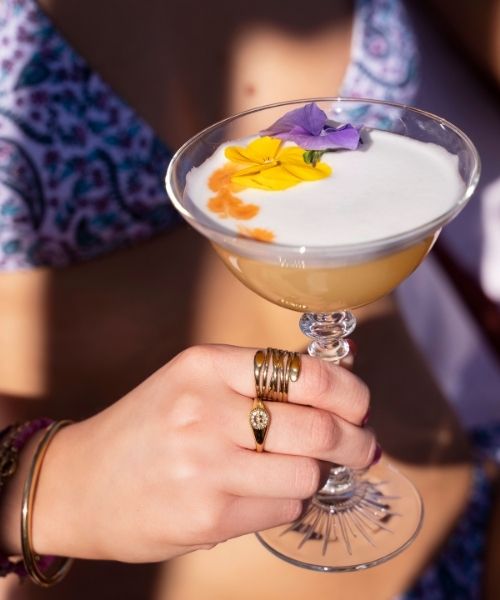 ---
Wedding guest outfits for a festival themed wedding
---
If you've been invited to a festival wedding, you know you're in for a fun ride! Mirror the fun of the theme in your themed wedding guest outfit by having some fun with print and colours. Remember though this is still a wedding, and you didn't just receive tickets to Coachella, so it's important to stick to some rules of formality and dress code. The hemline can be slightly shorter for a festival wedding, so go with a mini skirt or midi skirt, just choose a more formal fabric such as chiffon or satin, and balance out the skin on show by wearing a short-sleeved or long-sleeved top. If your outfit is looking a little too casual add some strappy heeled sandals for a touch of class, alternatively go for a formal dress and dress it down slightly by pairing it with heeled western boots. A pretty handbag will allow you to carry your essentials while you're having fun on the dance floor!
---
Rustic outdoor wedding guest outfit inspiration
---
Rustic outdoor or garden weddings are the ultimate pretty blouse and skirt moment. We love satin or organza fabrics here as they will give you a pretty fairy-like element to your wedding guest look, so pair a slinky skirt with a pretty soft-floral print blouse for the perfect rustic outdoor or garden wedding guest outfit. Be inspired by your outdoor surroundings by choosing outfits and fabrics that match the colours, textures and prints you might see outdoors. Opt for floral prints, shades of green and blue, and keep it all fairly light and fresh. Accessorise with flowers in your hair and jewellery inspired by natural elements like our birth flower collection. Last but not least spritz a cloud of glorious floral or woody perfume all over and go for an au naturel eyeshadow look, and your rustic outdoor or garden wedding guest outfit is complete.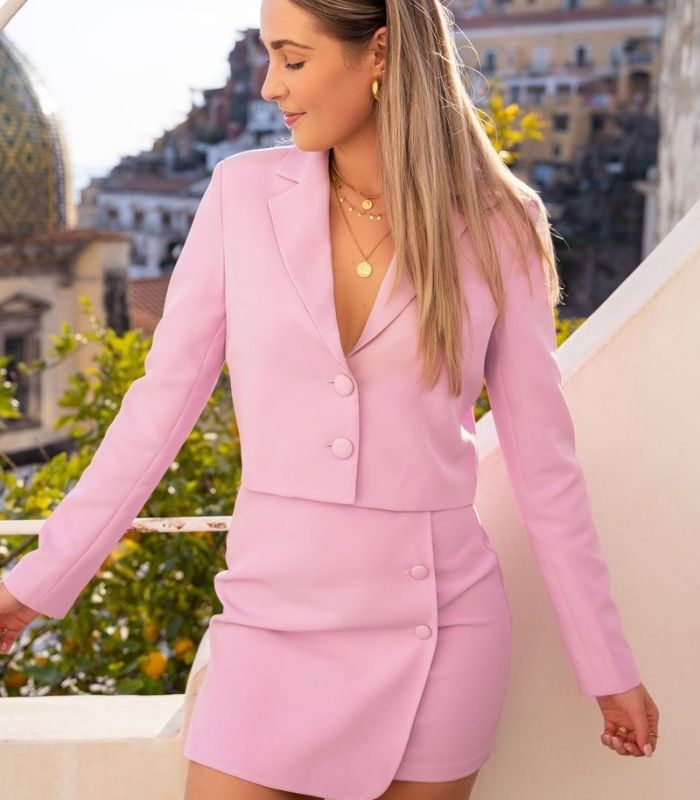 ---
Wedding guest attire for a modern classic wedding
---
You've just to open up Pinterest and you'll be inundated with modern classic wedding inspiration! It truly is the most on-trend wedding theme du jour, and we love it! From gorgeous champagne towers to statement all-white floral arrangements, classy bridesmaids dresses and luxury details, this wedding style is a lot more formal than some of the previous wedding themes, and tends to lean towards formal or black-tie dress codes. This can sometimes be more tricky to dress for as it's not something you'll often have lying about. If you're looking for something that fits the dress code but is versatile enough to wear for other occasions, a well fitted women's suit in black, deep burgundy or emerald green would look fantastic! Style it with a modern & sleek up-do and minimalist yet statement jewellery and heels and your modern classic wedding guest outfit is complete. Another favourite alternative would have to be a fitted jumpsuit, so classy and elegant when styled with old-school Hollywood waves, a glowy beauty look and a classic red lipstick. The modern classic wedding guest outfit calls for lots of structure, abstract shapes & fitted designs, so oversized fits while a current major fashion fave are not done.
Wedding guest outfit inspiration for a church wedding
---
Church weddings might not be everyone's cup of tea, but they are still very popular as there's something very formal, traditional and royal about getting married in a church, just look at Prince William & Kate's wedding or any other royal wedding for that matter. So, if your bride is looking for her fairytale princess moment, chances are she's gone for a church and/or castle vibe! If you've been invited to attend a ceremony at a church wedding, modesty is key. This doesn't mean you have to be completely covered up, but it's about finding the right balance in your wedding guest outfit and not showing too much skin. A dress always looks pretty, but adding a nicely structured blazer or gilet over the top will provide a little coverage over the shoulder area (and once you get to the other venue for the reception, you'll easily be able to take off the blazer!) A midi skirt also provides enough coverage around the leg area, but crucially leaves open a little bit of the ankle to make sure your wedding guest outfit still looks age appropriate. Stick with dainty jewellery such as minimalist necklaces here to keep it simple and elegant.
"If you invite me to your wedding, just know I'll tear up the dance floor with you"
---
---
Subscribe & receive the latest updates
Siubscribe & receive the latest updates