Self-care
How to create an easy makeup routine
By Victoria Cowan , 25 August 2022
Picture this: it's the morning and you've hit snooze a few too many times, now you're short on time and rushing around with a piece of toast dangling from your lips while you're trying to meticulously draw in defined browns, before rushing to your car to get to work and realising you've got jam all over your shirt! Trying to find enough time to hit snooze a couple of times in the morning, have some breakfast, put on a perfect beauty look and get to work looking jam-free has become almost impossible in our get-up and go society. And something has to give, which let's be honest 9 times out of 10 ends up being our breakfast. Despite knowing breakfast is the most important meal of the day, it still seems like the easiest element of our morning routine to give up in return for a couple more minutes of sleep. But what if we told you we could cut time from your makeup routine so you'd have time to make yourself a healthy breakfast too? Worth a shot right?! Check out our guide on how to create a simple & easy makeup routine, and you'll be flying out the door looking fabulous and relaxed with minutes to spare!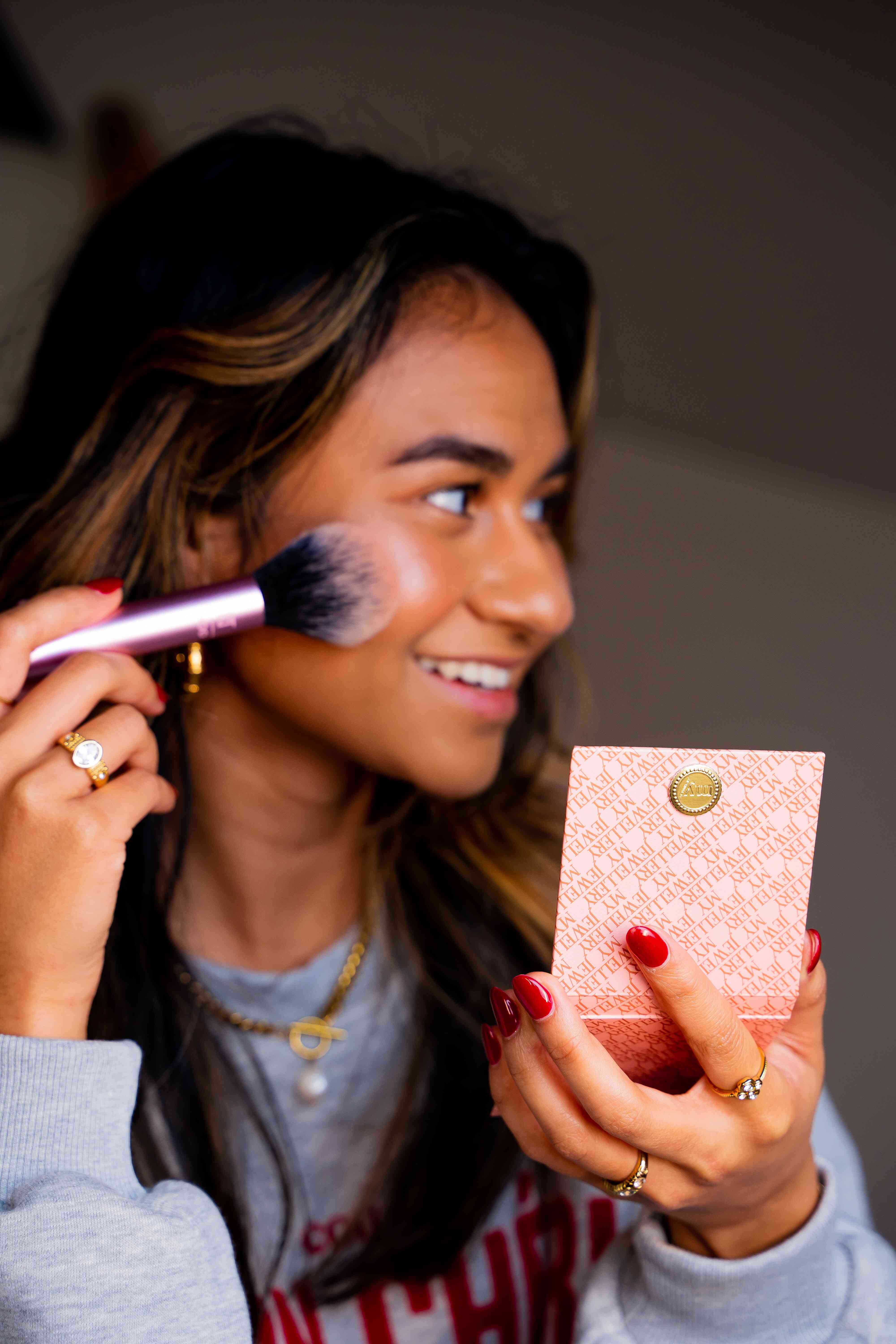 6 Steps to an easy makeup routine
When trying to cut time it's all about finding multi-purpose products like tinted moisturisers with SPF and lip & cheek stains. We also love to use bronzer & highlighter as easy & defining eyeshadow. Just follow these 6 simple steps to an easy makeup routine:
Step 1: Tinted Moisturiser
Skincare should be the most important first step to any makeup routine. Nicely moisturised and primed skin results in much better looking makeup too. Substitute your moisturiser and foundation products for a tinted moisturiser. This is the ideal product to use when trying to cut time from your morning makeup routine, as it moisturises your skin and makes it blemish free all at once. No need to mess about with moisturiser, waiting for that to soak in before painstakingly blending in your foundation. Instead apply a few drops of tinted moisturiser (preferably with SPF, protect that skin baby!) and blend it out with your fingers.

Step 2: Bushy brows
Nothing brightens up your appearance as quickly and easily as bushy brows. Instantly give the appearance of well-restedness by grabbing a spoolie and brushing up those eyebrows. If you've been blessed with full & dark brows just give them a quick brush, if however your brows are slightly lighter or thinner, apply a little eyebrow powder before dipping your spoolie in brow gel and brushing them upwards. If you really want to speed up the process get some eyebrow stencils and you'll have statement eyebrows in a matter of seconds.
Step 3: Define the eyes
Once you've brushed up the brows it's time to turn your attention to further brightening up your expression. Quickly add some depth to your eyes by grabbing your bronzer and applying a quick sweep of that in the crease of your socket. Give yourself that doe-eyed look by applying a little highlighter to the arch of your brows and the inner corner of your eye.

Step 4: Brighten up the face
Keep the bronzer you used for your eyes to hand, and grab a soft brush. Swipe some bronzer in a '3' shape across your face, applying some colour to your temples, under the cheek bones and your jaw line. Then get yourself a lip and cheek stain and add a little colour to the apples of your cheeks. Gently blend that out with your fingers, and then use that same finger to apply it to your lips, for a dewy & healthy glow.

Step 5: Mascara
A girl can't do without her mascara! Quickly curl your lashes and then apply a couple of layers of mascara.
Step 6: Fix it!
If you got through your easy makeup routine quicker than expected, there's the option of finishing it off with a quick spritz of moisturising & protective setting spray. So, there ya go! We think you deserve to give yourself a little extra time in bed in the mornings, just follow this guide to our simple and easy makeup routine and you'll still arrive at work with plenty of time to spare!
Enjoy this blog? Subscribe & receive the latest updates