---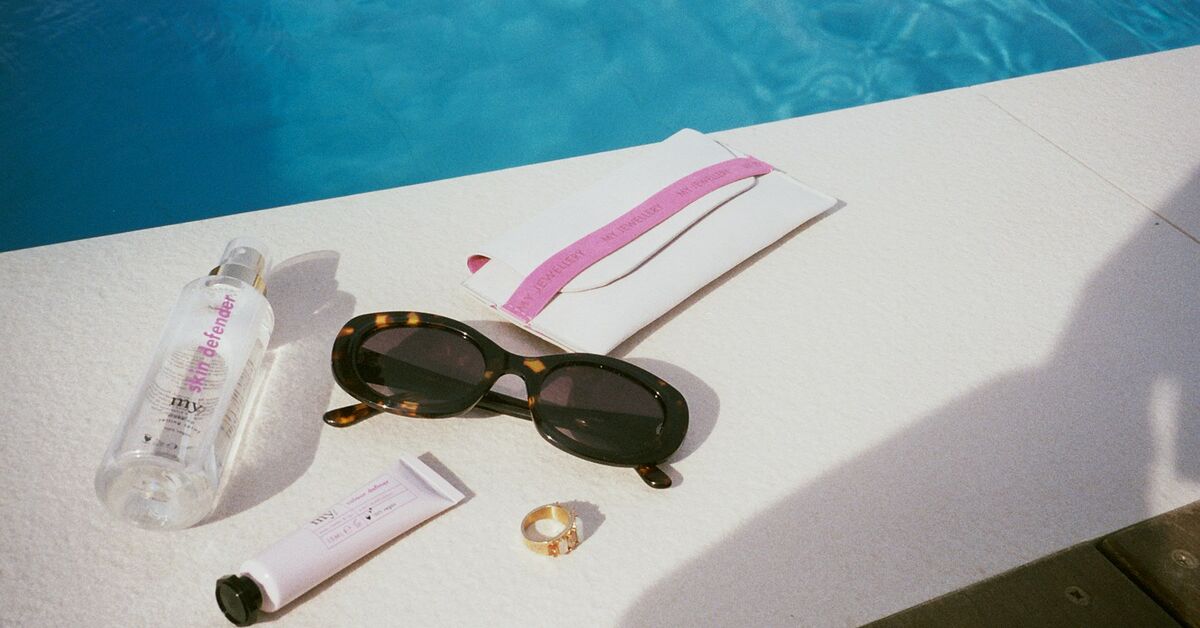 ---
---
Fresh summer makeup looks
Every girl wants to look flawless in the summer, the only issue is: how do you make sure your makeup is sea & sweat proof? Look no further, because you've come to the right place to find out all you need to know about summer makeup. Enhance your inner beauty and let it shine bright! Follow our blog for all the best tips on how to prep for a sunny day.
11 July 2022 | By Victoria Cowan
Read time: 3 min
---
---
Get ready with summer glam makeup
---
Sunny season is on and as temps rise, so do our moods! Time to go all out in the summer looks department, but how exactly do we go about that? And how do we make sure our makeup will stay put on our face all day long? Less is more when it comes to summer makeup, especially when the temps are officially scorching! When temperatures heat up, we're automatically hit with vacay fever and can't wait to get on a plane for summer adventures! If that's you, the first step is to grab your beauty case and fill it with the essentials - and only the essentials! Give yourself a makeup checklist so you leave all the non-essentials at home. Because let's be honest, you don't need much to make your face summer-day ready! Still need some tips? Check out our personal checklist for summer makeup, and feel free to copy it!

---
These are the five makeup items you need in your suitcase this summer! Trust us, you don't wanna leave home without them:
1. Waterproof mascara
The easiest yes ever! Waterproof mascara will guarantee your makeup look is sea, sun & sweat proof this summer. Jump in that pool & take a dip in the ocean, girl! No panda eyes here.
2. SPF & daily makeup go hand-in-hand
Whenever you're heading into the sun it's important to protect your skin, so applying a layer of SPF under your makeup is key. Sun damage is not fun, girls!
3. Razor sharp cheekbones
Define your face and your summer makeup look with bronzer and blush, instant sunkissed look guaranteed. After all, who doesn't want to look like a bronzed goddess on her holidays!
4. Glossy lips
Lips are often overlooked when it comes to finishing off a perfect summer makeup look, but really, your look ain't complete without a little colour & gloss. Step one: rub some SPF onto your lips. We're dead serious, your lips, like every other body part can easily burn, yet we always seem to forget about them. Once you've done that, and the SPF has had a chance to be absorbed into the skin, it's time for a bit of nourishment. A nourishing lip oil is the perfect choice for a hydrated yet glossy lip look. We also love tinted lip balms, non-sticky, nourishing and a touch of colour all in one!
5. Seal your face
No woman wants her makeup to melt off her face just as she's enjoying a drink with her summer romance. To fix this issue, all you need is a fixing spray (see what we did there, ahem). The skin defender is a setting spray with loving ingredients that's good for your skin & helps your makeup stay put all day (and night) long. Perfect summer makeup look essential!

---
"Today is gonna be a glowy day"
---
---
Allow us to save you, with these five don'ts, girls!
1. Thick layers
As you can imagine, a caked-on makeup look is a big no go come summer time as the makeup will likely seep into your pores once you start to sweat. This means the makeup will eventually go patchy, and that's neither a good look, nor good for your skin.
2. Makeup powder
Whilst we love the occasional makeup powder to take away too much shine on our faces, when it comes to summer makeup it's best to steer clear. The combination of sun, sea, sweat and powder will only create a strange pasty makeup look and we're going for flawless and natural!
3. Not using SPF
Sure, we love makeup, but we also love our health, and whilst makeup makes us feel super confident and sparkling it (usually) doesn't do much by way of sun protection. One of our favourite summer makeup tricks is to mix our moisturising cream with SPF, so simple, and so summer safe! Actually, while you're at it, you might as well build this trick into your daily routine, because SPF is always a good idea!
4. Lipgloss
If you're a big foundation fan, It's totally understandable that you'd feel slightly naked without your full coverage foundation safely packed in your beauty case. But, you'll soon notice that full cover is pretty uncomfortable in hot weather. Instead go for a light-coverage foundation or a tinted moisturiser. They'll provide the flawless skin you're after yet still be breathable on those hot summer days.
Bring it to the beach
We all love a touchup, but when it comes to summer makeup you're better off leaving it at home! Makeup will easily melt or change consistency when it's out in the sun, and that's guaranteed to ruin it for future use, such a waste of good makeup!

---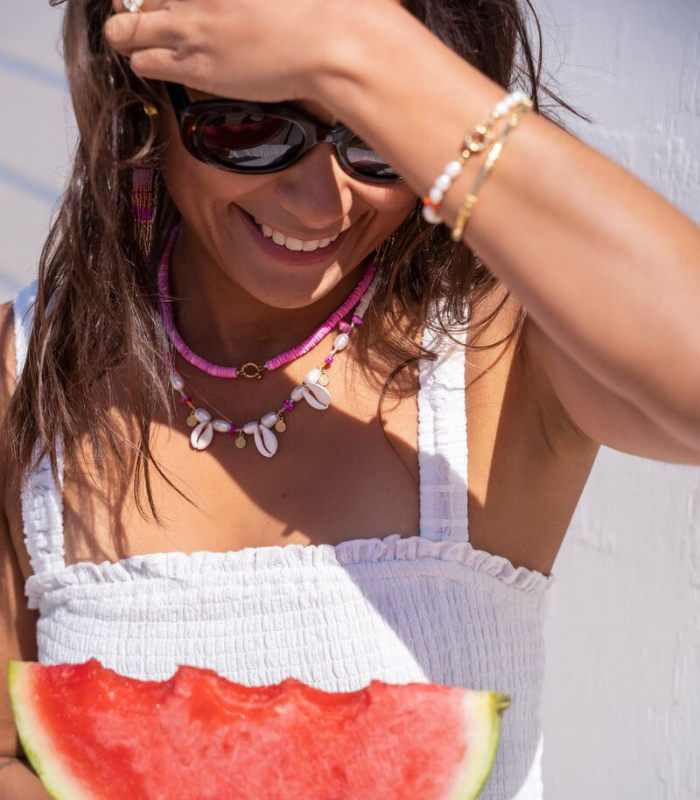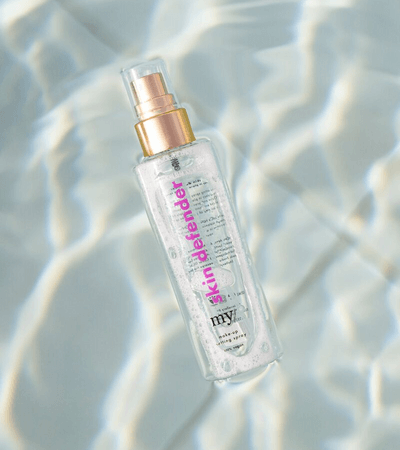 ---
Summer makeup for a night out
---
Okay, so we've just been talking about the virtues of light summer makeup, and now we're telling you to forget all about it when it comes to night time summer makeup. That's right girls, it's time to spice it up! Afterall, you want that makeup to shine as much as you on the dance floor. We're thinking a slightly fuller face coverage and fun pops of colour. Why not match your eyeshadow to your nail polish or outfit for a fun matching look. When it comes to a summer beauty look we often think only of the makeup, but have you considered what to do in terms of hairstyle? A sleek bun will really highlight your cheekbones and keep you nice and cool as you show off your best dance moves. All you need to achieve this killer look is a pot of hair gel, a compact brush and a hair tie or claw clip. Simply pull your hair up as high and as tight as possible, secure it tightly, and you're good to go. Not much of a sleek look fan? In that case, you can't go wrong with nonchalant beach waves when on holiday. Create that just-got-out-of-the-ocean wave with a mermaid waver and salt spray and you are golden, babe!

Check out tour guide to the ultimate summer outfit to find the right look to accompany this great summer makeup look and finish off with a couple of spritzes of your favourite summer scent.

Summer makeup look inspo
---
Summer makeup is simply put: makeup to wear on a sunny day. It doesn't require anything crazy, but just a few simple steps can instantly transform you into a bronzed goddess. First thing's first, a great base. Go for a liquid foundation and add colour and definition with blush and bronzer. Obviously, we also wanna look beautiful and glowing, so a highlighter like drops of glos is the way to go. Simply place some on your cheekbones, cupid's bow and nose and you'll be working those angles like no one's business! Finish off with a slick of colour on your lips, and you're summer ready. Bring on the sunshine!

---
"My highlighter is as bright as the sun"
"My highlighter is as bright as the sun"
---
---
Subscribe & receive the latest updates