---
---
---
7x Major spring trends for 2022
There's something about spring! From cherry blossoms in bloom to the first hints of warmth in the air, longer days and so much potential for the year to come. Perhaps it's that general optimism that always seems to lead to the return of COLOUR for spring/summer fashion. 2022 spring trends are no different because colours truly are everywhere! This season's fashion trends are all about having fun with fashion, so check out the 7x major spring trends for 2022 now!
16 March 2022 | By Victoria Cowan
Read time: 7 mins
---
The 7 biggest trends for spring/summer 2022
---
After spending the last two years in various states of lockdown we'll totally forgive you if you've been living in your sweats and have forgotten what it's like to get dressed up and follow the trends, but this year it looks like things might be looking up and don't we all deserve the spring and summer of our lives?! Get ready to rock the brightest and boldest colours through all of your adventures & why not get a little nostalgic too by going for funky Y2K details. This is not the year to be shy when it comes to your style either, from maximalism to sheer details, the return of low-slung jeans and lots of gorgeous metallics, spring 2022 is the season to experiment, be bold and take your style-game to dizzying new heights! We've done all the work for you and found out all about the 7 major spring fashion trends that are set to dominate in 2022, now all that's left for you to do is pick out your favourites and shop!
Spring trend #1: Micro minis, cargo pants & the return of the low-rise
---
In a clear nod to 90s and 00s fashion you're bound to have noticed the return of micro mini skirts, cargo pants and low-rise jeans. Sure, most of us cringe inwardly when reminded of our fashion in the early 00s, and even Britney, the queen of early 00s pop-culture, can't convince us of the merits of 2000s low-slung jeans, nonetheless they have returned and, thankfully, been given a 2022 glow-up! Meanwhile, cargo pants aren't nearly as loose and bulky as they were when they first appeared in the 90s and micro mini skirts give off more of a cool-girl Euphoria vibe than they did in their original 2000s heyday. So all-in-all this trend might not be quite as scary as those of us who lived through the original fashion years might have feared it would be. As always when it comes to fashion, give it a go and see if it works for you!

---
"What you wear is how you present yourself to the world, especially today, when human contacts are so quick. Fashion is instant language."
---
Spring trend #2: Y2K - 90s & 00s nostaligia
---
While we're on the topic of low-slung jeans, a Y2K staple, let's just take it all the way! Y2K fashion is back for 2022, and it's swinging in hard. After these past years we've all been craving the nostalgia of 'those good old days' and nothing seems to be better or more reassuring than those glorious new millenium feels of the early 2000s. From flip phones (and yes, even those are making a minor cult comeback) to Paris Hilton's immortal "that's hot" for just about anything and everything on cult-reality classic The Simple Life, the early 2000s were a time of joy, relative innocence and, clearly-defined, albeit questionable, style. The year 2022 seems just far enough away from the original time period to bring back the Y2K style, and with Gen Z just reaching their early 20s now, it seems like 2022 was always destined to be the year that brought back Y2K style. As proof of how much of an influence it is on 2022 style, you just have to look at the makeup trends for 2022 to see that Y2K is a major deal there too. But, in fashion-terms, your Y2K staples will probably end up being cute pleated co-ords, with tennis skirts and a matching cropped blazer (in fact, consider cropped styles to be a go-to in all departments), halterneck tops are also set for a major comeback, as well as cut-out dresses and tops, and don't forget your Y2K accessories! From beaded bracelets & choker necklaces to butterfly detailed jewellery and the return of cute hair clips and baguette style handbags, your accessories game needs to be on to nail the Y2K look!
---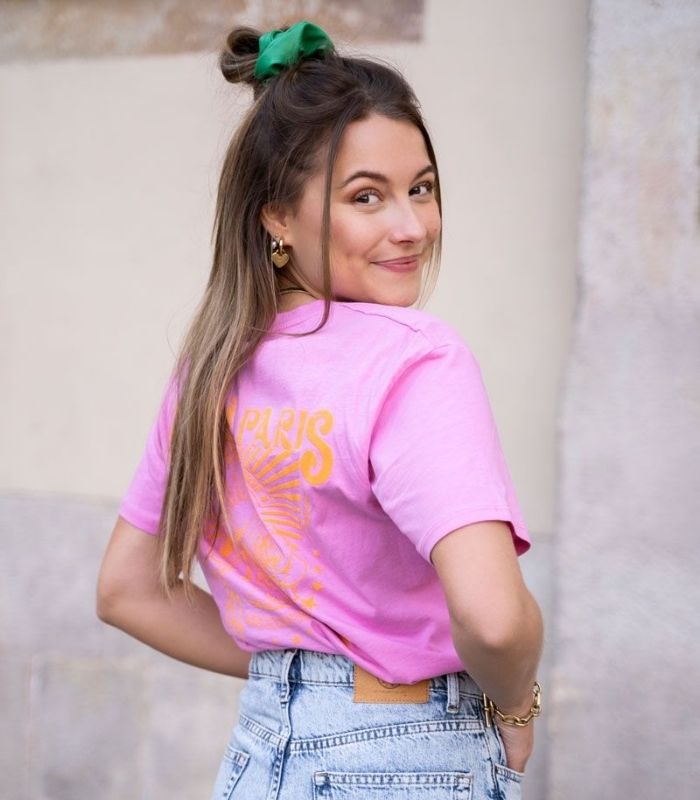 ---
Spring trend #3: Bold colours & colour-blocking
---
Nothing says bye-bye winter and hello spring/ summer more than colours! From bold neons to sherbert pastels, consider colour to be your go-to style choice for spring 2022. Whether you're a little colour shy or a seasoned dopamine dresser there'll definitely be something to suit your little colour-heart. Start small with a bright bag or neon nail art and you'll feel so bright and happy that you'll graduate to full-blown colour-blocking style in no time. Our favourite trending colours for 2022 you ask? Well, you can't go wrong with hot pink, lime green, cobalt blue, lemon yellow and bright orange. We love styling a pair of pink trousers with a mint green top or even a cobalt blue blazer or gilet with a pair of orange cargo pants (hitting two style stones in one!). When it comes to styling colours it's all about matching the right colour tones which is why colour theory has become such a big style rule. So, if you're thinking of fully embracing the world of colour this spring, hit up that fashion theory to really do colour style right!
Spring trend #4: Statement women's suits
---
Women's suits have been a style favourite for a while now and we're so here for it! Nothing says power woman quite like a well-fitting suit. For 2022, suits have gone statement. From bold colours to funky prints, and statement details -such as power-shoulders and mega lapels- to original fits & cuts, suits hit a little different this spring season. Catch 3 trends in 1 by going for a bold colour-blocked suit with a crop top, cropped blazer and mini skirt, it's like the trifecta of spring 2022 trends. Nailed it!
Spring trend #5: Metallics & liquid metals
---
Sunshine and metallics are basically a match-made in heaven! Where metallics were previously reserved for your winter party wardrobe where they came in moody & luxurious deep tones and blacks, in 2022 metallics are making an appearance in everything from dresses to western boots, and they're coming in lighter shades and more liquidy fabrics as well. Trust us this spring 2022 trend is bound to make you shine. We couldn't think of anything better than strolling the beach promenade in a beautiful exotic location in a gorgeous cut-out metallic satin maxi dress, golden tan, glowing skin and flowing hair, living your absolute best life while the sun glints off the liquid sheen of your dress. Seriously, picture it, it's the dream right?! Well, the first step to making that dream a reality is to add that shimmery long dress, midi dress or mini dress to your shopping cart asap. Next step? Booking that flight of course!
Spring trend #6: Super sheer
---
If you dare, dare to go sheer! From sheer tops and blouses to crochet tops, the bigger and bolder the crochet holes the better, get ready to bare the skin in spring/summer 2022. We love styling a sheer shirt over a pretty bralette or a crochet dress over a slinky slip dress for a subtle nod to the sheer trend. Another way to make this catwalk favourite trend more wearable for every day spring dressing, is to pair your sheer top or dress with a structured blazer, as it adds just a bit of modesty to an otherwise fairly daring look.
Spring trend #7: Maximalism - pleating, feathers, rhinestones
---
Minimalism had its moment last season, but for spring 2022 it's time to hit style to the max. Maximalism is big, in every sense of the word! You have just to look at the previous 6 trends to see how we're embracing everything extreme in fashion this season, but let's max it up even more. Your motto for spring 2022? More is more! Feathers, pleating, fringing, rhinestones, it's all going to make a big splash on the fashion scene in 2022. So, don't be afraid to grab those statement earrings, those hot pink rhinestone studded sandals, or that fringed bag and the feathered skirt, because for spring 2022 it's all about more is more, baby!
---
"Style is something each of us already has, all we need to do is find it."
When adding an Instagram post, make sure to add the empty colomn on the left to ensure that the post will be centred in the blog format. It's better to hide Instagram posts for the mobile version of the blog.
---
Subscribe & receive the latest updates
Subscribe & receive the latest updates