---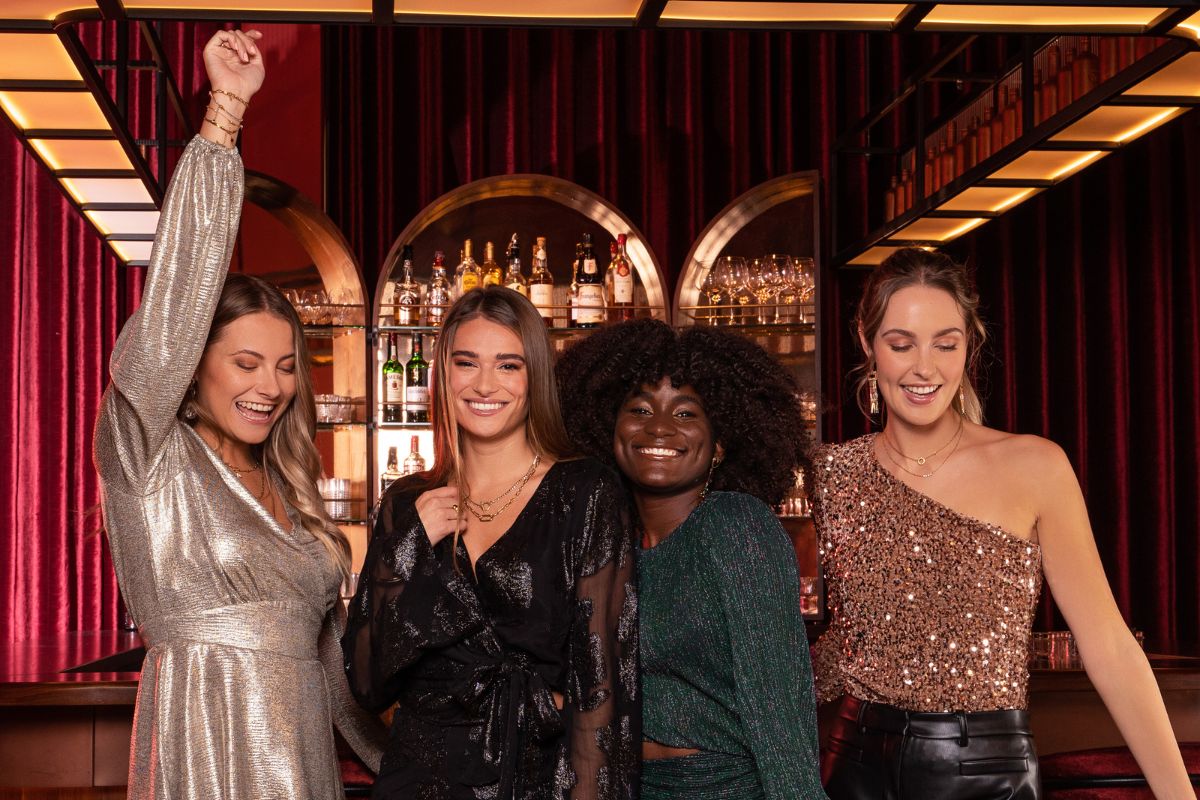 ---
---
9x Cool girl party outfit ideas
There's nothing subtle about party wear this year! It's sparkle central, with sequins, metallics and rhinestones aplenty. The adage: more is more is definitely the overarching theme to our party outfit ideas this season! So, if you're ready to unlock the shackles off your comfort zone and unleash your inner statement queen, this party season is your absolute time to shine. Without further ado, get ready to meet our 9 favourite cool girl party outfit ideas!
26 October 2022 | By Victoria Cowan
Read time: 5 min
---
---
Get ready to sparkle in these party outfit ideas
---
It's party season and that equals sparkle season! Discover the 9 best cool girl party outfit ideas that are set to ensure all eyes are on you at whichever event you attend this season.
---
#1: Party wear is all about sequins & sparkle
---
Can you really call it party season if one of its major trends isn't sequins and sparkles? We don't think so! Hence why we unapologetically call the festive season, sparkle season at My Jewellery! We've well and truly let go of the Covid-shackles and this party season we're going hell for sequins. From sequined tops and skirts to sparkly dresses and trousers, this party season all of your favourite party wear has undergone a less than subtle sparkle makeover. While full-on sparkle might feel a tad intimidating at first, we guarantee that once you dip your toe, you'll be a sparkle convert in no time!
---
---
Our obsession with 90s grunge and mid-00s Indie Sleaze shows no signs of slowing down, even as we head into the party season! Instead, we're seeing tons of dresses, trousers, skirts and, even, accessories, in our favourite edgy material: leather! Leather is the ultimate in cool-girl style regardless of whether you subscribe to the clean girl, girly girl or grungy girl aesthetic. So, if you're hoping to turn some heads this party season, leather is definitely the vibe for you. Double up the leather in a leather dress and leather boots combo for serious bad girl vibes, or soften the look by styling your leather items with feminine materials such as satin, finally, create a vampy goth look by pairing your leather with black lace. Whichever look you go for, leather is sure to earn you a party outfit homerun.
---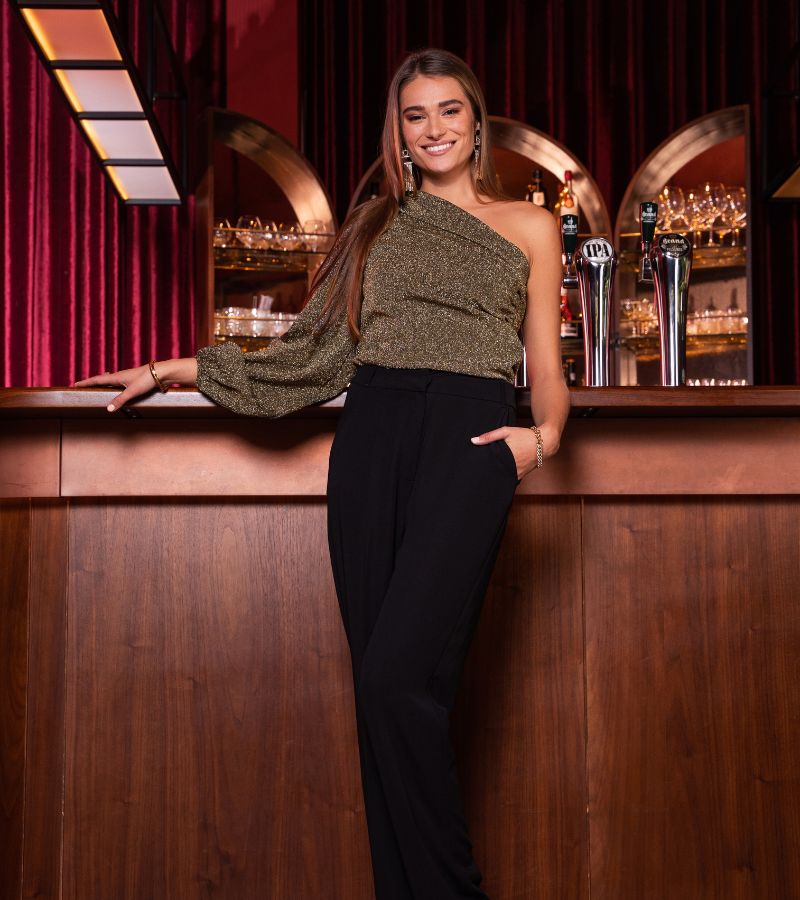 ---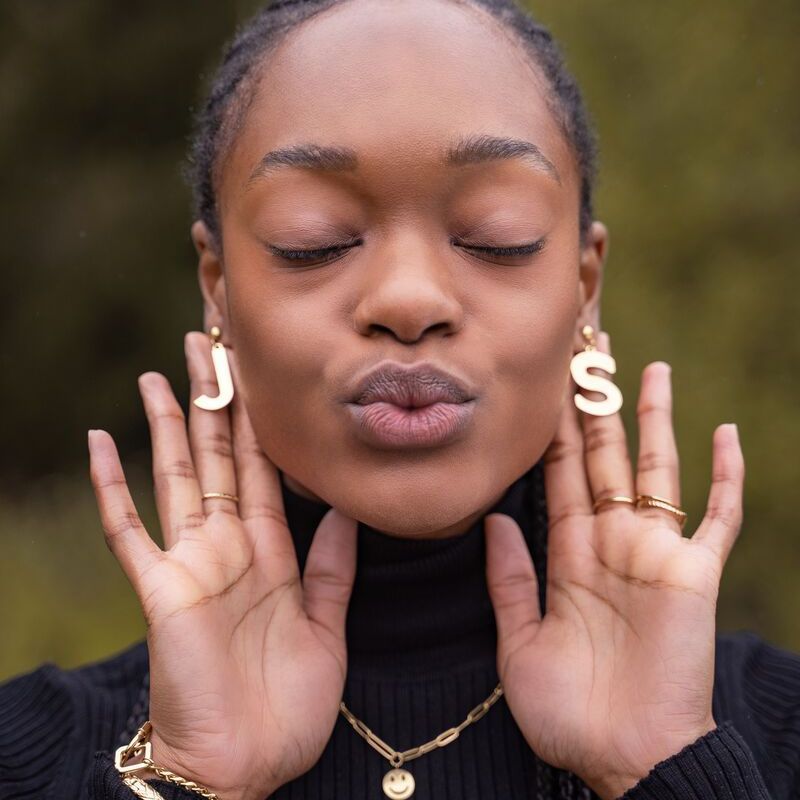 11x biggest & best fall trends for 2022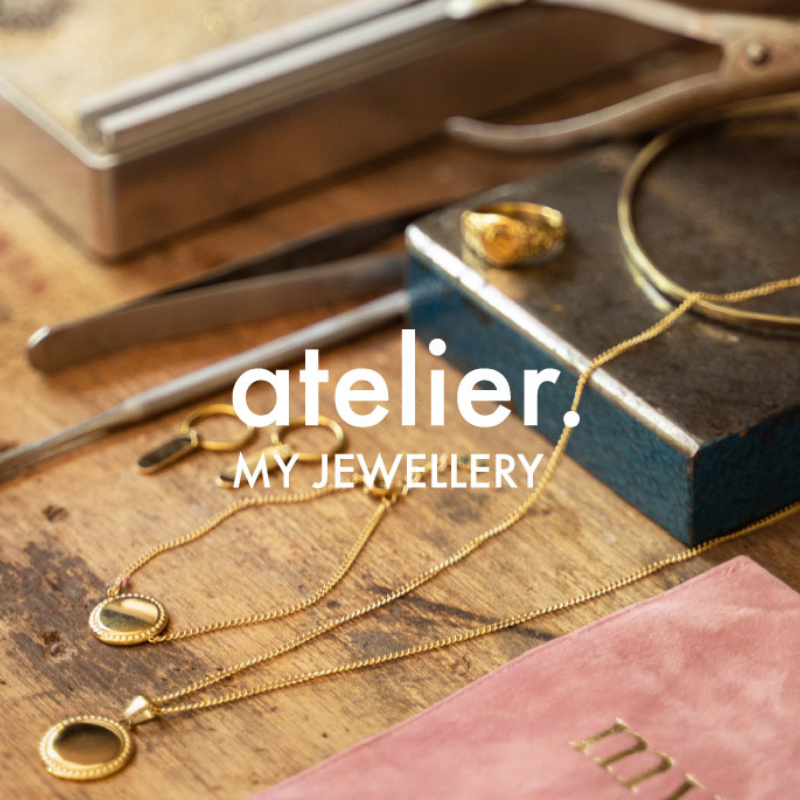 Jewellery engraving at My Jewellery | How we do it
Zodiac gift guide | Which gifts suit your star sign?
Party outfit ideas you'll wanna recreate
---
#3:
Metallic party outfit ideas
---
Swathe yourself in liquid metals this party season! Metallics have made a massive comeback in the party wear style stakes and we couldn't love this party outfit trend more if we tried. Metallics are the ultimate luxurious fashion choice with which to add an expensive edge to your party outfit. Metallic dresses are like liquid metal for your body, so if you're aiming for goddess style this party season, look no further than this party outfit idea. Style with rhinestone jewellery and metallic makeup for a look worthy of Aphrodite.
---
#4: One-shoulder - the party wear silhouette we're lusting over
---
The must-have silhouette this party season? It has to be the one-shoulder! This is one of our personal favourite party outfit ideas as it's a universally flattering style that is sexy enough without showing off all the goods. A fully covered arm and asymmetrical design helps to keep a little mystery and je ne sais quoi to your party look without losing sex-appeal - it's party season after all(!) Our one-shoulder tops come in all the trending party season materials, most notably satin and metallics, and look incredible styled with leather skirts and pants. Feel your confidence build in a one-shoulder party outfit idea and hit that event in style!
"Fashion is instant language"
---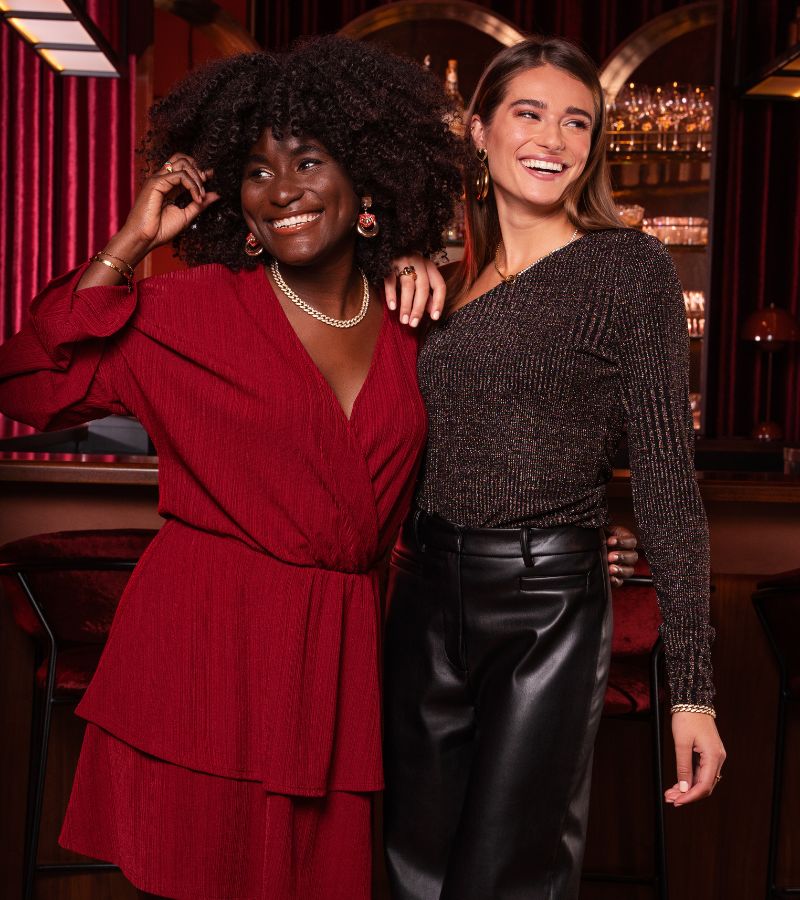 #5:
Vibing in disco grunge
---
In keeping with our love of all things shiny this party season, expect to see a style that can only be described as disco grunge. As the name suggests this is sparkle with an edge! Liquid metal eyes paired with chalky black liner is the beauty look of choice for the disco grunge look, and just so happens to perfectly represent the party outfit look too. Rhinestones and sparkles might initially appear quite girly, but when styled in an artfully messy way you've instantly got yourself a trending grungy / Indie Sleaze look. When it comes to disco grunge it's all about looking put-together in an unput-together way, so get a little bit dirty: mess up the hair, mess up the makeup and grab your favourite ripped tights but style them with a pretty metallic dress. Not sure how to achieve the look? Look to your favourite Tumblr era stars such as mid- to late 00s IT-girls Alexa Chung and Sienna Miller and dress like you wanna be the rock star's next gf.
---
#6:
Party wear trend - all black
---
Classy, feminine, a lil bit dark and very sexy…black clothing is the ultimate in partywear. While we've loved colourful looks and bold & bright style for the past year, this party season we're seeing a return to the true MVP of partywear: black! That's right, it's time to get dark this festive season. While black is the perfect backdrop for all of your metallics, sequins, sparkle and rhinestones, it's also the perfect stand-alone colour. Go for a perfectly cut black women's suit, and style with a corset top, body jewellery and killer heels for a truly head-turning party look.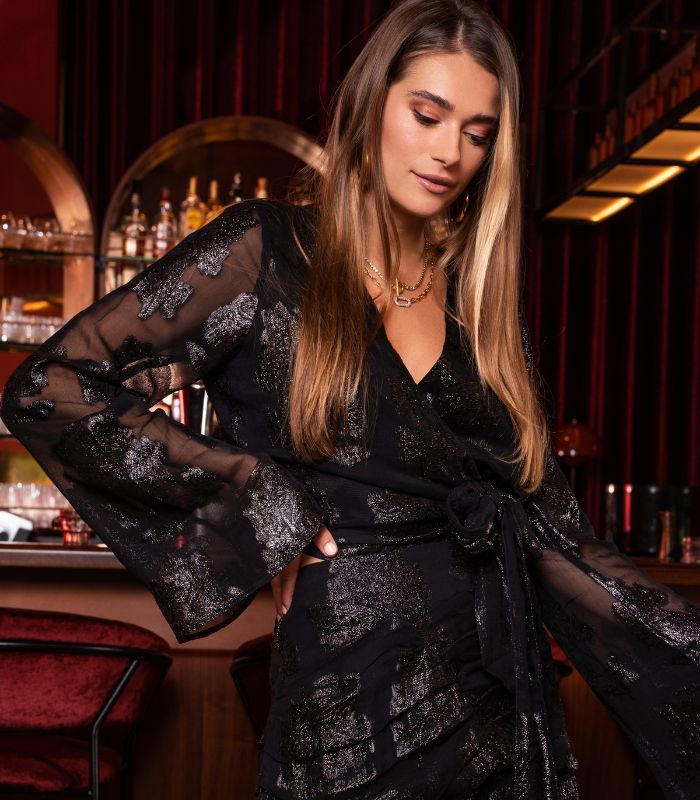 ---
#7:
Stand-out in statement jewellery
---
Statement jewellery has finally made a comeback and we couldn't be more excited! For a while there we were all loving minimalist, classic jewellery, nothing too fussy or big, but when it comes to party styling this season we can't wait to bust out the statement pieces. Rhinestones, bows, hoops - this party season bigger truly is better. Make sure to add our selection of statement earrings, gemstone rings, beaded necklaces and pendant necklaces, to your party jewellery collection before party season begins!
---
#8:
Hit the dance floor in your party shoes
---
The sky is quite literally the limit for your heels this party season! Killer platforms, skinny stilettos, embellished pumps and feather adorned heeled sandals, when we said this party season is all about more is more, we weren't kidding! You're going to have to give your feet some serious training to get them dance floor ready, so you better start practising already, babe! We love the effect a great pair of heels can have on your party look. Every look is elevated (ahem) by a pair of cool, classy, sexy or classic heels, trust us! Whether you're rocking a mini dress or keeping things a little more covered up in a pants and top combo, a well-chosen pair of heels will take your look from megh to WOW in an instant.
---
#9: H
ardcore glam - the party wear trend of the season!
---
Glam for the festive season, groundbreaking! Well, this isn't glam like you're used to because there's no room for doing things halfway or keeping things semi-glam here. Nope this party season we're going hardcore glam! Think feathers, cutouts, mesh panelling, sheer tops, luxurious fabrics and materials (such as jacquard and velvet) and glitz & glam to the max. Ready to leave the house & party? Think again: add a couple more pieces of jewellery, and now you're done! Basically when it comes to dressing for your festive occasions this season forget all the style rules you know and go extra. Unlock the shackles off your comfort zone and unleash your inner statement queen!
---
Unlock the shackles off your comfort zone and unleash your inner statement queen!
---
When adding an Instagram post, make sure to add the empty colomn on the left to ensure that the post will be centred in the blog format. It's better to hide Instagram posts for the mobile version of the blog.
---
Get on the list & get inspired!
Schrijf je in & ontvang de nieuwste updates