---
---
---
Mother's Day: you make me love
---
In large parts of the world it's almost Mother's Day! That one day of the year when we want to celebrate the strongest women we know. So much of ourselves is shaped by the mother figures in our lives, from our love of chocolate, flowers and jewellery to our appreciation for the beautiful moments in life. To honour that, we asked our colleagues and their lovely mums to tell us all about their special bond.
6 April 2022 | By Victoria Cowan
Read time: 6 mins
---
Megan, Marcella & Loïs
---
"You make me love my smile and the memories and happiness it radiates, and I am proud that your legacy continues in me and my daughter."
"Our family is very warm and loving and I have a really close bond with my mum & sister", says Megan. Her mum Marcella continues: "Megan moved about 45 minutes away a few years ago, but I still see her twice a week and I babysit Loïs and my other daughter's kids regularly." For Megan it's really important that her daughter experiences the same kind of warmth in her life that she had while growing up. "We've made it a tradition to go away for the weekend just before Christmas, and often try to plan other city trips. At the moment we're looking forward to a spring city break in Paris!"

Megan & Marcella are very similar and both claim to be quite feisty in nature. "There have been occasions when we might butt heads a little, but most of the time we just love having fun together. We enjoy weekly lunch dates together, and obviously, we both love to shop!"

Life lessons
Marcella taught Megan the importance of willing to sacrifice things for each other. "As a family you lean on each other so much, and my sister and I were always reminded of that whenever we used to fight when we were younger", Megan laughs. Marcella also instilled a strong work-ethic in her children: "I didn't matter what you wanted to be when you grew up, as long as you did your best for it." Something Megan can certainly agree with as her mother beams with pride whenever she talks about her work at My Jewellery.
Infinity
Whether it's her birthday, Christmas or Mother's Day, Megan will always gift her mum some jewellery. "She loves statement pieces, in particular earrings. Personally, I also love jewellery, but since working at My Jewellery I've been gifted it less and less because I've often already bought it for myself! So, for instance, I have a lot of pieces from the Initial collection with my daughter's initials." It just goes to show how important jewellery is for both mum & daughter. "When my mum had to undergo a kidney transplant with a donor kidney that came from my cousin, we gave mum an infinity bracelet. We wanted the infinity symbol to signify that after her op she'd be able to continue to enjoy her life and we'd continue to enjoy her in our lives, for a long time to come." Obviously this piece of jewellery has come to mean a lot to Marcella: "I gifted my cousin a necklace with the same infinity sign to continue the tradition."
---
Puck & Karin
---
"You make me love the beauty in the world, and gave me the confidence to become a proud mother to my daughter."
Both mother & daughter agree "at this age our relationship is completely different from how it used to be, it almost feels more like a friendship. Of course, we'll always be mother and daughter, but this just adds another layer to it. We share the most important moments of our lives with each other, and come to think of it, we've probably always done that."

Puck recently gave birth to her own daughter, Lou. "Now that I'm a mum myself, I'm starting to realise how much I actually learnt from my own mother, things you normally wouldn't think of. I hope to teach my own child about all the qualities and values my mother taught me, like positivity, kindheartedness and unconditional love. All the cliches are true!" Puck also credits her mum for life lessons such as always doing things in your own way & taking the time to be proud of yourself.
Enjoy the little things
"Our relationship is characterised by a shared appreciation for the small moments in life as well as all the beautiful and important moments", says Karin. "We both find so much joy in little things like a beautiful bouquet of flowers on the dinner table, or a delicious coffee and cake moment; as long as you experience these moments with each other or other loved ones, you won't need much else."
Grow together
"Both Karin and Puck cherish the memories from shared adventures, travels and family holidays. Karin: "The memories we have of these trips are so beautiful, and no one can take them away from us." Puck adds that her most cherished recent moment has to be her pregnancy. "My pregnancy brought us even closer to each other. Everyone is getting ready for a new role, we're not just experiencing the birth of a new baby, we're also getting a new mother and grandma, and those new roles are so beautiful." Which is why Puck is gifting her mum a piece of initial jewellery for Mother's Day. "A really personal gift that we can both wear forever: a powerful link between 3 different generations."
---
Quinty & Karin
---
"You make me love who I have become, and that is a confident & caring woman who's not afraid to stand up for herself."

"Quinty is definitely a mama's girl, says Karin: "This has always been the case. Wherever I was, she wouldn't be far behind. She was always a really happy child, able to light up even the darkest day, I even gave her the nickname: sunshine. When she reached her teens this abruptly changed and she just thought I was super annoying." Quinty has to laugh: "I think our bond is so close because we have such similar personalities. This led to some conflict when I was younger, but now it's only made us closer!" They're both very sensitive and the most important life lesson Karin taught Quinty is that she should never be afraid to stand up for herself or as Karin says: "Don't take others too seriously & never be dependent on someone else." Quinty: "My mum also taught me to be thankful for the little things in life & to be polite and helpful to others. These are things I've come to value a lot too."
Humour
Karin and Quinty spend a lot of time together, "In the past we'd have lots of movie nights together, where we'd pick up delicious treats and just snuggle up under a blanket together." Quinty remembers it well: "My most precious moments with my mum are probably the simplest and smallest moments. I also love the fact we often have exactly the same reaction to certain things and we always end up laughing about it! We have the same sense of humour and laugh together all the time."
Mother's Day gift
Last year, Quinty gave her mum the mother/daughter necklace for Mother's Day. Karin: "I thought that was such a beautiful and thoughtful gift." This year Quinty is thinking of gifting her mum another piece of jewellery. "This year I've chosen the Forever Connected rings as a gift. I'm getting my mum the silver ring and myself the gold ring, as those colours suit our current jewellery best. I moved out recently, so I feel like this is the perfect gift because it'll keep us forever connected!"
---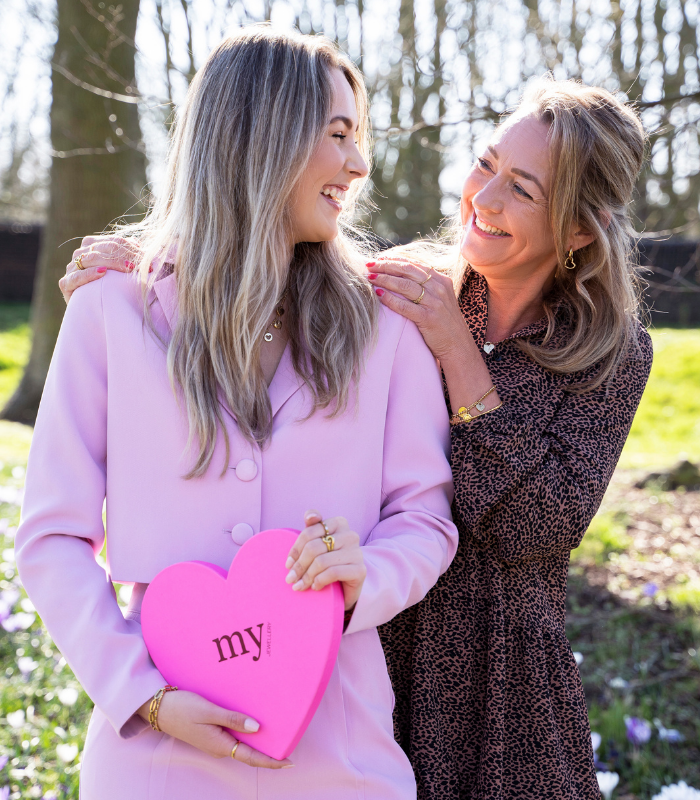 ---
Annabel & Birgit
---
"You make me love my personal journey, your friendship and support inspired me to see everything in a positive light."
Birgit: "Our relationship is so close and special because we've experienced so much in a relatively short space of time, and we've had to support and inspire each other with love and strength. We're always there for each other, unconditional love!" Annabel continues: "We're very close & do a lot together! We've been through some intense situations together and that's really helped to strengthen our relationship. We're always there for each other."
Annabel learnt everything about hard work & achieving everything you put your mind to if you want it enough from her mum. "Mum always taught me to be true to myself and believe in myself." But Birgit and Annabel are also proof that mothers can learn from their daughters, "Annabel taught me to always see the good things in life, even when things are difficult", says Birgit.
Friends
When asked what really typifies their relationship both agreed: "we're not just mother and daughter, we're friends too." Annabel: "I tell my mother everything, and we do a lot together too. We'll often go shopping in Breda or Antwerp together, and have lunch or drinks somewhere. We're also off to Athens for a holiday soon as we both absolutely love the sun!"
"Giving the gift of a memory"
Annabel gave her mother the mother daughter bracelet a few years ago, and they still both wear it. "This year I want to give mum a new memory for Mother's Day, so I'm going to take her out for lunch & give her the new mother daughter necklace as a gift."
Subscribe & receive the latest updates